22nd November 2016, London
Tom Cridland launches Christmas jumper with 30-year guarantee
A UK-based sustainable fashion brand Tom Cridland has launched a new line of Christmas sweatshirts with a 30-year guarantee, aiming to break the cycle of consumption and waste generated during the festive period.
Founded in 2014 by a 26-year-old entrepreneur Tom Cridland, with a £6,000 government start-up loan, the menswear brand has grown into an online store offering a range of sustainable sweatshirts, poly-cotton blend T-shirts, trousers, coats and jackets in a range of colours, with the same lengthy guarantee.
The Christmas sweatshirt is available in two options, with two different unique Santa prints. They are made from 100% luxury cotton, in navy blue, with a custom crew cut, ribbed trims and double reinforced sleeve seams. Suitable for a machine wash, the 30 Year Sweatshirt is built to last a lifetime and is also backed with three decades of free mending and repair.
Made to last
The sweatshirts, the classic crewnecks available in nine colours, which were the first to be sold through the Tom Cridland brand with a 30-year guarantee, are engineered to last thanks to the combination of technology, luxury fabric and old school craftsmanship, the company reports.
The fabric is knitted with the loopback method, using more yarn per square inch than standard techniques to deter pilling, and is given a silicone treatment to keep the garment from shrinking. Cridland's clothes are hand-stitched by a family-run business of seamstresses in Portugal.
Fast fashion
Tom Cridland has run his business with his partner, Deborah Marx, for two and a half years, promoting the concept of sustainable fashion. The company was founded in 2014 on the basis of the £6,000 start-up loan from the British government. "I wanted to create a direct-to-consumer menswear brand that wasn't like those fast-fashion places," said Tom Cridland.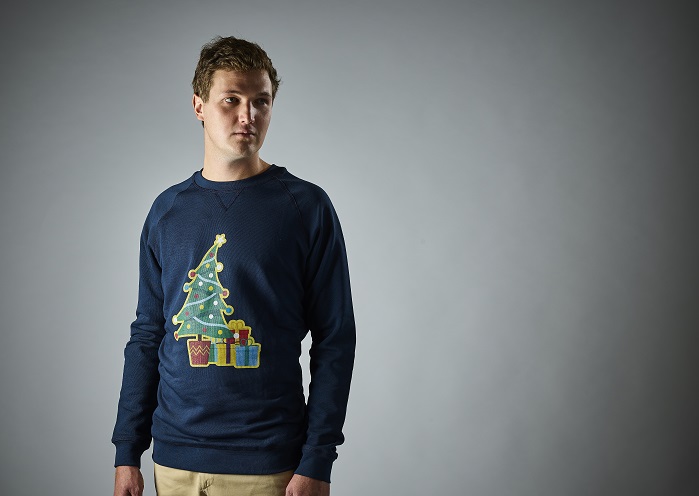 With some A-list celebrity customers like Leonardo DiCaprio, a known advocate for environmental protection, as well as Ben Stiller, Rod Stewart, Hugh Grant, Stephen Fry, Jeremy Piven, Nigel Olsson, Brandon Flowers, Robbie Williams, and more, the brand now aims to continue building a brand, offering ethical and relatively affordable clothes.
Sustainable fashion project
This year began with the opening of the first ever Tom Cridland bricks and mortar shop, a pop-up located on the iconic King's Road in London, where the brand presented its 30 Year Collection. Also this year, Tom Cridland was included in the Sustainia100 and nominated for the international Sustainia Award for The 30 Year Sweatshirt. A committee led by Arnold Schwarzenegger reviewed businesses and sustainable solutions across the planet, with over 4,500 on the year's long list, before choosing the final Sustainia100.
"At a time where fashion is the second most polluting industry after oil, fast fashion is taking over the whole industry and throwaway culture is becoming prevalent globally, The 30 Year Christmas Sweatshirt promotes an important "buy less, buy better" ideology. It is a sustainable fashion project designed to lead an industry trend towards protecting our natural resources by making truly durable clothing," commented Tom Cridland.
This article is also appears in...