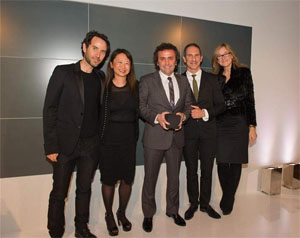 Leading Turkish circular knitter Yeşim Tekstil has been honoured by Burberry and awarded the fashion brand's 2011 Protect Award.
Yeşim was the only producer from Turkey to be presented with the award and received it for its long term commitment to improving working conditions, protecting the environment and establishing related systems, acquisition of the SA 8000 certificate, ethical commerce, and activities towards protecting the brand name. Yeşim Textile's pioneering, proactive and visionary approach in the 'Project for Traceability of Cotton Origin' is also said to have contributed to the award.
In his statement regarding the Protect Award, given for the first time this year, Şenol Şankaya, said: "This award is the fruit of Yeşim Textile's long term activities for its employees and all citizens and the environment with the motto 'Humans First'. Therefore we see that this award is the reflection of what we have been doing for many years and feel pride in it."
Yeşim Tekstil employs around 3000 people in its garment and home textiles production facilities and is based in Bursa in northwest Turkey. The company has a daily production capacity of 55 tons of knitted products, 70 tons dyed, 100,000 meters of printed fabric, 150,000 garments and 60,000 home textile products.
As well as being one of the four largest fully integrated yarn-to-finished-product facilities under one roof in the garment sector anywhere in the world, the company is also one of Turkey's largest firms in terms of creating employment. Apart from its main production facilities in Turkey, the company has in recent years subcontracted to companies in countries such as Moldova and Egypt as well as numerous such facilities manufacturing within Turkey.
At the company's Yeşim Tekstil Örme knitting division it employs 285 personnel working in a 4000 square meter production area, with a plant of 142 circular knitting machines, 24 flat knit accessory machines, yarn winding machines and fabric cutting machines.
This article is also appears in...