Karl Mayer has recently successfully convinced a number of Turkish traditional weavers to install its HKS series warp knitting machines for producing velour fabrics. This article charts the German company's progress in this market and looks at the three different ways of producing warp knitted velours on the three bar HKS machines.
Karl Mayer's three bar high speed tricot machines are said to be more flexible than any other warp knitting machine range and sell well all over the world and the all round machines have found a growing market in Turkey in particular.
According to Karl Mayer, home textiles manufacturers in particular are interested in the HKS 3-M (P) (Fig. 1) and HKS 3-1 and warp knitting companies as well as traditional weavers depend on the efficiency and production capabilities of three-bar tricot machines and are expanding their operations using Karl Mayer's machines.
Warp-knitted velour
Karl Mayer says it delivered roughly 100 three bar high speed tricot machines to Turkey last year, some of which went to manufacturers of marquisette fabrics. The lightweight, transparent fabric has become a firm favourite in the market especially as a high-quality embroidery ground. However, the vast majority of tricot machines are used to produce velour fabric for upholstered furniture.
There are three different ways of producing warp knitted velours on the three bar HKS machines.
The first method involves producing a typical loop pile fabric from polyester filament yarns and then cutting the loops during the shearing process, the easiest method of producing velour textiles using the HKS 3-M P. Ground guide bar GB 1 works the tricot construction of the ground, while GB 2 produces the pile loops using a pillar stitch or counter notation tricot construction. The velour layer of the fabric has high degree of orientation so that it is relatively flat.
In the second production method, the velvety surface of the fabric is not produced by pile loops but by an underlap. The relatively long stretches of yarn, which are not tied in, are either cut open, emerised or raised. The raising process in particular requires a great deal of skill and experience, because as many of the filaments as possible have to be cut cleanly, otherwise the fabric could have a felted appearance and the quality would not be acceptable.
An HKS 3-M machine is used if this second method is used to produce the velour and in this case, GB 1 works the underlap, GB 2 and GB 3 produce the ground from polyester filament yarns and work a plain next to a counter notation tricot construction. A soft fabric is produced, which has high dimensional stability. Microfibre yarns are often used in this process to enhance the soft feel and the silky, velvety appearance.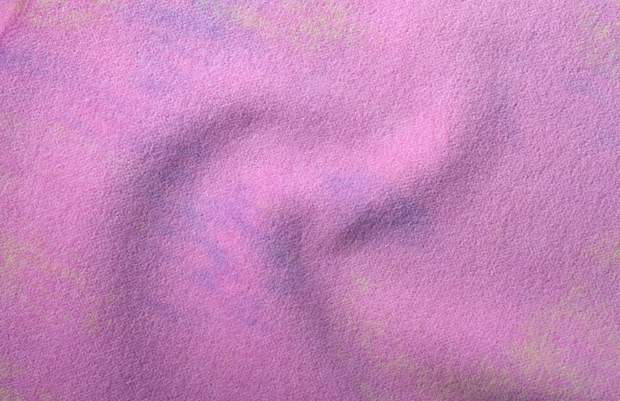 The third method for producing velour involves using elastane. The stretch yarn produces a fabric with a specific stretch which, when contracted, forces the underlap to the surface. The loops produced are similar to the loops on a pile sinker fabric and can then be cut open.
The HKS 3-M or HKS 3-1 are the most suitable machines for this application. Whereas GB 3 of each high-performance tricot machine processes the elastane in a tricot construction, GB 2 works a counter notation tricot construction using polyester filament yarns. GB 1 produces the underlap in an even notation in relation to GB 2, also using polyester filament yarns.
After the shearing process, the finished stretch velour textile is laminated to a firm raised fabric produced on a 2-bar tricot machine. This two-layered construction minimises the stretch required during the process. A stable, velvety fabric is produced with a fluffy layer, which is superior to that produced using the pile sinker technique.
Depending on which process is used, there are fine differences in the fabric characteristics and these will decide which is the most suitable process to use. Another factor here is the equipment already available in the plant. For example, if a manufacturer already has the shearing equipment available, then the pile sinker process or the stretch velour technique are the most suitable.
Karl Mayer's product developers are always on hand to give expert help with choosing the best production strategy. For example, in April, the warp knitting expert, Markus Otte, travelled through Turkey to help home textiles manufacturers with a number of technical issues, to discuss the design possibilities offered by warp-knitted velour, and to learn more about trends and developments there.
"Development trends are mainly focusing on the structure," explained Markus Otte. He says that many companies are using thermal embossing machines to create high and low sculptured effects on single-shade fabrics. The itinerary of Karl Mayer's representative also included providing advice to large weaving companies
Turkish market
The leading Turkish manufacturers of upholstery fabrics, most of which are weaving companies, are said to be expressing a growing interest in the possibility of producing velour fabrics on Karl Mayer's three-bar HKS machine (Fig. 2).
Karl Mayer says the high level of efficiency of these high-tech machines also enables companies to supply competitive products in the medium price range. The warp-knitted fabrics feature a soft surface, firm tying-in of the velour layer, and a soft stretch, impressive features which has allowed Karl Mayer to win four new Turkish customers producing warp-knitted home textiles since last year.
According to Karl Mayer the companies have made the move to warp knitting using basic machines and, if the increase in demand continues, intend to expand their capacities over the next few months. The raising technique is the process currently used the most often for producing velour and the first raising and shearing trials were carried out successfully in the spring.
Karl Mayer is already a supplier of warp preparation equipment to Turkish woven fabric producers but says it can also supply the right equipment for producing warp beams for the warp knitting sector - a direct warping machine that complements the company's range of equipment for producing warp-knitted velour.
Warp preparation technology
Karl Mayer has developed a computer-aided direct warping machine which it says has universal applications for the warp knitting preparatory sector (Fig. 3).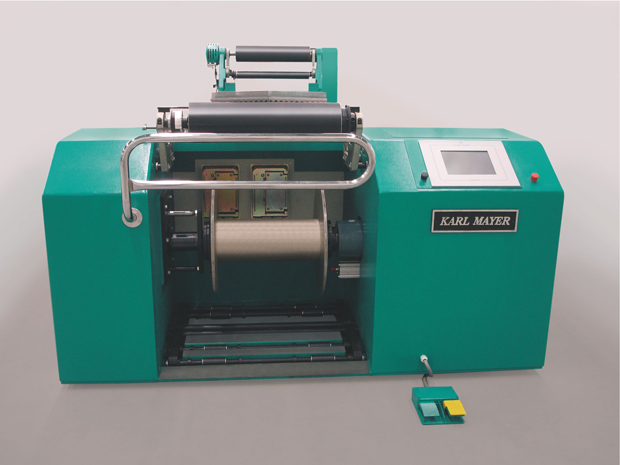 The DS models can produce large warp beams, offering the customer numerous benefits including production speeds of up to 1200 m/min, easy handling and a high quality warp. Karl Mayer claims that any deviation in the circumference of the beam amounts to no more than a millimetre - even when processing delicate yarns. A circumference control system, which operates using DNC control, guarantees a uniform beam build.
"The technical features contributing to this exceptional performance profile include efficient computer control of all the operating conditions, starting/stopping and running phases, and perfectly harmonised creel systems, delivery units and synchronised braking. It only takes 0.6 seconds to brake from maximum speed to a complete stop, and the yarn warp is kept under control at all times," Karl Mayer explains.
Positively driven and computer-controlled delivery units and compensating yarn tensioners are claimed to guarantee optimum yarn tension.