Flat Knitting
Unmade Studio: It's knitwear manufacturing - but not as we know it
The young entrepreneurial manufacturer aims to create a more relevant and sustainable knitwear supply chain that's designed for the future but available now.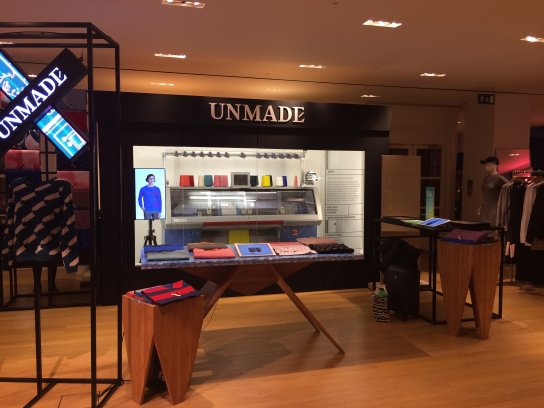 10th June 2016
Knitting Industry
| London
Unmade is an award-winning London-based knitwear platform which is aiming to reinvent the knitwear industry. By using cutting-edge technology in the shape of its own bespoke software systems and Stoll CMS 530 HP flat knitting machines to produce unique one-off garments, the young entrepreneurial manufacturer aims to create a more relevant and sustainable knitwear supply chain that's designed for the future but available now. Now they've had the opportunity to test the concept on their own platform, they are now making plans to scale out their suite of patented technologies to the wider fashion industry.
Founded by Royal College of Art graduates Hal Watts, Kirsty Emery and Ben Alun-Jones, Unmade collaborates with creatives across a range of disciplines to bring together the best of art, fashion and design, which the consumer then defines.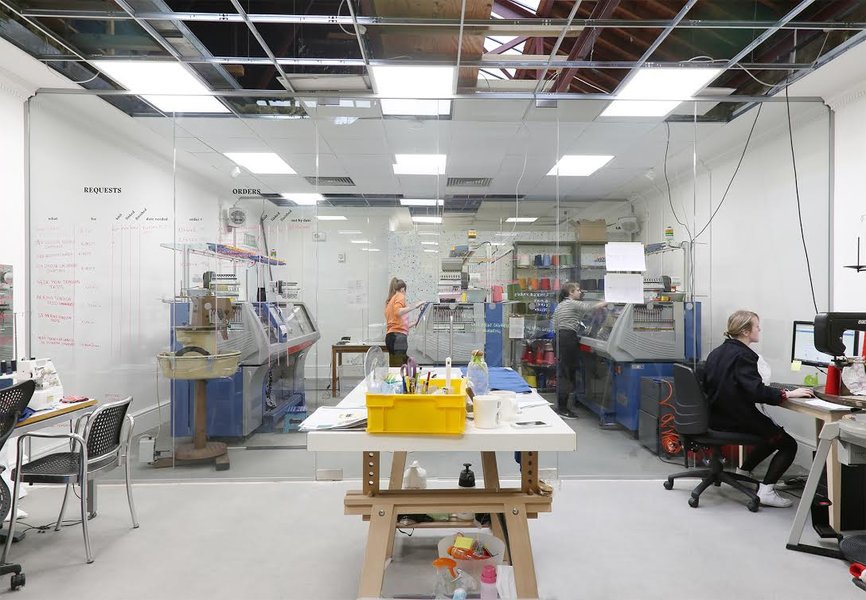 Co-founder and creative director, Ben Alun-Jones recently told Forbes magazine: "We have developed a way to control existing industrial knitting machines to make thousands of really unique items of knitwear for the same price as making thousands of pieces that are all the same. We think about the garments as digital products first… as a digital file they are available to be modified and changed. So essentially what we're trying to do is digitize clothing to make something no longer a static fixed product, but a dynamic item that can be changed and shaped to that person."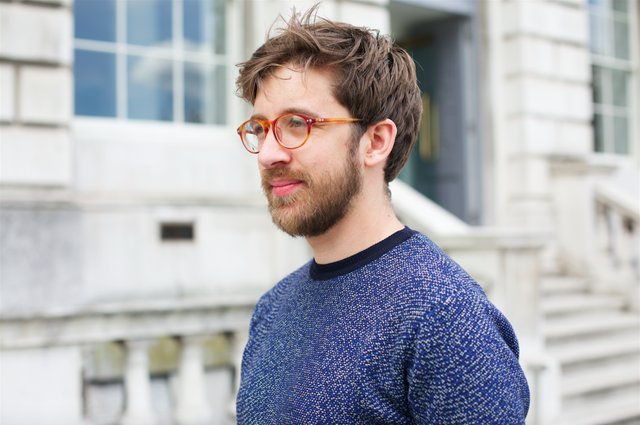 If you think that this all sounds like pie in the sky, then perhaps you should think again.
Unmade has received over £2 million in seed funding from backers including Connect Ventures, Felix Capital and Farfetch CEO Jose Neves. It has a team of very talented young people from many different disciplines with a very unique credible concept - and it really means business.
Unmade also brings in outside talent to collaborate on unique collections, and designers and artists including Christopher Raeburn, Malika Favre, Kate Moross, and interactive design studio Moniker have already worked with the team, bringing the new mass customisation concept to their own audiences.
On Unmade's website consumers can select a style and choose their favourite design. In just a few clicks they can make it uniquely theirs – by zooming in, moving it around, changing the colours and breaking the pattern apart. You can take your design for a spin by changing the view and see it from every angle and then add it to your wish list to share your unique style with friends.
This is knitwear manufacturing, but not as we know it. Unmade holds no stock - a manufacturer's dream!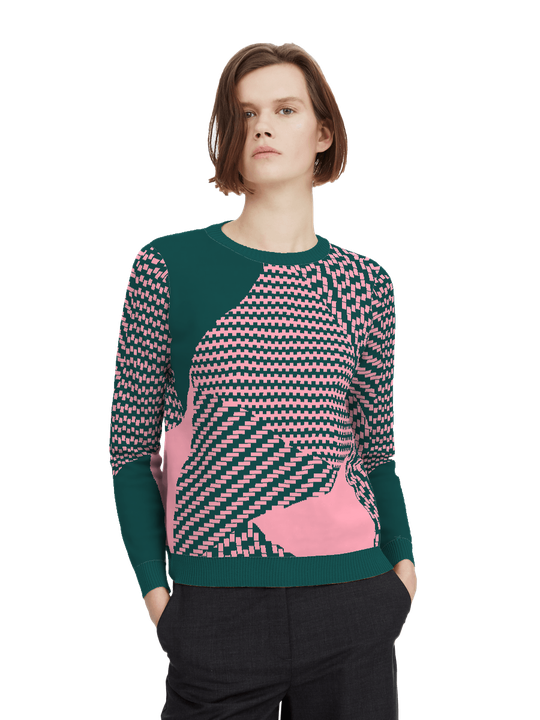 Nothing exists until the consumer places an order and the production process begins. Each garment is produced at the Unmade Studio in the Makerversity at Somerset House, London, on the company's Stoll CMS 530 HP Multi Gauge flat knitting machines. Unmade's three Stoll machines, fittingly called named Helga, Hansel and Gretel, are E 7.2 gauge, which the company uses to make knitwear with a 12 gauge appearance.
The focus is on high quality yarns from spinners such as Zegna Baruffa and Cariaggi, and the customer can choose from extra-fine merino, pure cashmere and Pima cotton. Hand-finished in the studio, every piece of knitwear comes with its own personalised label and is delivered to the customer within 7-10 working days.
Once it's been checked for perfection, each one-off design is carefully packaged, issued with its own unique number (because no two designs are alike) and shipped to the customer.
In a nutshell that's the company's USP. It's all in the name – the garment is 'unmade' until the consumer comes along and facilitates its manufacture.
Unmade started up in April 2013 with the idea of putting people back into the clothing manufacturing process. The Unmade team believe there is an alternative to clothes that are "made for everyone but designed for no-one," where you can get something made just for you and not settle for what's on offer.
CEO Hal Watts explains: "To make this change we've modified the methods of mass-production to produce one-off garments on an industrial scale, with a uniquely human touch. We're doing something new, and it's not easy - in fact some people told us it was impossible."
"Since our launch, we've worked hard to streamline production and to tweak our technology within our studio-factory in central London. It's a continuous process - we want to produce the most personal piece of clothing you own and this is just the beginning."
Calibration
Unmade, doesn't for example use Stoll software to create new knitting data for its Stoll machines – it uses software it has developed in-house. The calibration sweater is the secret to all of Unmade's designs. Hal explains:
"You may be familiar with the term the 'uncanny valley' - it's the dip in emotional response when we realise that something that initially looks real, actually isn't. The calibration model was born as a response to the challenge of how to effectively show a garment that doesn't yet exist, in all of its multiple variations, and to make it look real enough that you'd want to wear it."
Unmade's solution was a calibration sweater, essentially a highly customisable digital tailor's dummy. The brainchild of Unmade co-founder, Kirsty, and Unmade tech supremo, Greg, this is what enables the young company to translate physical designs into digital and vice-versa.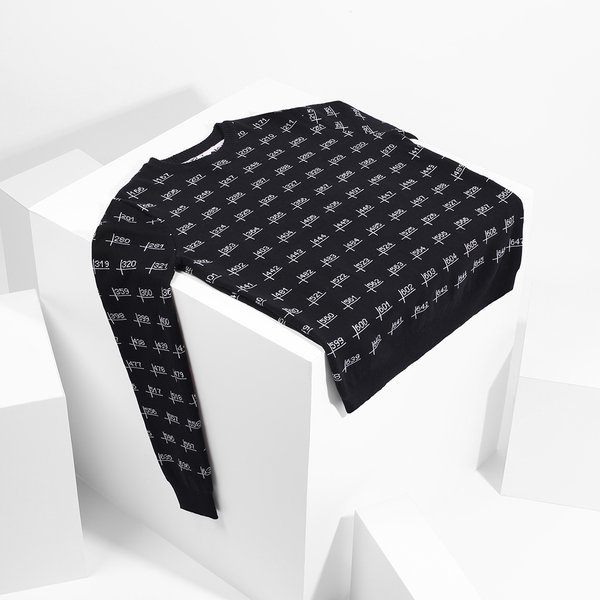 "The calibration sweaters use an isometric grid of 600+ plotted reference points. Rather than photographing each Unmade design individually on a model, our models are shot wearing calibration sweaters, then each design is digitally mapped onto the calibration base, allowing the pattern to be personalised. The calibration sweaters we use for shoots are green with an orange grid, colours which tend not to appear in human skin tones - rather than the more wearable black and white versions you can buy on Unmade.com," Hal elaborates. "Although it's the only garment on Unmade.com that you can't personalise, it tells its own unique story and underpins the entire unmaking process."
Bright New Things Collection
Recently, Selfridges selected Unmade as one of their Bright New Things for 2016, because, Hal says: "If all clothes were made the way we make ours, then the benefits to the world would be dramatic."
For their Bright New Things pop-up store in Selfridges flagship store on London's Oxford Street earlier this year, Unmade wanted to do something different. It wanted to show an alternative way of doing things that still offered the same or better products.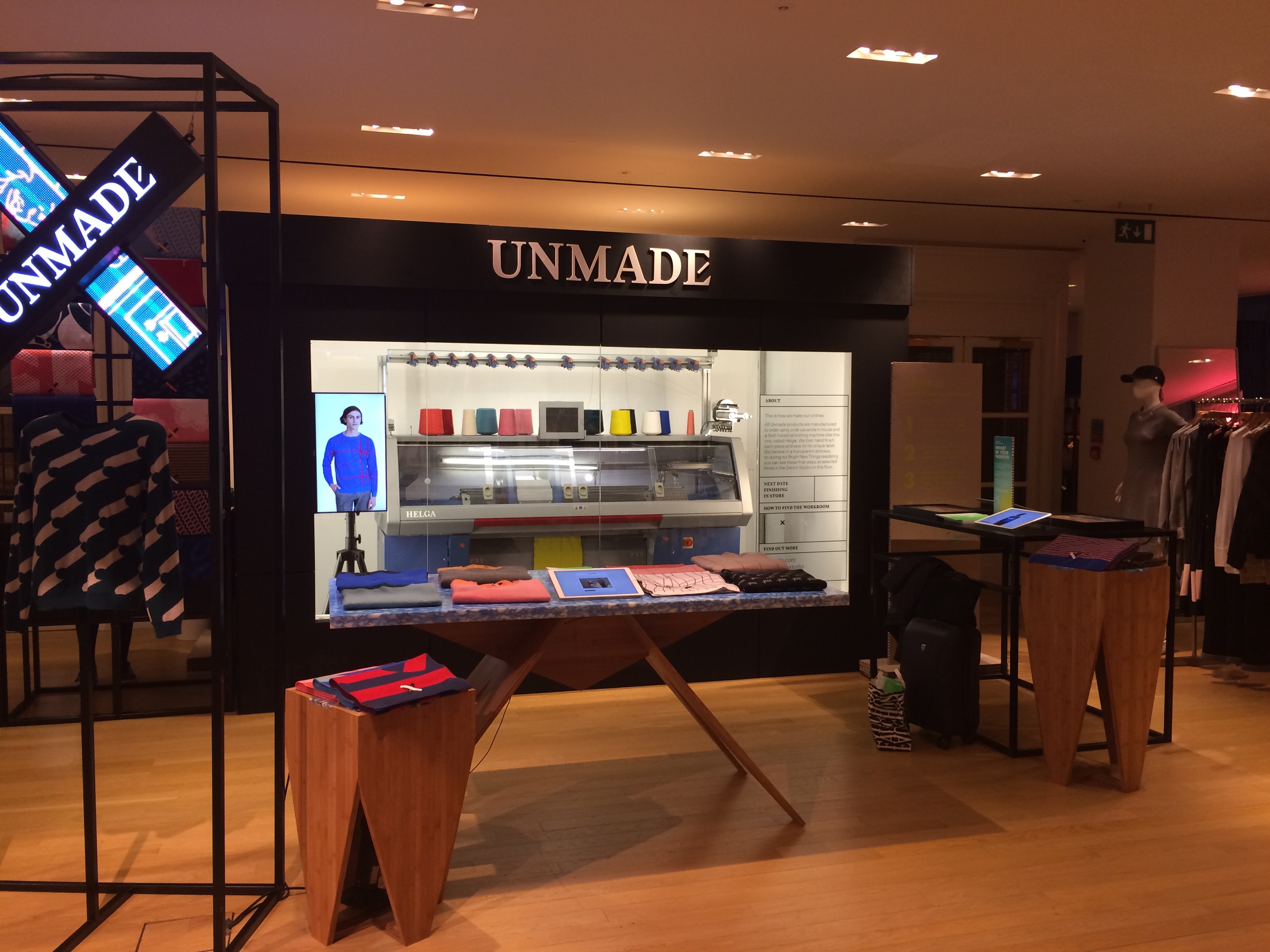 Hal illuminates: "What if we made a collection of designs made with the some of the best designers in the world, but actually made them in store just for our customers?"
This is where the idea for Unmade's Bright New Things Collection comes from. Working with the other Bright New Things, Unmade could make great designs that involve the customer and are made just for them. "If we're all committed to the same values, why not work towards the same goal, AKA good, clean and fun fashion," Hal adds.
The collection was put together with with Martina Spetlova, Mich Dulce, Hiut Denim, Katie Jones and Auria, Unmade's fellow Bright New Things.
Shoppers were amazed to see a Stoll CMS 502 HP, kindly loaned to the company by Stoll, knitting Unmade's knitted scarves on the third floor of Selfridges. The company also had a dedicated window displaying its concept and goods, which must have been seen by hundreds of thousands of shoppers visiting or even just passing the prime retail location.
Awards roll in
Unmade is being widely acclaimed and has had great international press coverage. Things are really taking off for the company. Just last month, Unmade scooped the Fashion Futures Digital Coalition of the Year award from the British Fashion Council and Decoded Fashion for its collaboration with fashion designer Christopher Raeburn.
Also in May, D&AD awarded Unmade with three pencils, including a Yellow Pencil for the Most Outstanding Creative Excellence in Digital Design. Only two Yellow Pencils were awarded within the digital category this year - one to Unmade and one to Google, and the company was up against stiff competition like Nike and Spotify. Unmade also won two Wood Pencils for Branding and Art Direction with Bibliotheque Design and Future Corp.
Congratulations to Unmade. As we said, it's definitely knitwear manufacturing but just not as we know it.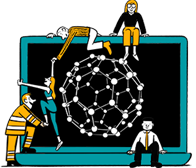 Business intelligence for the fibre, textiles and apparel industries: technologies, innovations, markets, investments, trade policy, sourcing, strategy...
Find out more