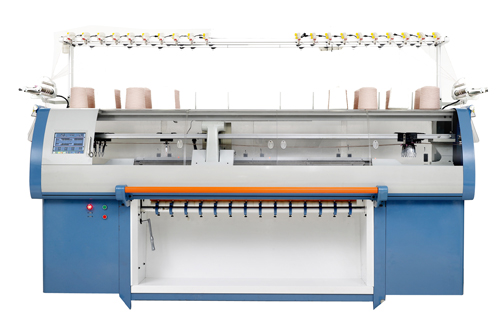 As the second ITMA ASIA + CITME draws to a close here, the big story is the almost incredible explosion in the sales of computerised flat knitting machines in China. Machine builders are reporting staggering and unparalleled market growth as hand flat knitting machines are replaced due to rising labour costs in the country.
In recent years total annual global shipments of computerised flat knitting machines have reached around the 20,000 per annum mark, with the market leaders Germany's Stoll and Japan's Shima Seiki collectively taking an average market share of 75% annually. Global shipments in 2009 were in fact down 12% to 17,840.*
Chinese manufacturer to produce 30,000 machines in 2010
However, reports of enormous numbers of machines being sold in China have been confirmed here by various manufacturers with one Chinese company claiming it will produce 30,000 machines this year alone and two other Chinese companies claiming that they are producing 1000 machines each per month each. We also interviewed another company who claimed to be building 600 machines per month and yet another which said it was producing 300 machines per month.
All of the four companies mentioned above are said to have full order books for 2010 and if the figures are to believed this would put their combined sales at an astounding 64,800 machines for 2010. Add to this a conservative estimate of 15,000 machines collectively manufactured by Shima Seiki and Stoll for 2010 and the total becomes 79,800 machines. An astounding increase of 62,000 machines from 2009 or an unbelievable uplift of 363% year on year.
The above figures exclude all other flat knitting machine manufacturers and we interviewed a number of other companies who claimed to be building 150-200 machines per month each. Rumours have abounded that the market could reach a staggering 100,000 machines per year. Although this is difficult to believe, nobody seems to know exactly how many hand flat knitting machines there are in China and so the potential annual growth in sales is difficult to calculate.
Chinese manufacturer now world's largest producer
Rumours had been circulating here that leading Chinese flat machine builder Ningbo Yuren Knitting Machine Co. Ltd, which has bought the Steiger flat knitting machine brand from Italy's ITEMA Group, had manufactured 16,000 machines last year alone and could build as many as 40,000 machines this year.
This would of course mean an incredible expansion in manufacturing capacity, so we interviewed one of the company's key executives to get the inside story. We learned that the company had in fact manufactured 12,000 computerised flat knitting machines last year and with a breathtaking monthly capacity of 3700 machines says it will produce at least 30,000 of its Cixing brand computerised flat knitting machines in 2010. If the figures can be verified, this means that Cixing is now the world's largest manufacturer of flat knitting machines by volume, by a long way.
Of course all of the above claims need to be verified by independent sources in due course but it is clear that an unprecedented boom is taking place due to hand flat replacement.
*International Textile Machinery Shipment Statistics (ITMSS) 2009
This article is also appears in...