31st March 2011, Schellebelle
Van de Velde: Annual Report 2010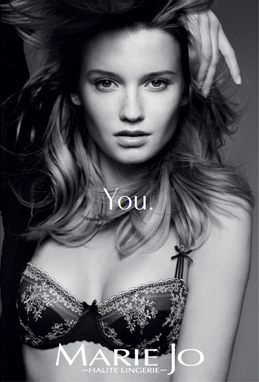 Luxury lingerie leader Van de Velde has published its Annual Report for 2010, an exceptional year for the Belgian headquartered company. The following is an extract from a 'Message from the Chairman' Lucas Laureys.
A full version of Mr Laureys message can be read in Van de Velde's full Annual Report 2010 via the link at the bottom of this article.
"2010 was Van de Velde's best year ever. Since the IPO in 1997 both turnover and EBITDA have risen more than threefold. EBITDA now exceeds 50 million euro.
The proposed dividend also evolved in the same way, from 0.70 euro to 2.15 euro. This wonderful achievement is no guarantee for the future. It is unjust and dangerous to expect or even demand constant growth from a company without the odd stutter. Especially in the current climate.
It is reminiscent of Toujours Plus by François de Closets, a bestseller from 1982 that has since undeservedly been forgotten. It describes how a society or sections of a society that have acquired a great deal in the past – rightly or wrongly – not only expect this situation to continue but also to acquire more and more. This pressure is then formalized in some way. De Closets says that this always ends in bureaucratic paralysis in the organization and the loss of the prosperity already acquired.
We are now seeing this process in all areas of society on a daily basis. Everyone expects and demands more and wants these expectations and demands formalized in strict rules and regulations. Groups and even entire nations turn in on themselves in the conviction that they are right.
However, history teaches us that great prosperity can only thrive in open, cosmopolitan environments where business is given great freedom. Prosperity is created where nations interact. There are numerous examples across the globe, from Antiquity to the European city states Bruges, Venice and Amsterdam, the America of New York and Los Angeles, and today Singapore, Hong Kong and Shanghai.
There are just as many examples of societies that simply think of quick wins and turn in on themselves. They avoid taking up new challenges and lose. Would the magnificent Bruges, once the economic center of the world, have been described as "Bruges La Morte" if the key decision makers of that time had taken on the challenge of constructing a canal to the sea?
The world's centre of gravity is moving fundamentally. The 21st century will be the century of the East. The West will not only have to learn to live with that, but should also view it as an invitation and a challenge, and turn it into something positive for us. We have the intellectual and financial resources to do that. Business people know this.
They advocate it every day. It would be good if the authorities and politicians had this at the top of their minds every day. Sooner that, than focusing all your efforts on the virtually impossible mission of balancing the concerns of the different sections of the population in a paralysing act of political acrobatics. It is a form of dictatorship in which internal goals are given priority over external goals and every form of daring, bravery, drive and initiative is expertly hamstrung by bureaucratic structures."
Read the rest of this article in Van de Velde's Annual Report 2010
This article is also appears in...