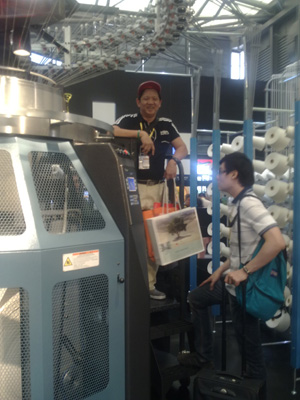 US based high speed circular knitting machine builder Vanguard Pai Lung has reported the recent ITMA Asia + CITME in Shanghai to be a huge success, with Asian fabric manufacturers really taking to its SJ4A/D12 Jumbo high speed single jersey machine.
The recently formed company formed from a partnership between Pai Lung and Vanguard Supreme personnel showed a 24 inch diameter, 22 gauge machine with 96 feeds which is capable of running at an astonishing 73 rpm or at a speed factor of 1750 on single jersey fabric.
Big American machine
When Knitting Industry visited the company's stand at ITMA Asia + CITME just a few weeks ago, Chinese knitting machine operators were climbing all over the huge SJ4A/D12, which they referred to as 'the big American machine'. The SJ4A/D12, with its jumbo frame, towered above the diminutive Chinese knitters who seemed almost bemused by the concept of climbing up steps in order to view the knitting head.
Sky's the limit
"The show was a huge success.Vanguard Pai Lung could not have hoped for a better reception of the High Speed Jumbo Machine.Based on the show and Vanguard's new partnership with Pai Lung we truly feel the sky's the limit," said Vanguard Pai Lung's Director of International Sales, Matthew Yates.
Vanguard Supreme's high speed, high production jersey and fleece machines are said to be ideal for producing high quality single jersey fabrics. The company's says its computer designed closed cam track system ensures positive needle control and provides excellent stitch definition. The machines are also equipped with angular sinker technology to improve fabric quality and minimise defect rates, while yielding a 30% increase in production over previous models. The fleece machine is equipped with a 3 level sinker (U.S. Patent 5,477,707 S Foreign Patents Pending) for improved knitting.
Jersey Fabric Scope
Plain single jersey fabrics ideal for sportswear, leisure wear, underwear, and T shirts
Feeder stripes, plaited fabrics, 2-yarn fleece, satin stitch, lacoste, crepe, and twills
Fleece Fabric Scope
3-yarn tie in fleece ideal for sportswear and leisure wear
1 x 1, 2 x 1, and 3 x 1 needle selection
Diagonal, crossover, random patterns or French terry
Machine Specifications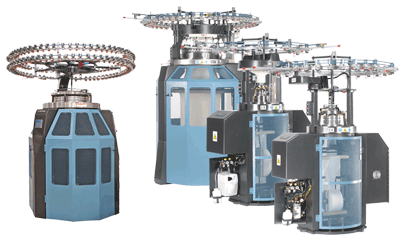 The Jumbo high speed single jersey machine is available in diameters from 11 to 32 inches. For jersey and two thread fleece, gauges are 16 to 28 and for three thread fleece, 12 to 22. For jersey and two thread fleece the machines have 4 feeders per inch and 3.5 per inch for three thread fleece.
Speed factors are: jersey - up to 1750 depending on yarn quality and fabric type (single track only); two thread fleece - up to 1500 depending on yarn quality and fabric type and three thread fleece - up to 1000 depending on yarn quality and fabric type. Up to four cam tracks are available.
Long heritage
The company started out in 1918 as the Supreme Knitting Machine Company, was acquired by the Singer Company in 1961, returned to private ownership as Vanguard Supreme in 1978, was purchased by Monarch Knitting Machinery Corporation in 1986 and finally bought by Bill Moody, Leo Yates and Pai Lung's James Wang to form Vanguard Pai Lung in 2009.
Vanguard Pai Lund also manufactures the 2SR2/H12 high speed double knit series as well as a range of small diameter high speed machines.
Download Vanguard Pai Lung Circular Knitting Machines brochure
This article is also appears in...