23rd November 2012, Frankfurt
VDMA: German technology meets Turkish textiles
25 German textile machinery manufacturers presented their latest solutions at two VDMA conferences this month in Istanbul and Gaziantep in Turkey. Almost 600 participants from the Turkish textiles industry used the opportunity to learn how German technology can help the sector to cope with the tough competition from Asia and several German companies were able to close deals with Turkish customers during the events.
In his opening address Karl Mayer's Fritz P. Mayer, Chairman of the VDMA Textile Machinery Association, said:
"With a focus on higher quality, the creation of own brands as well as the development of technical textiles, the Turkish textile industry is getting ready for future challenges. A market share of 30% to 35% makes the German textile machinery sector Turkey's technology partner number one. We are proud that the deliveries of machinery from Germany increased more than the whole textile machinery imports of Turkey from other countries in 2012."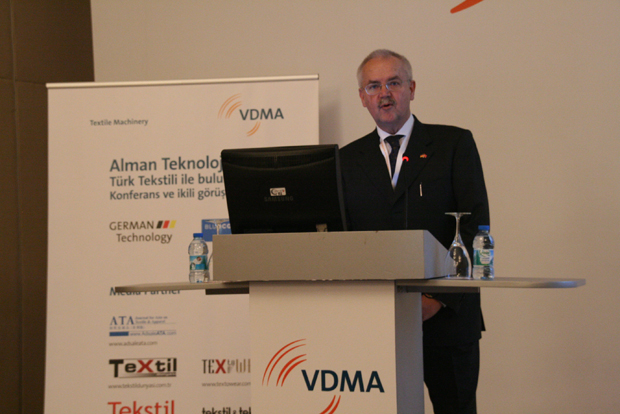 In their greeting words, Ismail Hakki Hacialioglu, President Turkish Composites Manufacturers Association (TCMA), Ismail Gülle, Chairman Istanbul Textile and Raw Materials Exporters Association (ITKIB) and Adil Konukoglu, Chairman Gaziantep Chamber of Commerce underlined the long and established relations between the Turkish textile sector and the German textile machinery industry.
Focus technical textiles, energy and material efficiency
According to the VDMA, expanding the production of technical textiles for automobile, construction and medical applications is one answer of the Turkish textile sector to the Asian competition.
However, the organisation says: "The Turkish textile sector was mainly focused on garments and home textiles in the past. Knowhow and cooperation with research institutes, universities and user industries have to be built up."
The German companies represented in Istanbul and Gaziantep recommended themselves as reliable and professional partners for this transition process and Turkish textile producers were invited to use the technical centres of the German textile machinery companies to test and to develop new textile applications right up to marketability.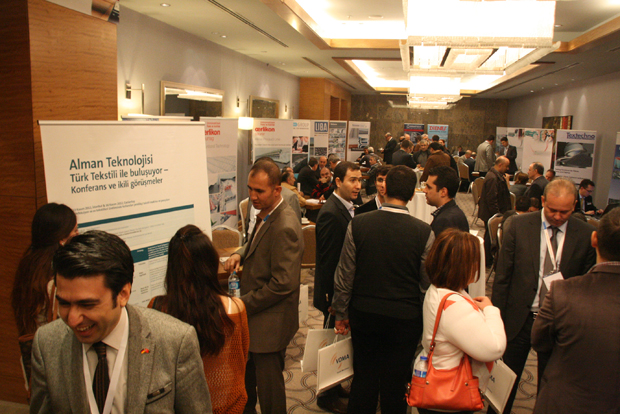 The VDMA says, the user-oriented technology lectures paid high attention to energy and material efficiency issues, which the VDMA supported by publishing its Blue Competence Energy Efficiency Guide in Turkish at the conferences in Istanbul and Gaziantep.
Who's Who of Turkish textile industry
Nearly all of the big players of the Turkish textile and nonwovens sector were present at the VDMA events, including:
AKSA Akrilik Kimya, Beyteks Tekstil, Hassan Tekstil, Kipaş Mensucat, Kordsa, Merinos, Mogul, Sanko Holding, Selcuk Group, Yünsa und numerous other companies including small and medium enterprises.
The VDMA says the conferences in Turkey will fuel the already good trade relations between Germany and Turkey. From January to August 2012 German textile machinery exports to Turkey increased by 12% cent to Euros 248 million. In 2011 the scope of supply of German companies was 30-35%, followed by enterprises from Switzerland and Italy, both with 15%.
Participating companies from Germany
A. Monforts Textilmaschinen, Aug. Herzog Maschinenfabrik, Autefa Solutions, Dienes Apparatebau, Dilo Systems, Erbatech, Fong's Europe, Groz-Beckert, Heusch, Hohenstein Textile Testing Institut, Karl Mayer Textilmaschinenfabrik, Landesbank Baden-Württemberg, LIBA Maschinenfabrik, Lindauer Dornier, Mahlo, Mayer & Cie., OEKO-TEX, Neuenhauser Maschinenbau, Oerlikon Neumag, Oerlikon Saurer Allma Product Line, Pleva, Rieter Ingolstadt, Textechno Herbert Stein, Trützschler Nonwovens, Trützschler, Welker Spintech, Wumag Texroll.
Further information
Download the conference program in Turkish
www.germantechnology-turkishtextile.de
This article is also appears in...