13th April 2011, Ho Chi Minh City
Vietnam hosts successful conference on German textile machinery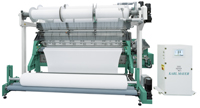 Decision makers and technical experts updated themselves on the latest technology trends for efficient textile production, especially in terms of reduced energy consumption and economical use of raw materials.
The two-day conference, themed 'Innovation for successful business' and initiated by the German VDMA Textile Machinery Association, was officially supported by the Ministry of Economics & Technology as well as by AGTEK, the Association of Textile and Apparel in Ho Chi Minh City.
Participating companies
In 20 technology lectures, well known companies and institutes presented their latest developments in the area of spinning, weaving, knitting, finishing, technical textiles and textile testing. Those participating included Groz-Beckert, Hohenstein Textile Testing, Jakob Müller, Karl Mayer, Lindauer Dornier, Mahlo, Oeko-Tex, Oerlikon Saurer, Oerlikon Schlafhorst, Oerlikon Textile Components, Reseda Binder, Rieter Ingolstadt, Sedo Treepoint, Textechno, Trützschler Card Clothing, Trützschler Spinning and Welker Spintech.
"The conference underlined the good and long-lasting business relationship between German textile machinery manufacturers and Vietnamese textile producers. The participants resumed that they built up new valuable contacts," a VDMA spokesperson said.
"This conference showed the strong Vietnamese interest to improve its textile industry. We see good chances for our future business, especially after the increase of energy costs here in Vietnam," said Jürgen Müller, product manager at Rieter Ingolstadt.
In 2010, German exports of textile machinery and accessories to Vietnam increased by almost 114 % to EUR 33.5 million (VND 995.8 billion) compared to 2009.
"The Vietnamese government strives for a development of its textile export volume by the year 2020 which could only be realized by investments in the modernisation of its production process and the training of employees," said Mr. Pham Xuan Hong, Chairman from AGTEK, in his welcome address.
The VDMA represents the interests of some 3000 manufacturers in more than 30 different plant and machinery sectors. It claims to be Germany's and Europe's largest industrial association and represents 90 % of all German machinery and plant makers as well as a number of members from other EU countries.
Almost 120 textile machinery builders are said to be members the VDMA Textile Machinery Association. According to the VDMA, German companies lead world exports for textile machinery with a market share of almost 30%.
This article is also appears in...