22nd December 2014, Sydney
Vietnamese knitwear manufacturer launches Woolmark collection
Vietnamese apparel manufacturer and retailer Canifa has released a range of Woolmark certified apparel in time for winter in the northern hemisphere and as part of The Woolmark Company's Out of Vietnam project.
After sell-out success last winter with Woolmark Blend knitwear, Canifa has produced a 53-piece collection for men, women and children, which includes not only Woolmark Blend apparel, but also clothing made from 100% Woolmark certified Merino wool.
Significant advancement
"Canifa's Woolmark certified collection is a significant advancement for The Woolmark Company's Out of Vietnam project, which was launched in 2012," said Rob Langtry, The Woolmark Company Chief Strategy and Marketing Officer.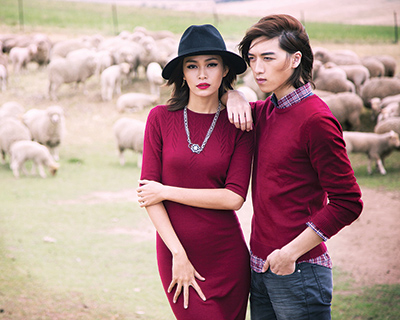 "Initially launched to develop a sustainable supply chain in Vietnam and expand its current manufacturing sector, Canifa's retail success extends far beyond the trade sector, opening doors to the consumer market and introduces Australian Merino wool to customers previously unaware of the fibre's infinite potential."
Merino wool apparel collection
As the first Woolmark licensee to come out of Vietnam, Canifa is also the first to produce 100% Merino wool apparel to sell in the domestic market. The collection was officially launched on 20 December with a fashion show in Hanoi, sending models down the runway dressed top to toe in Australian Merino wool.
Comprising sweaters, cardigans, dresses, vests, skirts and scarves, the collection used fine Merino wool with a micron of 19.5 and was designed by the two winners of Project Runway Vietnam: Hoang Minh Ha and Ly Giam Tien. Canifa's Merino wool collection embodies minimalism with elegant style, creating pieces which transition office attire to elegant everyday wear.
"Canifa's slogan is fashion for all, meeting the demands of consumers of all ages and for all occasions," commented Doan Bich Ngoc, Canifa CEO.
Introduction of wool in Vietnam
"Thanks to The Woolmark Company's introduction to wool in Vietnam, the domestic apparel market has seen some great changes, benefitting consumers with fashionable products meeting international standards," explained Doan Bich Ngoc.
"Canifa is honoured to be the first Vietnamese fashion brand certified to use the Woolmark and Woolmark Blend logos. The fashion show will launch the Australian Merino Wool collection; the first successful step in cooperation between Canifa and The Woolmark Company, bringing new opportunities for both Canifa and the Vietnamese textile industry."
This article is also appears in...