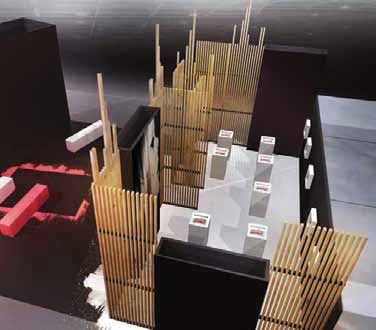 Interfilière Paris, the leading international event for intimates and swimwear fabrics and accessories, presents this new season's show in a feminine and authentic showcase, where the focus is placed on human relationships.
The entire intimates and beachwear community will be offered an overview of market directions and trends, technological innovations and surprising encounters when the event takes place from 23-25 January in Paris.
Show dresses in jacquard
The name Joseph Marie Jacquard is familiar to all the professionals in the textile market, as the son of a Lyon silk-worker, who invented an ingenious weaving loom, operated using new perforated cards. Developed back in 1801, this semi-automatic loom earned the nickname bistanclaque because of the powerful clanging noise it made while weaving.
Though all processes are evolving faster and faster in line with new technologies, jacquard fabrics seem to remain independent from fashions and revolutions. Yet, paradoxically, jacquard fabric has never been so cutting-edge, modern, singular, and present, organisers report. It becomes lingerie with circular knits in textured or open-weave patterns; warp knits produced on flat bed machines; and 3D designs from new, electronic looms.
Jacquard is at the forefront, taking market shares away from prints and bringing new energy to the swimwear market with more technical knits, according to the event organisers. The show's Exception area will be dedicated to jacquard. In the past, The Exception exhibitions were by invitation only, but in January the space will be open to all trade show visitors.
Fashion offering
This season's Interfilière Trends Forum is intended to be a working environment of pleasure and Indulgence, whilst offering a maximum of inspiration. The forum will present a wealth of ideas that illustrate the magnificence of the lingerie world, as well as trends of summer 2017, which unfold in a green décor, inspired by the Garden of Eden.
The suffering sleepwear market can rejoice as style seekers mix traditional sleep and loungewear with ready-to-wear on the streets, at music festivals and for cocktail hour, say organisers. A selection of large repeat laces, printed silk types, devoré and velours will be on display at the show.
Technology with charm
Interfilière Paris displays a range of innovative prototypes, including shapewear in new nylon Coolmax from Willy Hermann with two-way stretch lace from Chanty, illustrating the development of finer, better looking with function.
The event will feature creativity with an eye on commercial reality from Iluna, a range of matching lace, embroidery and flocking designed for different end-uses and occasions.
Highlights
Andreas Kanellopoulos unveils Art Embroidery using a mix of unusual materials for Couture embroideries. Andreas shares his passion for items made with love, which results in unique, entirely handmade pieces, using the traditional techniques of French luxury craftsmanship.
Another highlight of the show is Sensual Studies, a study of lingerie and sensuality through the eyes of illustrators rather than photographers, a hot trend in fashion campaigns. The exhibition presents original perspectives of female intimacy by five artists from France, Germany, UK, Australia and Hong Kong.
Interfilière Paris and Salon International de la Lingerie also set up around 20 conferences around trends, fabric focus, merchandising, country profiles, and more.
This article is also appears in...