Italian knitted fashion fabrics producer Piave Maitex is to launch its latest Fall-Winter 2013/14 range at a special preview in Italy on 28 June and then again to a worldwide audience at Interfilière Paris from 7 July 2012. As always the range includes a wide selection of new fashion and hi-tech fabrics and is completed by a brand new printed fabrics collection.
The Northern Italy based company has two production plants in Feltre and Monastier with over 20,000 square metres of production space. The company has more than 100 raschel, tricot and circular knitting machines equipped with modern and sophisticated production planning and control systems.
Piave Maitex also has its own dyeing and finishing plant with extensive printing facilities including a new high speed digital printing facility. The new collection is described by Piave Maitex' designers below:
NEW FABRICS
New proposals for underwear – oversexy, peau d'ange, darling, tonight! Lines
The inspirational theme was: "The sensuality of Lingerie". We have created Jacquard Bands, refined and elegant, technical and shapewear in the Oversexy line, light and transparent in the line Darling Tonight! To be used in composé with plain and jacquard or also the new high gauge microfibers of the Peau D'Ange line.
The result is an extremely sensual Lingerie, young and comfortable, complemented by the proposals in natural fibres such as cotton, to better recreate the elegant atmosphere of the roaring twenties and in particular of the "The Great Gatsby".
New fashion proposals– "diamond" line, "wonderland" line
The themes developed in the new Fashion lines were: "The Light" and "The pencil stroke". In the Diamond line this resulted in a series of new iridescent fabrics, vaguely retrò, sensual for the eroticisms of colours, from intense pink to passional red, as well as floral jacquards in deep shades of blue.
In the Wonderland line we have developed a range of soft and performing fabrics, inspired by the contemporary virtual design, jacquards with modern graphics, tactile, linear, up to the revival of the Scottish motifs, back in the limelight, re-interpreted in a modern black and white classic or in bright fashion colours.
New proposals for sportswear, leisure and active lingerie – "move!" Line
The chosen theme here was "Warm&Soft". Our proposals are therefore soft and warm fabrics with brushed, fleece-like effects in bright colours, smoothly attractive geometric nets and jacquards, all with high technical performances and part of the "Move!" Line.
Our research in the field of moisture management and comfort for the body in motion has led to increasing development of the unique technology PM HYDROFRESH, our special application for the well being.
High-tech new proposals for cosmeto-textiles and moisture management
We have created a new range of high performance fabrics through the application of cutting edge technologies, such as the use of infrared ( FIR) rays naturally emitted by the human body, in the treatment of skin elasticity, appearance and cellulitis, with beneficial effects on thermoregulation and enhanced sport performances.
Aside our existing range of smart fabrics we now designed and implemented the effect of moisture management fabrics also for cotton, keeping the skin dry, transporting sweat/humidity outwards, favouring its rapid elimination, improving well-being and sport performance.
Lingerie printed collection f/w 2013/14
Refinement, taste and environmental awareness are the key words of the season: a young modern and romantic woman, ethically aware, proud of her femininity playing with the potential seduction of a sophisticated, valuable and unique ambiance.
Here are the themes of the printed collection:
Genuine identity
Small flowers and motifs diluted on melange grounds, available in a range of gentle pastels that mediate the distances between light and dark, are the natural ingredients of a new generation of knits and jerseys that reflect concepts of quality and authenticity, using certified organic cotton, recycled and eco-friendly synthetic and artificial fibres.
Glamorous shine
High gauge extra fine Viscose and Nylon yarns enhance the features of transparency and flexibility creating lunar light reflections on the prints by the insertion of iridescent lurex, skins and flowers not foregone meet innovative interpretations of stretch bands.
Beauty lace
Flowers and laces disappear under the dark iridescent traits and strokes of absolute black, assimilate vibration technologies and re-appear under form of X-rays, fragmented and over-exposed in a concentration of magnetic flockings where jacquards successfully interact with the prints.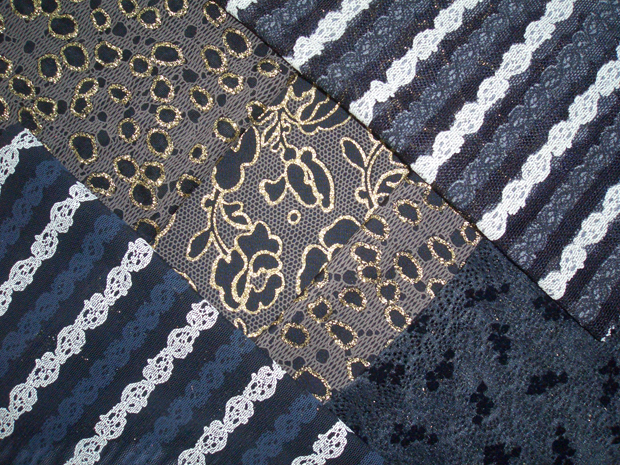 Extra freedom
Playful interpretations and experimentations in neo-boudoir style, add to the innocence of pastels the malice of black, playing with lace and veils in a contemporary interpretation of the currents of late nineteenth century with veiled transparencies of mesh, opalescent voiles and smooth creamy satins.