14th March 2017, Obertshausen
Summer dress made from fabric produced on Kar Mayer's HKS 4-M EL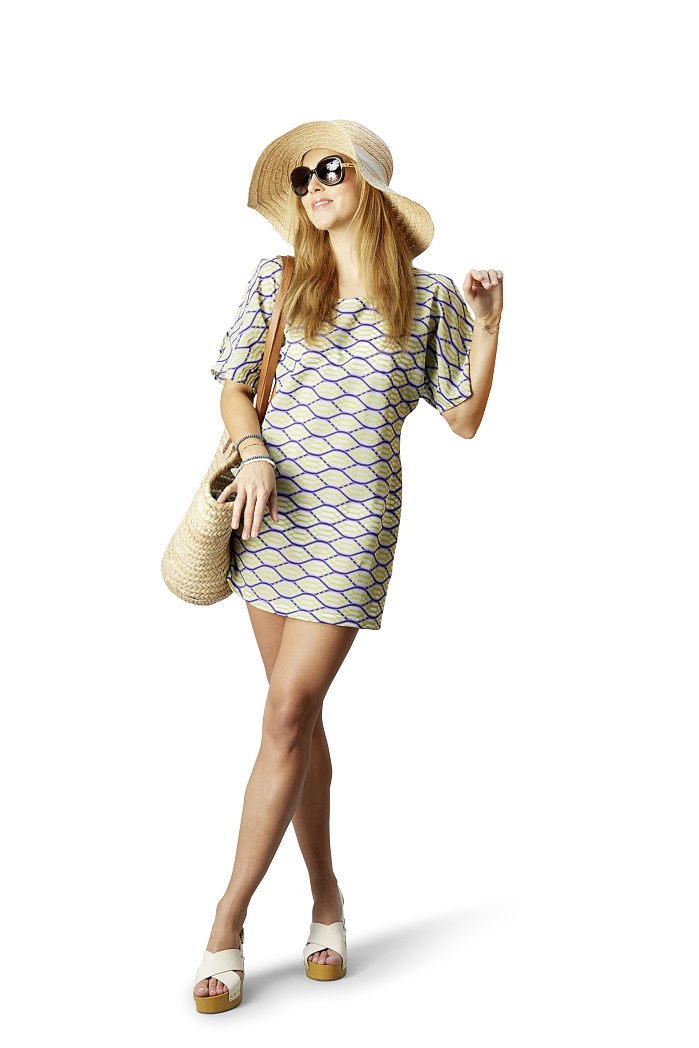 A versatile shirtdress, designed for wearing on hot days, has been produced using a light and airy warp-knitted textile, which is said to provide breathability and feel as soft as gossamer against the skin.
The knitted fabric weighs just 128 g/m². It combines an open ground with an attractive, multi-coloured pattern and is made from 100% textured polyester – an undyed version in the ground and navy blue, olive green and lilac yarns in the pattern areas.
The fabric was produced on an HKS 4-M EL flexible tricot machine. Equipped with the EL system, this high-speed tricot machine produces a ground with a regular mesh construction. But it can also produce patterns with sectionwise adjustable opening sizes to create different looks and air-permeability levels, the company reports.
EL system
The EL system also enables coloured pattern yarns to be worked into a sweeping, geometric, wave pattern. The length of the repeats is virtually unlimited and the width is restricted by a shog path of two inches, according to the manufacturer.
Another advantage of the EL system is that the pattern can be changed quickly. The exceptional patterning flexibility, combined with a high operating speed, are said to make the HKS 4-M EL the machine of choice for producing short runs and developing new products.
"This high-speed tricot machine reveals all its design potential especially when used in conjunction with suitable patterning software, for example, the ProCad warpknit, and the DS OPTO EC warping machine for warp knitting, which combines direct and sectional warping to enable patterned sectional warp beams to be produced extremely efficiently," the company explains.
This article is also appears in...