For textile producers looking to connect with British brands, the London Textile fair is the essential show to be at. Held at the London Design Centre in Islington, it is in close proximity for buyers from big brands just to hop on a bus or the tube to the event. This year sustainability was definitely on the agenda for many knitters.
John Kelley, show organiser and Textile Events owner commented: "All our shows are fully booked." And certainly, there was a huge range of fabric producers, print studios and accessories and importantly a strong showing of knitters.
Exhibitors said that they mostly supplied to fast fashion and mid-market brands such as Topshop, River Island, Zara and Marks & Spencer. More specialist and high end exhibitors mentioned higher brands and independents and start-up designers were visiting their stands.
The show draws producers from far and wide such as Handmade in Rajasthan who represented artisanal weavers, printers and embellishers now working with contemporary fashion designers, to Peruvian cotton textile producers. A new exhibitor from Bulgaria, Nitex is ideally positioned geographically for short orders and near shore production. "We ship a lot to Turkey for the German market, and two or three good garment makers in Bulgaria," the company said.
There was genuine quality to the fabrics on show, with real innovations and creativity. One freelance design consultant formerly of Thomas Pink and Aquascutam expressed real excitement about the fabrics he had seen.
Turkish producers dominate
Turkish producers were out in force with some 118+ exhibitors showing and many strong knitted fabric producers. There were also exhibitors across the range of textiles, including cottons, stretch lace, fancy fabrics and a strong showing of Jacquards.
Many exhibitors who spoke with Knitting Industry expressed concern about the effect of the political situation and its portrayal in the press was having on connecting to customers and stated that the fair was essential for them to connect with British and European brands. Atakan Kukre of family run business Kukrer Tekstil, from Bursa, said: "This is the first time we are exhibiting. We have had visitors from Europe and UK, it is very useful for us."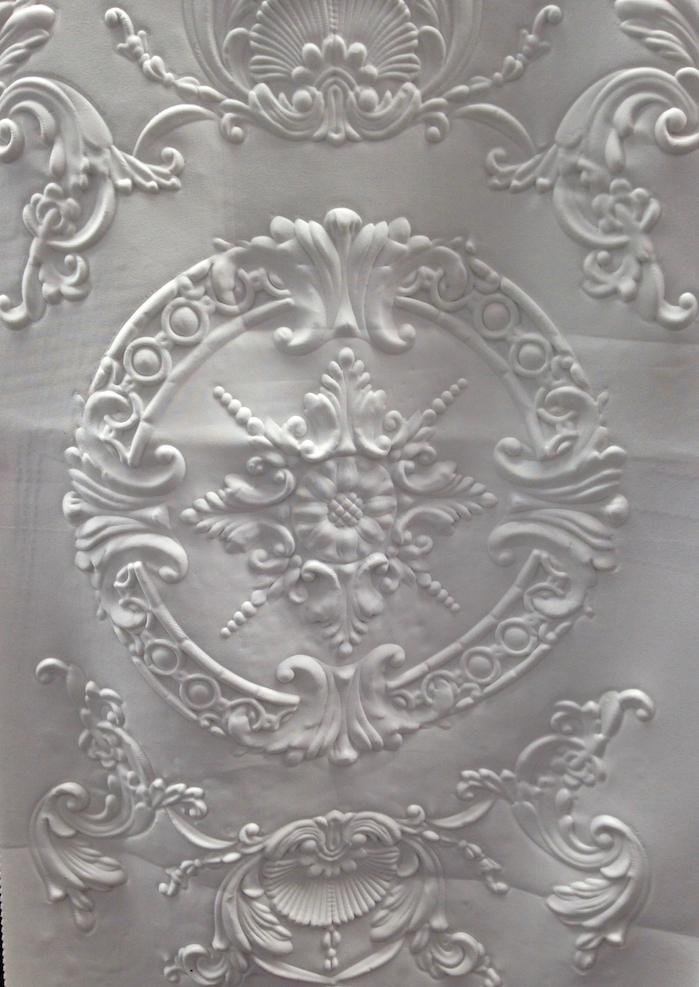 Interestingly Turkish exhibitors said that they are still doing bulk, despite the emerging trend for short ordering from near-shore providers. Fatih Eraslan of DILEK a producer of stretch fashion and sports stretch fabrics in Bursa, Turkey said: "We produce 3.2 million metres per year. They are still bulk ordering especially for Mango, we got an order for 100,000 metres." He noted that of the big brands such as H&M and Zara, they are using Turkish fabrics for Europe as they are paying a higher tag price. "In European countries when I visit stores like H&M stores, Mango, Zara I generally see the Turkish products, so I see our fabrics in these stores in Europe and the UK. When I see H&M etc. in Istanbul I see the products are made in Bangladesh or Casablanca," Mr. Eraslan said.
The Turkish contingent are supported by the Istanbul Textile and Raw Materials Exporters Association iTHiB, who are supporting exhibitors through paying 50% of their stand fee. "We are good in the UK market we work with M&S, ASOS, Ted Baker, Top Shop, New Look, especially River Island and Oasis," Fatih said.
Sustainable fabrics
One of the interesting trends that knitted fabric producers seemed to be pushing were sustainable fabrics. Jason Body of Urban Fabric Limited representing Italian fabric company Primatex and German company Kindermann said: "It is a struggle to get people to do it and it is quite an investment and I don't know if the consumer is fully on board with it, it needs to become commercial before anyone does it in a big way."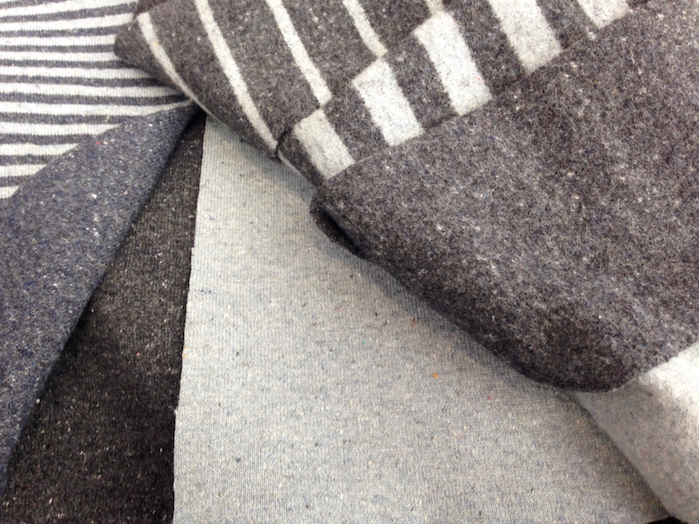 He added that: "The new collection using wool and recycled cotton from denim, from old recycled denim garments. We have been pushing them to do something recycled, or organic because we are getting asked more and more, we do corduroy and moleskin and part of that collection is organic by Kindermann."
Carmen Pinto from Vilartex, one of 15 Portuguese fabric companies exhibiting, said: "We have been here for four years and this is the first time that people are asking for organic items. Definitely things are beginning to change."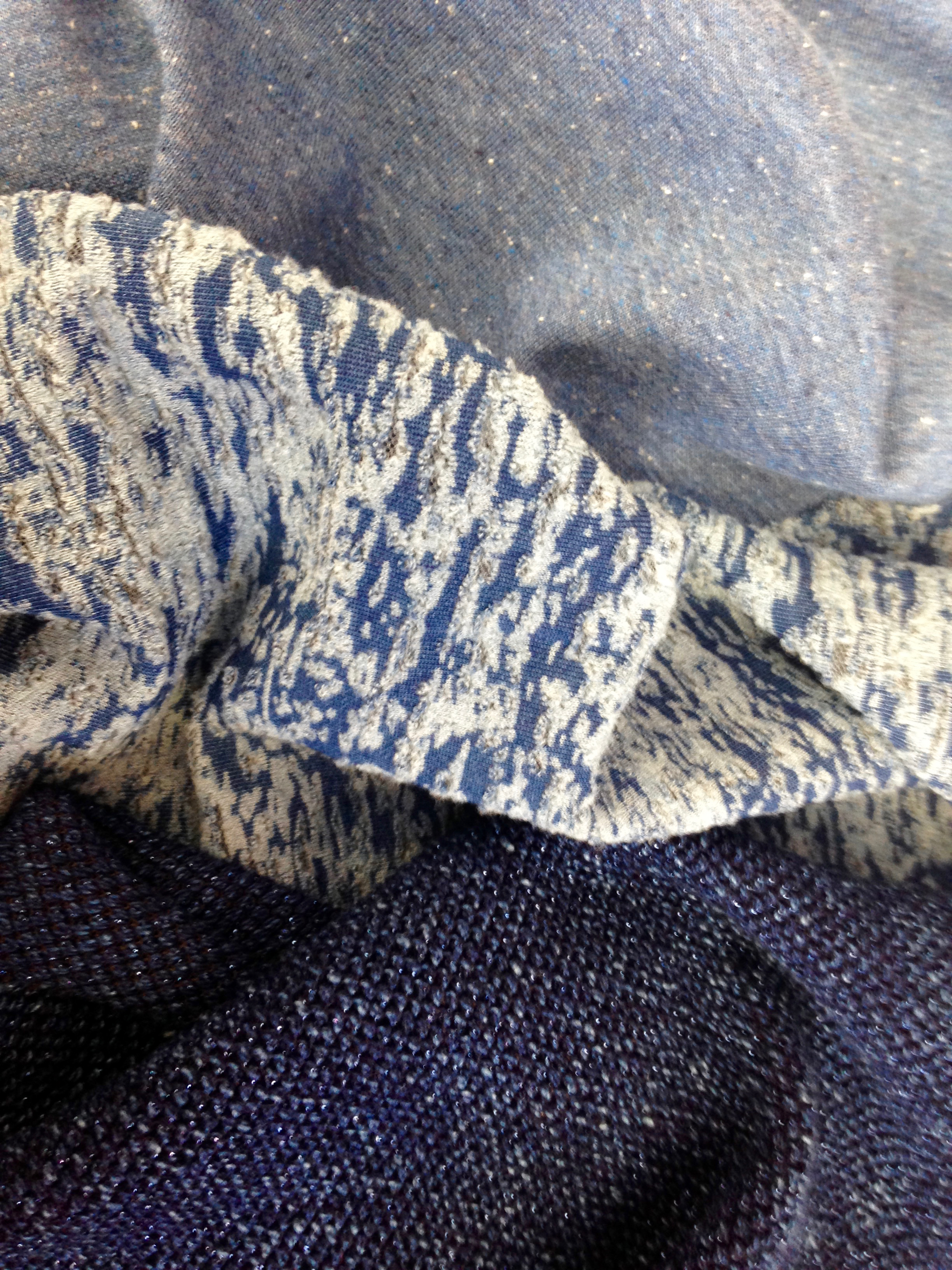 Vilartex have specialist collections of indigo dyed and sustainable fabrics that she says are really attracting customers. However, she says that if fabric producers do not take the initiative about producing sustainable fabrics the market will change even more slowly. "It is something we want to do, we know that the big brands such as Inditex and H&M are now getting aware of this sustainability and environmental concerns and it was something Vilartex wanted to make. We have been working on organic and recycled for two years. It is not a client request it is a step that Vilartex initiated," she said.
With regards to cotton she said: "There is also a new fibre which is the cotton which is certified by BCI which helps the agriculture and producers more of a social certification and those big brands have some goals till 2020 to get all their cotton from BCI, they are interested but the price is always the problem." The big problem for fabric producers, particularly in the UK market, is price. "They like the recycled polyester they want to do it but at the same price as the conventional [fabric]," Carmen said.
Sercan Borucu, International Sales executive for Istanbul based Nuryildiz Tekstil said that 30% of their production was organic cotton and that it was countries like Denmark that asked for it more, "For organic cotton sportswear is around 20% and the remaining is for fashion and babies wear," Sercan said.