Première Vision's platform for creative flatbed knits, Knitwear Solutions, has confirmed its legitimacy and significantly strengthened the overall ensemble of Première Vision Pluriel shows after just three seasons, organisers report. This new space meets the growing need in international fashion markets for knitwear developments.
The show will take place from 18-20 February at the Parc d'Expositions Paris Nord-Villepinte, where it will provide concrete solutions to designers, products heads and buyers specialised in flatbed knitwear, some 3,000 of whom attended last September.
The fourth edition of Knitwear Solutions welcomes 20 international knitters and spinners. They are unveiling their latest developments for Spring/Summer 15 along with their latest proposals for Autumn/Winter 14-15.
Variety
In addition to these 15 knitters and 5 spinners, the 13 studios specialising in knits at the Indigo show bring the total offer proposed by the flatbed knit sector to 37 exhibitors this February.
The show will offer a variety of materials, including natural fibres, such as ultra-fine cotton, silk, exclusive noble fibres (alpaca, cashmere, lama) and fine wools. It will also feature different styles – fancy knits, plays on jacquard stitches and complex intarsias, thick to extra-fine gauges, original prints, mixes of materials, refined finishings and more.
International platform
An international platform, Knitwear Solutions presents a range of knitters from Italy, Portugal, Bulgaria and Turkey. For their part, knitters from Asia - Japan, China and Hong Kong - make it possible for brands and designers to take advantage of the region's traditional textile know-how, and also find rich and varied technical and fancy developments, in large and more smaller quantities.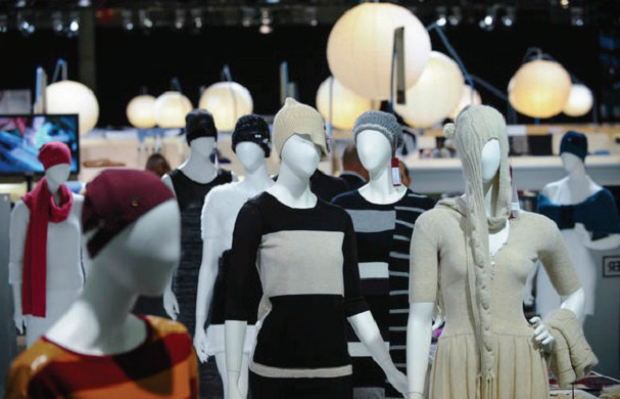 In terms of spinners, while Europeans offer cutting-edge choices in noble, natural or artificial fibres, whether single or blended, Asian exhibitors are an important source of noble fibres such as cashmere and wools.
Futuristic Heritage
Futuristic Heritage is an installation of knitwear pieces exclusively selected for Knitwear Solutions and organised by exhibition curator Federico Poletti in collaboration with the international centre for Italian fashion documentation, Archivio Modateca Deanna, and Francesca Fornasari.
For the Knitwear Solutions area and in collaboration with the archives of Modateca Deanna, some 20 knit pieces were selected from the collections of celebrated fashion houses and designers: Maison Martin Margiela, Azzedine Alaïa, Claude Montana, Versace, Marina Spadafora, Julian McDonald and others.
The exhibition shows just how historically avant-garde and pioneering these pieces were and are, and how they continue to influence and inspire both today's and tomorrow's textile and knit creativity. The pieces selected highlight the natural evolution between two-dimensional geometrical motifs, with gentle ripples and organic surfaces that marry the body, and sculptural 3D silhouettes that are now redefining the traditional interpretation of the body.
This article is also appears in...