Dr Masahiro Shima, Founder and Chairman of Shima Seiki has published his autobiography and philosophy - 'WHOLEGARMENT - The philosophy and technology of a fashion revolution'
The book, available from LID Publishing Ltd., tells the story of how an inventor and his company changed the fashion industry. Written by the Dr Shima himself, the new inspiring work about invention and the pursuit of perfection, is the inside story of a company that went on to lead a revolution in knitwear manufacturing. It reveals both the innovation and philosophy behind his success - today, WHOLEGARMENT knitting machines produce knitwear for major high-street brands as well as high-end fashion houses.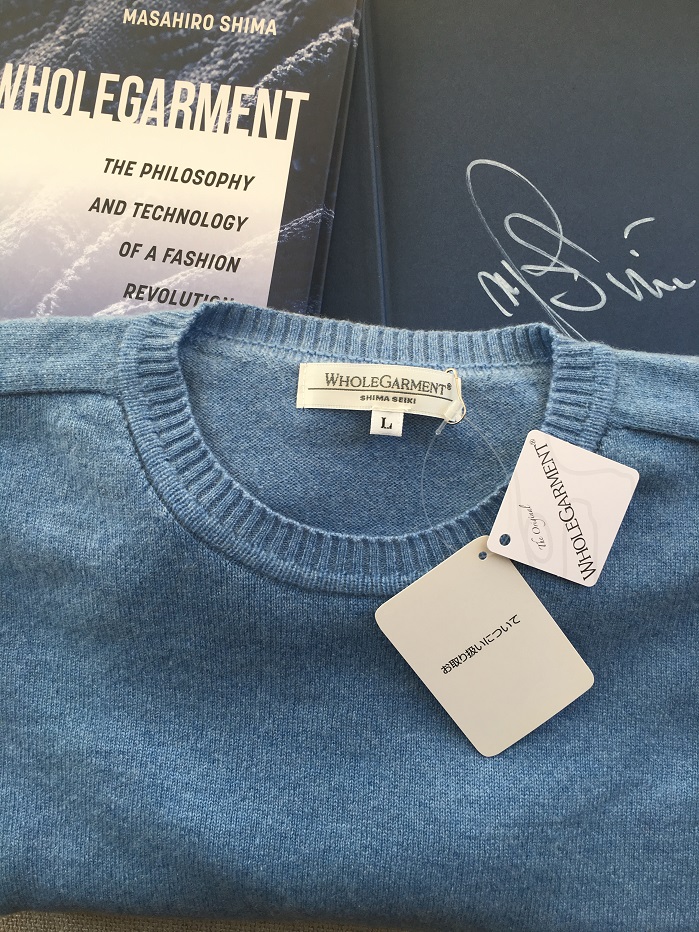 In 1962, Masahiro Shima founded Shima Seiki, with the aim of developing a fully automated seamless glove-knitting machine. Following this success, the company expanded into flat knitting machines. The age of the computer then brought a whole new era for Shima Seiki and by committing to computerization in its mainstream products, the company gradually began to stand apart from its competitors and its focus on computer-aided knit design and programming in fact led to a revolution in the industry.
Changing the way knitted garments are produced
The book looks at how Masahiro Shima developed both the technology and philosophy to enable his company to be market leaders in industrial knitting machines – and fundamentally change the knitwear industry. This culminated in the launch of the company's WHOLEGARMENT knitting machine in 1995, which altered forever the way knitted garments are produced, and which today is used by fashion manufacturers across the world.
The book's Preface is written by Professor Frank Hartley, who was Vice-Chancellor/President, at the UK's Cranfield Institute of Technology, now Cranfield University, from 1989-2006 - Dr Shima accepted an honorary Doctorate from the Institute in 1993.
In the words of Professor Hartley, the book is both the autobiography and philosophy of Masahiro Shima, who was born in the Japanese city of Wakayama in 1937, when Japan was the most powerful nation in the Pacific. Masahiro was only five years old when Japan launched its attack on Pearl Harbor, with the aim of conquering the mighty United States of America. By the time he was eight, his father had been killed in the war, his home town devastated by American bombers, and his home destroyed.
Ever Onward
This is the story of how Masahiro Shima overcame this shattering start to life and built one of the world's most successful knitting machine companies. Of course, it also contains a detailed description of those WHOLEGARMENT knitting machines.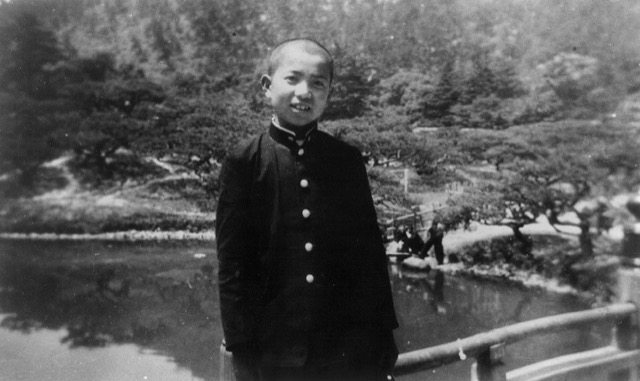 After the defeat of Japan in August 1945, Masahiro's family ceased to be the honoured family of a soldier killed in battle, becoming a single-parent household with all its social disadvantages. With his personal motto of 'ever onward', now the motto of Shima Seiki MFG. Ltd., he started selling vegetables in the local market, showing from a young age the ability to spot the extra value he could create by sometimes offering fried in tempura, then a luxury food.
Key concept
At the age of nine, young Masahiro's entire family was hospitalised with typhoid. Left at home, Shima one day observed a spider catching flies on the edge of its web, but always returning to the centre of the web. This inspired his approach of looking at every problem from a 360-degree point of view. Furthermore, he observed that when he looked directly at the spider in its web, and then at the spider in a mirror, left was switched to right and vice versa, but top was not switched to bottom. This later became a key concept in WHOLEGARMENT knitting machines.
As he grew up, the property next door to the Shima home was a repair shop for manually operated glove knitting machines. His mother made gloves by hand and at night, after school, Masahiro went to work in the glove knitting machine repair shop, seeking to improve those machines. At age 16, took out his first patent. The prototype of this glove knitting machine was a sock knitting machine invented by an English clergyman William Lee in the late 16th century.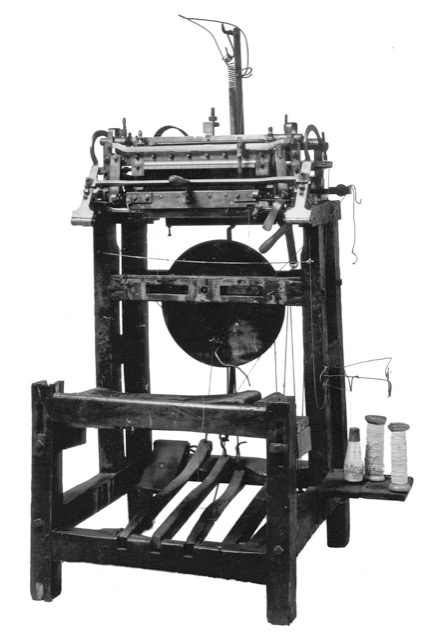 A key development was his invention of the double loop stitch sewing machine. This could join the glove's five individually knitted fingers with the palm and the wrist band. By age 18, Shima introduced elastic yarn into the wrist section, making gloves much easier to put on and take off.
Shima's precision machinery manufacturing company
By the time he was 20, he was working full time on developing knitting machines. In 1961, aged 24, he established his own knitting machine company, soon naming it Shima Seiki Mfg., Ltd. – Shima's precision machinery manufacturing company.
Having mastered a single machine for making gloves, it was but a small step to move to WHOLEGARMENTs, making it all bigger, joining the three middle fingers together and extending the thumb and the little finger to become the arms. And so, the WHOLEGARMENT concept for making seam-free knitwear was born.
This book is an account of the development of these world-leading WHOLEGARMENT knitting machines, and the achievement and success of a brilliant engineering inventor driven by the 'ever onward' philosophy he'd developed as his personal driving force at the tender age of eight.
Advanced knitwear manufacturing system
Chapter 2: WHOLEGARMENT: Advanced Knitwear Manufacturing Systemlooks in detail at the development of WHOLEGARMENT knitting and its acceptance by knitwear manufacturers. In the section A Must Have Technology for Italian Knitwear Manufacturing, which helps put things into perspective regarding the acceptance of the technology, two articles which were originally published on Knitting Industryin October 2015 are included.
Max Mara: A champion of Shima Seiki WHOLEGARMENT technology and WHOLEGARMENT is a 'must have' technology for Italian knitwear manufacturer Martignoni Paola two articles from a set of nine interviews with leading Italian knitwear producers tell the story of why WHOLEGARMENT technology is being used to produce knitwear for some of the world's leading brands.
Read more
LID Publishing has provided Knitting Industry with an excerpt from the book which can be downloaded for free in PDF format here -
'WHOLEGARMENT - The philosophy and technology of a fashion revolution' by Masahiro Shima. Chapter 1: Introduction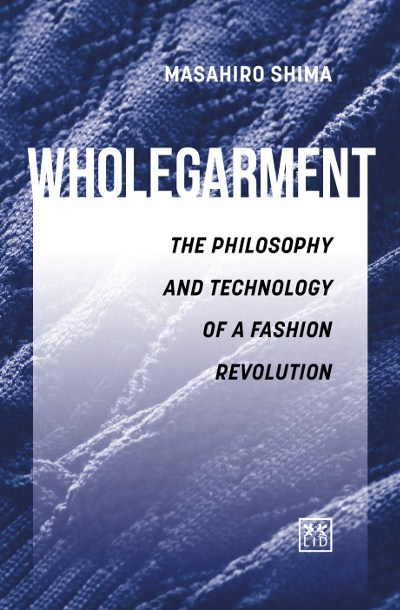 Buy the book
WHOLEGARMENT - The philosophy and technology of a fashion revolutionby Masahiro Shima is published by LID Publishing, a publishing house for business books, which is celebrating its 25th anniversary this year. It can be purchased by following the link below.
WHOLEGARMENT - The philosophy and technology of a fashion revolution