Design
Winners announced for Shima Seiki student competition
Two weeks of specialist industry training awarded to two knitwear students.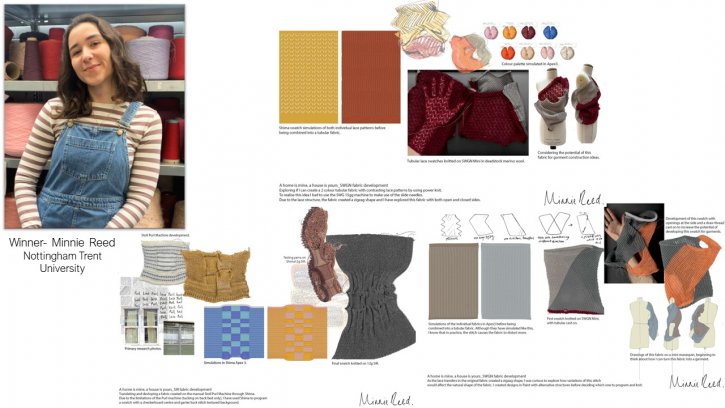 15th March 2023
Knitting Industry
| Castle Donington, United Kingdom
The annual Shima Seiki Europe Student Competition sees applications from the fashion and textiles sectors from both the UK and across Europe and the winners receive specialist training on the use of industry specific technology and machinery.
This year's winners are Bernard Krucyk from Oslo National Academy of Arts in Norway, and Minnie Reed from Nottingham Trent University in the UK. Bernard and Minnie will receive one to one specialist training on the operation of Shima Seiki's virtual design software, Apex, as well as the programming of Shima Seiki's knitting machines.
About the competition
The competition was established to give final year and masters students the specialist knowledge and skills to start their career within the industry. Students may not always have the opportunity to use Shima Seiki technology or machinery whilst at university, and so the criterion for the competition just requires them to use a form of computer aided design software (CAD).
The brief includes a written statement outlining the student's interest in CAD and how the training would benefit them as well as four digital design boards to see how they currently use CAD to aid their design process.
This year's entries showed a clear passion and interest for increasing their knowledge and skills to better equip them for the start of their career. This made for tough judging by guest judges, Pip Jenkins, Design Director at John Smedley and Melanie Eccleson, Knitwear Designer at Poeticgem.
Pip is a knitwear specialist with detailed knowledge of both Shima Seiki machinery and Apex Design System technology. This duality in creativity and technical knowledge allows Pip to design with knitting capabilities in mind. Pip has been using Apex Design System technology for over ten years and mainly utilizes the software's ability to simulate high quality virtually knitted samples to be used throughout the design and production process. This has helped to greatly reduce the number of samples being produced.
Melanie is a knitwear designer at Poeticgem, a leading sourcing company providing a seamless service from design through to production. Melanie works within the Womenswear team designing trend driven knitwear for several industry leading retailers. Graduating from the University of Central Lancashire Melanie has been in the knitwear industry for three years gaining first-hand experience of how the industry works. During this time Melanie has been introduced to the Apex Design system, using it not only to produce virtually knitted samples but also using 3D aspects of the technology to present to customers and manufacturers. The use of the software has considerably reduced the need for multiple samples reducing waste and lead time.
Both our judges were very impressed by our winners and felt excited to see how Minnie and Bernard would use Shima Seiki's software and machinery to test their conceptual ideas. They felt that the winners would really benefit from the prize and it would give them advanced skills in preparation for the start of their career.
This year's winners
Bernard Krucyk
Bernard Krucyk is currently enrolled on the last year of his bachelor's degree in clothing and costume design at The Oslo National Academy of Arts. During his time at The Oslo National Academy of Arts. Bernard has explored different aesthetics and techniques, but after a short while landed on knitwear as his main focus. Bernard enjoys incorporating mathematics and graphic design into his knitwear design, whilst also intuitively working with patterns and colours to enhance his design's visually.
He has always been fond of digital design and the accessibility of illustrating and designing on a computer software gives access to techniques and tools that he would otherwise never get to use. "Knitwear is where I can fully express my design visually, and I think it's great to be able to have full control over my design," he feels.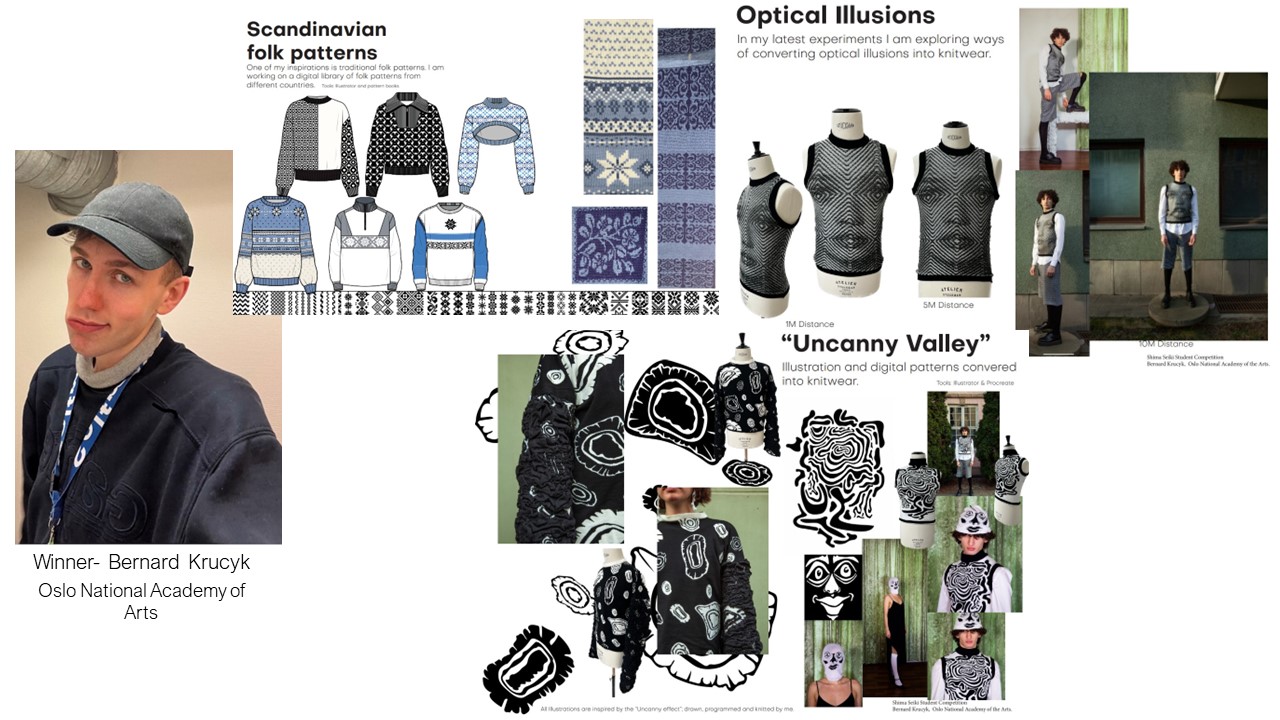 Although Bernard has had some experience with Shima Seiki Apex software, he is enthusiastic to deepen his understanding and is particularly excited to see all the different combinations and patterns he can create. "The training will really catapult me into the fashion industry world and give me a very strong and creative foundation to continue building upon," he concludes.
Minnie Reed
Minnie Reed is currently studying MA Fashion Knitwear at Nottingham Trent University and has been specialising in knit since the second year of her BA. Her final MA collection is a research-based project exploring methods to build emotional durability, and therefore longevity, into clothing.
"An understanding of knitted structures is key to my process and developing ideas using Shima Seiki's Apex3 has already unlocked so much potential within my own design practice," Minnie says.
She has particularly enjoyed using it to develop fabrics from Dubied hand flat and domestic machines using the technology to push the techniques created by hand. "I believe that knitwear holds such huge potential for informing sustainable design practice across the industry and I can't wait to begin the training at Shima Seiki Europe. I am so excited to have the opportunity to expand my understanding of the software, explore its possibilities and challenge its limits. It will help facilitate my career as a much more technical, sustainable and innovative designer," Minnie adds.
Shima Seiki
Shima Seiki is a market leader in the manufacture of computerised WHOLEGARMENT and flat knitting machinery. The virtual Design and Development software (APEX4 and APEXFiz) enables virtually knitted and woven fabric simulations in 2D/2.5D and 3D.
The company's innovative approach to creating technology and machinery for the knitting industry allows for continual progress and advances both within the design and manufacturing of knitted textiles. Students understand the importance and benefit within the industry of such technology in helping improve sustainability and making the design and manufacturing process more efficient.
Shima Seiki computerized flat knitting machines are the global standard in the industry. Offering a wide range of machinery including WHOLEGARMENT, seamless, technology Shima Seiki is always at the forefront of knitting technology.
The Shima Seiki Apex Design System is a market leader for the development of virtually simulated fabric and is used as a development tool by manufacturers, design companies, sourcing offices and retailers throughout the world. Many designers are already using the system to reduce their lead time and development costs through the presentation of virtual samples and improved technical information. Furthermore, accuracy of communication between designers, manufacturers and suppliers is enhanced as technical data can be produced simultaneously to designs.
For further information about the products Shima Seiki Europe offers, please visit the company's website.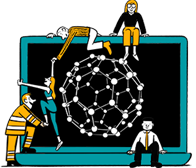 Business intelligence for the fibre, textiles and apparel industries: technologies, innovations, markets, investments, trade policy, sourcing, strategy...
Find out more