13th January 2016, London
Winter Comfort
London is so cold these days. Even though daffodils are growing all over the parks thinking this is a crisp, spring weather, for me it's freezing cold! All I want to do is curl up in the sofa with my dog, a huge soft blanket, and eat lots of comfort food. I never needed much of this kind of food before, but since I moved to London I learnt to appreciate gravy, roast dinners, all kinds of pies, potatoes with everything and much more. So there I was, eating my roast potatoes when I remembered the very cool work of Jessica Dance.
I came across Jessica's work last October on my way to work. I was leaving the tube station in a rush when I saw a Stylist magazine on the floor. The cover was this colorful, fun image of some sausage and mash, and as I gave a closer look I noticed that every single component in the image was knitted! Knitted peas, knitted mashed potato, even knitted little bit of butter on top. It was not your typical crafty knitted figurine either; everything looked so smooth, precise and realistic.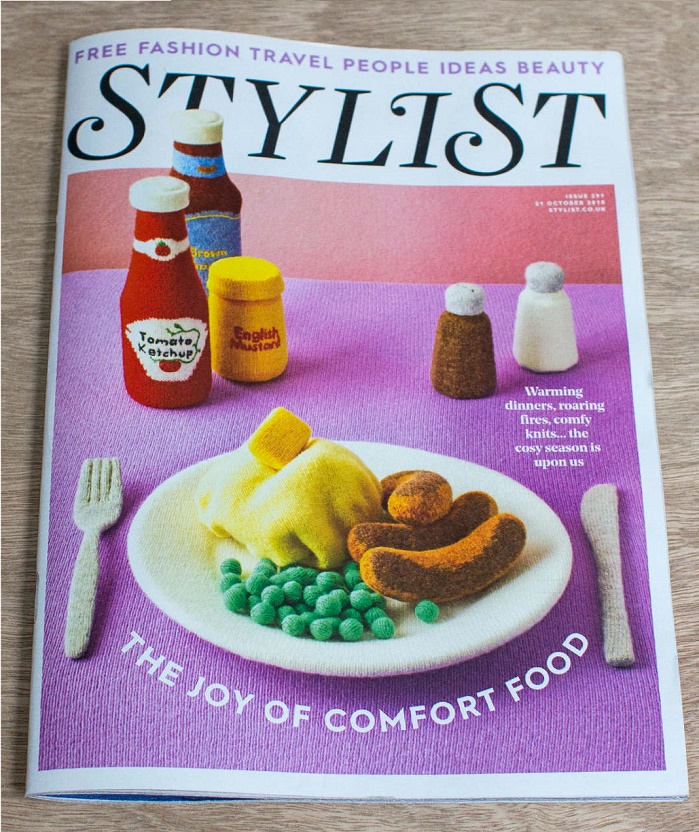 But let me tell you more about the artist. Jessica Dance is an art director, model maker and prop stylist based in Hampshire. She specialises in crafting props and models for set design used in fashion, interiors, editorial, and moving image. Her knitted dishes go from a burger and fries to a full english breakfast, and are all made with a domestic knitting machine.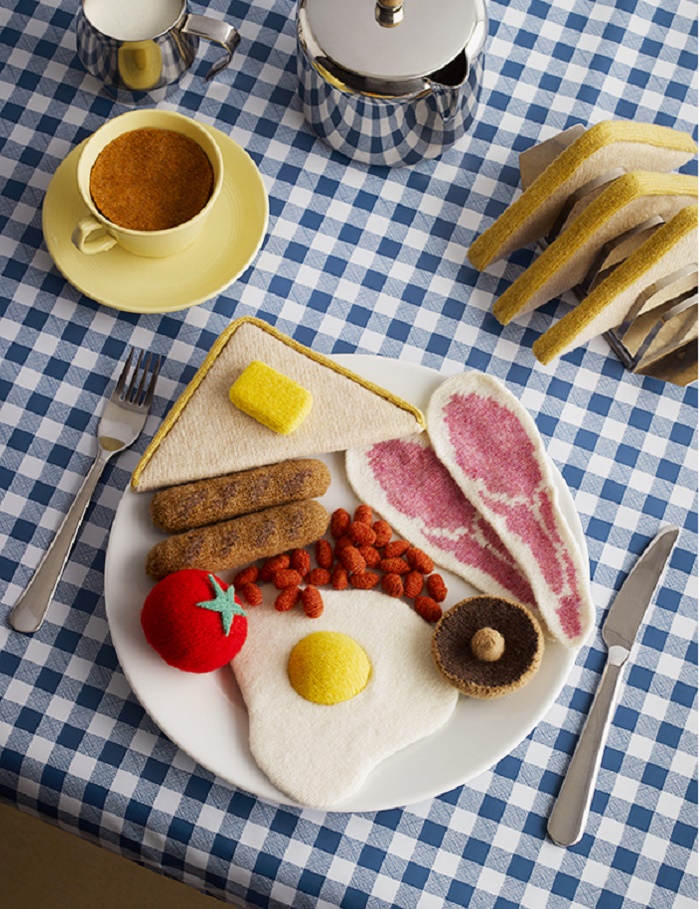 She tells Stylist magazine: "My commissions can often take weeks of sculpting, knitting and stitching. I start by hand-sketching the piece then cutting a rough mock-up out of calico, clay or styrofoam. I then machine knit the model using an original eighties domestic knitting machine. It's actually very labour intensive."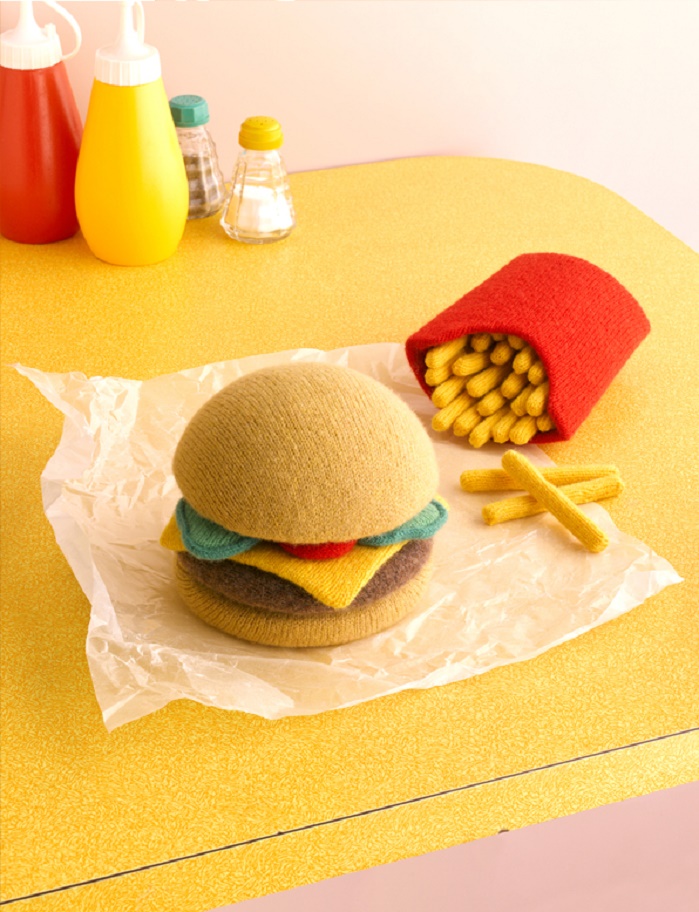 It is most definitely worth it though! As with everything in knitting, it takes a long time and effort, but that's what makes it so satisfying and special. Here are some more images of Jessica's work, which you can also find in her website: www.jessicadance.com (do check out her paper food too, it's great!)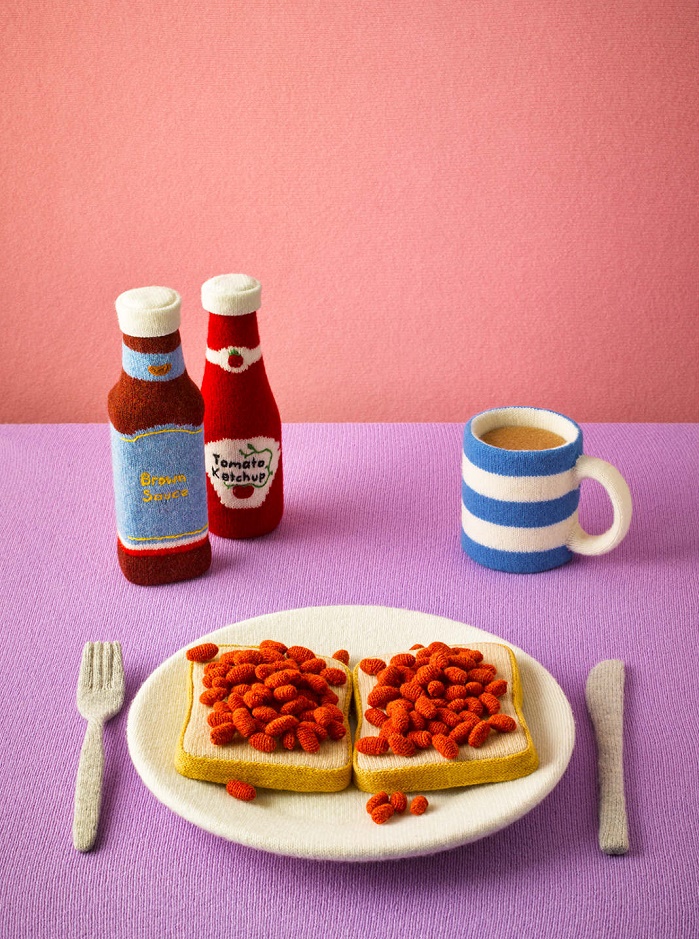 I would happily wear some knitted food, maybe as a fun trim, little pea embellishments or a strawberry hat. I researched and thought I would definitely see lots of knitwear inspired by food, but sadly I could not find much!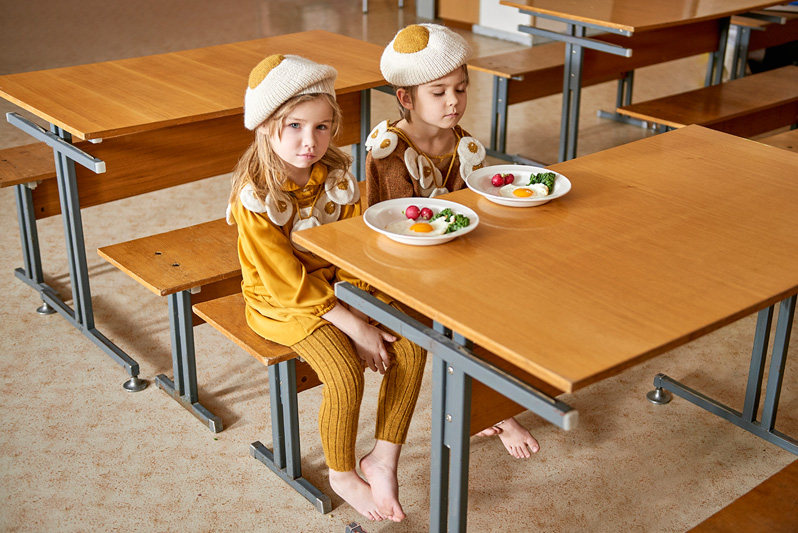 My favourite discovery was this brand called Oeuf, based in Brooklyn. They are a family company focused on producing lovely, quirky, modern products for babies and toddlers. One of their knitwear collections is inspired by the goods in their favourite organic supermarket.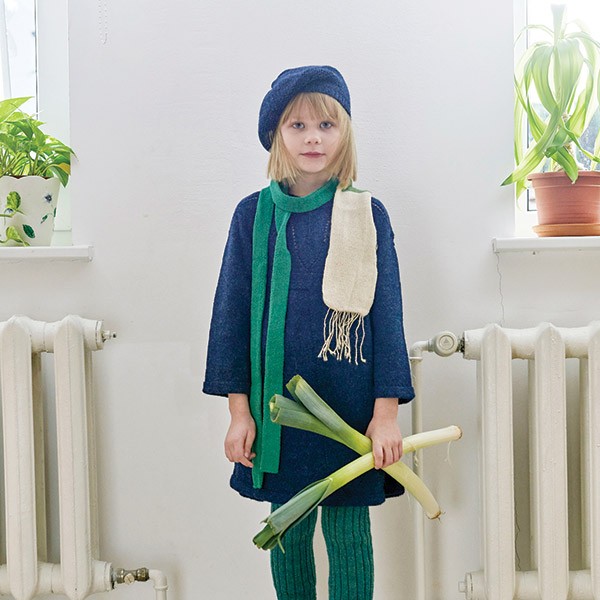 You can find egg hats, hooded eggplant jumpers, leek scarves and apple mittens. Plus, the products are fair trade, made with Alpaca wool by indigenous women in Bolivia, giving them a living wage that allows them education and health care.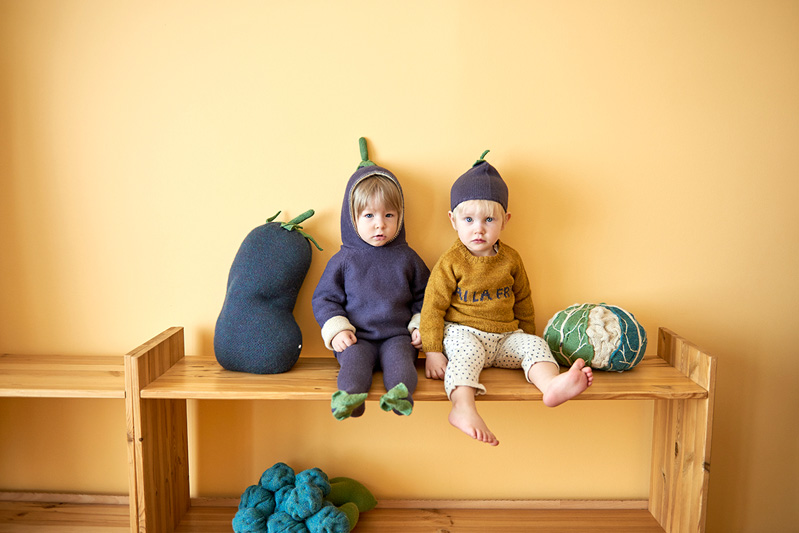 You can check out Oeuf's website www.oeufnyc.com/index.php and also the whole shoot with the little ones www.mothermag.com/oeuf-fall-2015
This article is also appears in...