Wisconsin textile manufacturer Monterey Mills has acquired Glenoit Fabrics, a leader in high pile knit fabrics for apparel, accessories, footwear and specialty products, which operates a mill in Tarboro, NC. Monterey, formerly a competitor of Glenoit's, plans to modernise the Tarboro plant in an effort to turn around its sagging fortunes. The acquisition includes the machines inside the plant but not the building itself, which Monterey will lease from the local ownership group.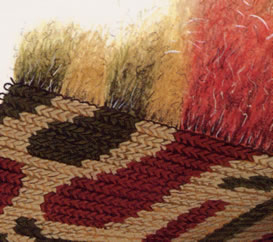 The company acquired Glenoit from a local ownership group that had bought the business from Haixin, a Chinese company that acquired Glenoit in 2002.
Sliver knitting
The Tarboro plant is one of only a handful of sliver knitting mills that remain in the US - sliver knitting, or high-pile knitting, is a process that locks individual fibres into a lightweight knit backing.
Such fabric are used in a number of different products, from fleeces and saddle pads to the fabric for mascots and stuffed animals.
Monterey operates a sliver knitting mill in Janesville, WI and its President Dan Sinykin said one of attractions of the Glenoit acquisition is that the Tarboro mill has a large number of Jacquard knitting machines, which are able to knit patterns. "They have more Jacquard hard knitting machines than I have in Janesville," he said.
Industrial applications
Glenoit's plant in Tarboro once employed 1,100 people in the late 1990s, but the company has struggled to stay afloat in the face of cheaper competition overseas.
Although Monterey Mills has also been hurt by overseas competition, Sinykin said the company has found success by focusing on industrial applications. One of the company's core markets is making the fabric on the end of paint rollers.
"Industrial applications have not gone overseas as significantly," Sinykan said. "We're just looking for growth opportunities. We want to make sure that high-pile knitting is available to domestic manufacturers for many years to come."
This article is also appears in...