24th September 2010, London
Wool is back on radar at London Fashion Week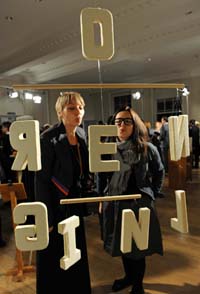 On Sunday 19 September 2010 at a reception held at Somerset House during London Fashion Week, plans were unveiled to raise the global awareness of wool and its natural performance attributes and benefits, these included the expansion of the Campaign for Wool and the announcement of the launch of a global Merino wool fibre education campaign commencing later this year.
According to organisers, the event was attended by over 200 key representatives from across the industry, including producers and manufacturers through to retailers and designers, journalists, fashion stylists and photographers. Speakers at the reception included Harold Tillman, Chairman British Fashion Council and Chief Executive of Jaeger & Aquascutum, Peter Ackroyd, Campaign for Wool steering committee member and Rob Langtry, Chief Marketing Officer for Australian Wool Innovation/Woolmark International.
At the reception, Rob Langtry announced the imminent launch of a new global wool fibre education campaign for Merino wool, endorsed by Woolmark, which will commence this year and will be rolled out during 2010 through to 2013 to key wool consuming and fashion markets, working with leading wool partners to educate consumers on the benefits and attributes of wool.
The three year campaign aims to remind consumers that there is truly 'No Finer Feeling' than wearing Merino wool, encouraging consumers to look behind the garment and think about the fibre from which it is made, using a 'look for attribute' and 'Find Merino' concept to expand on the natural benefits of wool. "Australia produces the majority of the world's finest Merino wool for apparel in fine tailoring and for softness next to skin. It is therefore paramount that the attributes of wool are highlighted in the new Woolmark fibre marketing campaign to today's eco aware and fashion savvy consumer," a spokesperson for the campaign said.
"As a natural, biodegradable and renewable fibre, wool exemplifies many of the qualities the Campaign for Wool is focused on. Comfortable, fashionable and long-lasting, wool has long been the favourite of designers, but younger consumers, born in an era of "disposable" fashion, know too little about the extensive benefits of wool, and in particular, Merino," the Campaign for Wool says.
"The Campaign for Wool was launched in January 2010 by its Patron, HRH The Prince of Wales. The Campaign brings together a formidable alliance throughout the pipeline from farmers through to retailers, all seeking to educate consumers about the natural benefits and versatility of wool. This five year initiative aims to encourage consumers to make a lifestyle choice in favour of sustainability through fibre switching to wool."
The UK will be the first market to launch a comprehensive retail campaign with Wool Week, commencing on 11th October. The inaugural event on Monday, the 11th, will be the turfing over of Savile Row, for two flocks of sheep to graze upon. Over 50 UK retail brands and designers will be supporting Wool Week. In 2011 the Campaign for Wool will be extended into key fashion markets, particularly the USA, Italy, Spain, New Zealand, Australia, Japan and Korea.
Stuart McCullough, CEO of Australian Wool Innovation commented, "The Campaign for Wool seeks to educate consumers about the fibre's unique natural, renewable and biodegradable properties in partnership with wool growers, manufacturers, retailers, and designers. It is excellent to see that so many brands in the UK support the campaign and acknowledge the importance of sourcing natural fibres. This program coincides with the launch of the new global Woolmark Merino wool fibre education campaign. We aim to encourage global consumers to make an informed, natural choice in apparel and opt for wool instead of synthetics".
This article is also appears in...