15th December 2009, Sydney
Wool production steadies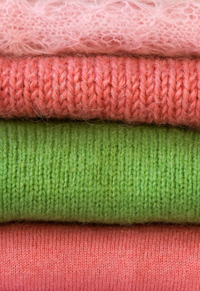 For the first time in nearly two years, wool production forecasts have not been revised downwards and there are signs in many states that sheep numbers are beginning to stabilise. The long decline in wool production appears to be steadying according to the Australian Wool Production Forecasting Committee, which released its latest forecast yesterday.
The committee has reconfirmed Australian shorn wool production in 2009-10 is expected to be 330 mkg greasy, the same as it forecast in July. This compares with a final estimate for 2008-09 of 362 mkg greasy.
"Key statistics, including season-to-date wool tests and wool receivals, continue to point to a fall in production of around 30 mkg greasy for the year," committee chairman Russell Pattinson said.
"While seasonal conditions have been patchy around Australia, some areas have experienced the best conditions in a decade but others are still very dry. The main issue is the number of sheep in Australia."
"However, for a range of reasons, including relative returns from sheep compared with other enterprises, it appears that producers are starting to look again at sheep as a key part of their farming business."
The Australian Bureau of Statistics recently released its preliminary estimate on the number of sheep in Australia as at 1 July 2009 at 71.6 million head. This is 7 per cent lower than the number a year earlier.
"Importantly though, the latest statistics from the ABS also show that sheep slaughterings are down 19 per cent for the first four months of 2009-10 while lamb slaughterings were up 6 per cent. As well, the number of live sheep exported in the September 2009 quarter was down 27 per cent. These figures suggest that the turn-off of adult sheep has slowed considerably."
The national committee drew on advice from the six state committees, each of which includes brokers, growers, private treaty merchants, representatives from state departments of agriculture, and the Australian Wool Testing Authority.
The committee confirmed its July forecast that wool production in each state would fall in 2009-10 compared with 2008-09, except for Tasmania which is now expected to see a modest 3 per cent rise in production due to better fleece weights. The decline in production across Australia is entirely due to there being fewer sheep now than 12 months ago.
The committee also now expects that the production of superfine wool will not drop as much as previously expected. "This is mainly due to poor seasonal conditions in the past six months in the two largest wool producing states of NSW and Western Australia," Mr Pattinson said.
A full report of the latest forecasts will be available on www.wool.com/forecasts after 2.00pm on 16 December 2009.
This article is also appears in...