3rd September 2015, Sydney
Woolmark presents latest trends and innovations at SPINEXPO Shanghai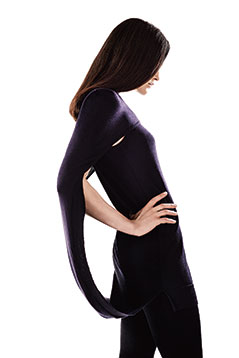 The Woolmark Company presents the latest innovations in Merino wool and showcases The Wool Lab Autumn/Winter 2016-17 at SPINEXPO Shanghai international trade fair for fibres and yarns that takes place in Shanghai this week.
The company focuses on three key pillars of innovation: Touch, Technique and Texture, exhibiting examples of the three directions that include warp-knit fabrics, knitted denim, Merino Retract knitwear, as well as Mottled Merino.
"A lot of our product development is collaborative with Merino wool spinners and our partners," explained Jimmy Jackson, General Manager Product Development and Commercialisation.
Seminar programme
The Woolmark Company hosted two seminars in SPINEXPO's Meeting Room this week already. The Wool Lab AW16/17 was presented to attendees, showcasing a collection of inspirational themes to inspire and influence trends dedicated to the upcoming AW16/17 season.
The Wool Lab is an innovative seasonal guide to the best wool fabrics and yarns in the world. It connects designers with manufacturers through technical skills, know-how and passion. Viewers of The Wool Lab were invited to experience first-hand the tactile elements of each theme and source new yarn suppliers with ease.
Later, the company presented a seminar on Merino Innovations. New innovations pave the way forward for the Merino wool industry, allowing it to be a dynamic one that is forever changing.
Knitted Denim
The recent launch of woven denim fabrics containing Merino wool, which are at price points attractive to a wider market than previous wool/cotton denim products, has created interest in a knitted version.
With the advent of cold-dye reactive dyeing systems for cotton and now wool it is feasible to create denim-like wool yarns which, when knitted into denim jersey constructions, can create knitted denim looks in pure wool or wool/cotton blends. A choice of either circular knit, seamless or flat-bed knitting is possible.
Merino Retract
Merino Retract knitwear looks like boiled wool but has the resilience and pilling performance of normal wool. Boiled wool is popular for casualwear because it gives a casual look to garments and an alternative texture, the company reports.
Easy care Merino wool yarns are combined with untreated wool yarns during knitting so that during finishing the untreated yarns retract and the knit structure contracts during wet finishing. The technique works best in coarse to medium knit gauges, i.e. <10gg.
Mottled Merino
With Mottled Merino a special yarn has been created by randomly mixing untreated and anti-felt treated regions within the yarn to create a highly textured and mottled aspect after milling. Two technologies are available which give similar results: Yarn Printing and Fancy Spinning.
In both cases the resulting yarns contain randomly distributed regions of potentially shrinkable wool. Fabrics are knitted to a relatively loose density to allow for distortion and texture development during finishing creating distortions and a casual look.
Warp-Knit
Warp-knit Merino fabrics extend the range of options for using Merino wool in sports, casualwear and business casual. Warp-knitted fabrics, possessing the stability of wovens with the elasticity of knits, appear an ideal compromise between wovens and jersey weft-knits.
In order to improve strength and abrasion resistance of wool yarns Sirofil spinning technology has been used to wrap a fine polyamide filament around a fine singles worsted yarn during spinning. This yields a strong, abrasion-resistant wool-rich yarn at a lower cost than a conventional yarn, according to the manufacturer.
This article is also appears in...