17th January 2012, Munich
Woolmark presents merino innovations at ISPO 2012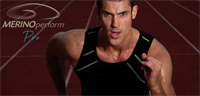 The Woolmark Company will once again present key Merino wool developments in the Performance wear segment at the ISPO trade fair in Munich from January 29 - February 1 2012.
Over 2,200 international exhibitors present the complete selection of apparel fashion, sporting goods, and athletic footwear to more than 80,000 visitors from over 100 countries.
After the success of the inaugural 'Wool Street' in 2011, The Woolmark Company will, in cooperation with ISPO, again welcome buyers and designers to a dedicated wool area. Exhibiting partners include Charles Parsons, The Merino Company, Designer Textiles and a number of S.O.G. (Scandinavian Outdoor Group) members.
"Merino wool has positioned itself as the leading natural fibre in the sportswear sector thanks to its unique natural benefits, such as breathability, temperature control and elasticity," explained Lars Ulvesund, Global Category Manager for Sports and Outdoors.
MerinoPerform
MerinoPerform is a range of Merino sports fabrics that provide comfort in performance apparel. The Merino fibre's natural qualities such as: suitability for multi-climatic environments; natural breathability, elasticity, odour resistance, and moisture control make it ideal for the active user.
MerinoPerform fabrics are manufactured by a carefully selected global group of manufacturers supplying the performance apparel market. The fabrics meet strict quality requirements based on Woolmark specifications.
At ISPO The Woolmark Company will present the latest commercial developments in Merino wool fabrics adapted for sports and outdoor apparel in:
Next-to-Skin Layers
Mid and Outer Layers
Soft and Hard Shell garments with Merino linings and laminates
Seamless garments
Trend Presentation
This year we will also see the launch of The Woolmark Company's trend presentation, "The Wool Lab".
The presentation highlights innovative performance Merino wool fabrics and blends focused around the versatility of Merino fibre in sportswear. The Wool Lab is divided into two groups; Sports Style and Performance and gives an insight into the coming sports fashion trends in colour and fabric design.
This article is also appears in...