The Woolmark Prize for fashion creativity has been conceived to assist nascent talent to occupy a solid place in an industry that can, seen from the perspective of a new-comer, appear daunting, even formidable.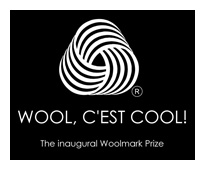 In 1954, two young, unknown women's wear designers called Karl Lagerfeld and Yves Saint Laurent stepped up onto a stage to accept their respective fashion design prizes, awarded by the International Wool Secretariat. Lagerfeld, then 21, was winner of the coat category. Saint Laurent, at a mere 19 years old, won the award for dress design. Two stars were born.
Heir apparent of that momentous fashion moment, today's Woolmark Prize is also on the lookout for the hottest, most cutting-edge creatives on the planet.Open to young designers who have recently graduated and are already professionally active, the prize is conceived to give a leg-up to those most in need: the fashion designer on the cusp of commercial credibility.
For the inaugural Woolmark Prize 2008, designers from around the world – from cultures as diverse as China, Japan, Norway, England, Belgium, Germany and France – have been selected by an international panel of fashion experts to participate. Each designer has formulated a capsule collection, emphasizing the sensual, sculptural aspects of knit.From each capsule collection, the selection committee has chosen one outfit or look to be prototyped. This look – along with mood boards and other visual artefacts – will constitute the evidence to be considered by a Jury of fashion experts. It is also the piece that will be exhibited to represent the designer's work and vision at the Palais de Tokyo, Paris, from July 3rd 2008.
The winner of the Woolmark Prize 2008 will receive industry support and Woolmark mentoring for a value of up to €100,000. Specifically, this consists of:
• Aid in sourcing of, and innovating with Australian Merino wool
• Support in the manufacturing of a prototype collection
• Presentation of the winning collection during the A/W 2009 RTW shows
• Assistance in accessing distribution and retail networks
• Advice with PR and other market out-reach activities
The Woolmark Prize will be awarded annually, in Paris
The Venue
Palais de Tokyo, ParisThe Palais de Tokyo is a contemporary art centre in the elegant 16th arrondissement of Paris, just across the river from the Eiffel tower. Housed in a monumental 1930s edifice, the interior is a network of deliberately destroyed rooms in which some of the world's most important contemporary artists have show their work.. The uncontested hothouse of création contemporaine, it is the perfect venue to showcase some of the world's most cutting-edge contemporary designers in wool.
This article is also appears in...