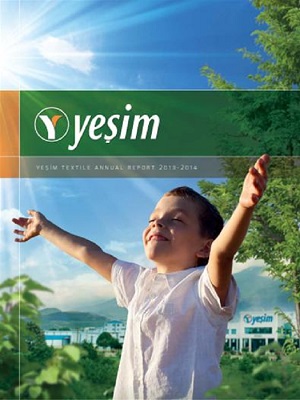 Yeşim Textile, Turkish leading manufacturer of knit goods for US and European retailers, has been selected to the Executive Council by United Nations, Global Compact Turkey.
The company that signed the United Nations Global Compact in 2006 will take part in the Executive Committee for two years and will be represented by Dilek Cesur, Corporate Communications Director, who together with the other representatives of the companies in the committee will provide leadership to spread the Global Compact in Turkey.
Sustainable economy
Yeşim Textile, Koç Holding, Sabancı Holding Akkök Holding, Anadolu Efes, ARGE Danışmanlık, Bilim İlaç, Borsa İstanbul, Borusan Holding, Coca-Cola İçecek, Doğuş Otomotiv, TSKB, Yüksel Holding, ZED Danışmanlık ve Tanıtım are some of the Global Compact members that shape the Turkish economy, the manufacturer reports.
These companies established sustainability as their corporate culture and aim to create a sustainable and comprehensive global economy.
Transparency and accountability
Since 2008 Yeşim Textile initiated voluntary social responsibility actions and actions based on the Global Compact related to human rights, employee standards, environment, and fight against corruption.
The company reports these actions in its yearly activity report that is being updated every year and is shared with the world in Turkish and English on the United Nations website.
This public progress report is considered as an important indicator of commitment towards transparency and accountability. Yeşim Textile published its 5th report last month. It includes social responsibility actions of Yeşim in 2013 as well as relevant long and short term goals. The report is also shared on the Yeşim Textile website under the Yeşim Textile Progress Report heading.
Yesim Textile
A production partner of the Nike brand since 2005, Yesim Textile also manufactures for internationally renowned brands such as Gap, Banana Republic, Old Navy, Zara, Pull&Bear, Massimo Dutti, Esprit, Hugo Boss, Lands' End, Tchibo and Schlafgut.
The company employs around 3000 people in its garment and home textiles production facilities and is based in Bursa in Turkey. At the company's Yeşim Tekstil Örme knitting division it employs 285 personnel working in a 4000 square meter production area, with a plant of 142 circular knitting machines, 24 flat knit accessory machines, yarn winding machines and fabric cutting machines.
As well as being one of the four largest fully integrated yarn-to-finished-product facilities under one roof in the garment sector, the company is also one of Turkey's largest firms in terms of creating employment.
This article is also appears in...