YiwuTex 2014, which combines The 15th China Yiwu International Exhibition on Knitting and Hosiery Machinery, The 4th China Yiwu International Exhibition on Sewing and Automatic Garment Machinery and 2014 China Yiwu International Exhibition on Dyeing, Finishing and Digital Printing Machinery, came to a successful conclusion on 22 November, organisers report.
The four-day exhibition attracted about 200 leading textile machinery exhibitors from 10 countries and regions, who presented up to 530 sets of textile machinery at the exhibition, including the latest textile equipment and technologies, such as seamless underwear machinery, knitting and hosiery machinery, flat and warp knitting machinery, yarn winding machinery, and more.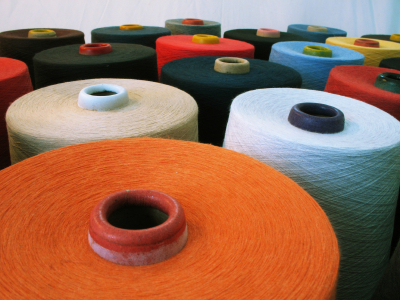 The exhibition attracted 9,130 professional buyers, 10 industrial associations and enterprise delegations from 29 countries and regions to visit and purchase at the exhibition.
Responses from exhibitors and buyers
According to organizers, they were aiming to make the 15th edition of YiwuTex the most robust knitting machinery and automatic garment equipment trading platform in Zhejiang Province to help enterprises transform and upgrade.
Like previous editions, YiwuTex 2014 received some great support from exhibitors and visitors. Exhibitors include leading players from a diversity of sectors in textile industry, including knitting and hosiery machinery enterprises, high-end knitting accessories and needle manufacturing companies, warp knitting and yarn equipment manufacturers, and more.
Exhibitors affirmed the exhibition for its professionalism and business features. "We are pleased to receive onsite orders this year. As a whole, we feel excellent about the exhibition, there are a lot of professional visitors and this is what we need. We will continue to participate in the next show," said Ji Leichun, Manager of Complete Machine Sales Department of Zhejiang Yiwu Shenghua Sewing Equipment.
The show also gained active support and participation from various prestigious hosiery, knitwear and garment enterprises, including Xiaolongren Hosiery, Langsha, Bailong Knitwear, Fenli Hosiery, Mengna Hosiery, Manzi Hosiery, Naier Hosiery, Nalisi Hosiery, Liyuan Knitwear, Yiting Knitwear, who visited and purchased at the exhibition.
Fashion-related concurrent events
Visitors of YiwuTex 2014 could find that in addition to traditional machinery display, organizers also arranged a full range of concurrent events on fashion design and upcoming trends. These events included Fashion Extravaganza – fashion designers' display zone, Knitting Collections Wardrobe, Functional Sportswear Design – 2015-2016 intimate wear design and trends forum, and 2015-2016 Women Clothing Design and Trends Forum.
These events not only added highlights to the exhibition, but also provided a trendsetting presentation to professional visitors. Conference on Water Treatment, Energy Saving and Case Study for the Modern Textile Industry also addressed the current issues concerned by the textile industry and presented new technology and industrial solutions.
Santoni: Wearable Technology was another highlight of YiwuTex 2014. The event was held at the booth of Santoni and presented the latest production technologies for underwear, sportswear, swim suits and medical products, demonstrating the most cost-effective production for customers.
This article is also appears in...