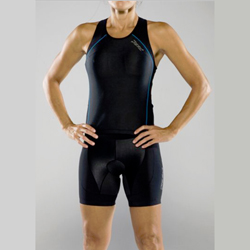 Uniting four different structures in one fabric, knit fabric specialist Eschler and endurance specialist Zoot have launched a high tech functional solution for triathlon apparel. Flash Synchro TX is a bi -component knitted garment utilizing polyester inside and polyamide on the outside, combining great moisture management with high abrasion resistance as well as compression benefits due to added elastane. In cooperation with Zoot, Eschler developed a body mapped fabric with four different qualities for the respective zones.
Zoot has been pioneering innovative product solutions for more than 25 years and the performance apparel brand has now collaborated with Swiss knit specialist Eschler to develop a unique fabric for their technologically advanced triathlon wear. Eschler's Flash Synchro TX fabric combines two different qualities, which not only makes it 'dry in a flash' but the bi-component construction with polyester fibres on the inside guarantees outstanding wicking and cooling properties, while the durable polyamide outer material provides high abrasion resistance. Eschler also adds elastane which provides the garment with compression for muscle stabilization and support.
In cooperation with Zoot, the Swiss brand further worked on perfecting Synchro TX. The result is one fabric which unites four body-mapped zones. Depending on sweat and muscle zone, the synchronized quality offers compression benefits where the athlete actually needs it and ventilation on the body's 'hot spots'. Eschler says that, with this unique fabric, Zoot's Ultra TX triathlon wear offers superior performance gear for athletes who demand nothing but the best.
This article is also appears in...