Terrot gears up for INDIA ITME 2012
26th October 2012, Chemnitz
German circular knitting machine builder Terrot is heading for India in December where it will exhibit at INDIA ITME 2012, together with its partner Voltas Ltd. The Chemnitz based company will show its single jersey electronic jacquard SCC572 Open Width as well as the latest version of its I3P284-1 8 lock machine.
The 9th India International Textile Machinery exhibition will be held from 2-7 December 2012 in Mumbai, India and will showcase textile technology, machinery, accessories and services. 620 exhibitors from 42 countries will take part and 100,000 visitors are expected.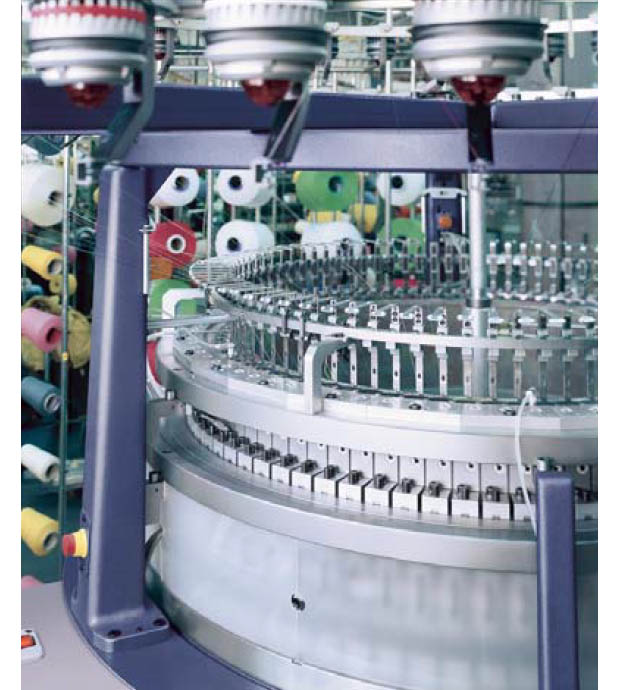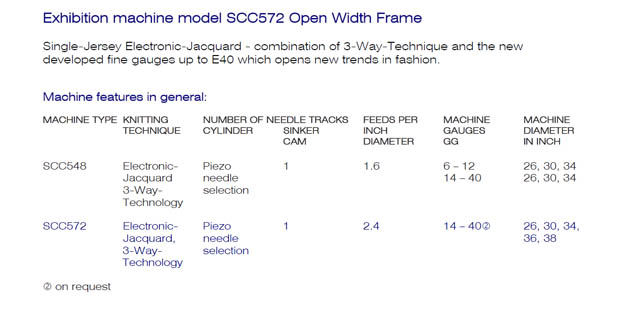 SCC572: Single-Jersey Electronic-Jacquard
Terrot says it achieves its zenith with its Jacquard machine series SCC548 and the continuous further developed selection technology sets new standards even with extremely fine machine gauges. Terrot list the SCC572's features as:
Fine flowing jacquard fabrics up to gauge 36 (gauge 40 on request)
Combined with Elastane plating new application areas are opened like superfine fabrics for exclusive underwear /corsages
In daily operations with high machine speeds the significant advantage of continuously developed selection system with Piezo-Technology shows off in particular with fine gauges
Electronic needle selection for a wide range of application and knitting structures
Compared to magnet technology the Piezo-technology provides more process reliability and machine performance in the daily production due to 8 separate selection fingers for tuck/ miss on each feeder
Piezo technology guarantees a reliable needle selection especially on fine gauges together with a high production efficiency
3 way technique for positioning the needle in knit-tuck-miss offers diverse knitting structures
Pattern controller Multi-Terminal Piezo selection unit
Terrot motorized fabric take-down for constant fabric tension and perfect horizontal rolling up of the fabric
MET 5000 – modern pattern preparation software In particular regarding
The main advantages of the SCC572 are said to be:
Finer gauges (high number of needles per inch)
High output (efficiency)
Constant rotational speed (speed factor 720 up to E 28)
Speed factor open width frame 660 the precise accurate selection is proven on all electronically controlled Terrot machines.
The pattern possibility with 3-Way-Technique on every feeder is also best tested for production and uniquely also combined with highest feeder versions available.
Machine features (exhibition machine) - SCC572 Open Width Frame
Diameter in inch - 34
Gauge - E 28
Number of feeders - 84
Machine speed / RPM - 20
Knitting structure Single-Jersey Electronic-Jacquard - Mesh Technique
Yarn Polyamide PA 6 dtex 33 f1 (den 30/1) by Reutex - Viscose CV Nm 50/1 (Ne 30s)
Fabric structure: Knitting technique
2-thread yarn fleece Electronic-Jacquard, Elastane plating 3-Way-Technique, Electronic-Jacquard, Structured Single-Jersey, Tuck structure Plain Single-Jersey, Crepe structure, Eyelet stitch pattern
Mesh Fabric application
Piqué Sports & Leisure Wear, Plain Single-Jersey Underwear, Fashion Outerwear, Kids Wear
Machine model SCC572 Open Width Frame
The Open Width device fulfils the raised quality demands for first class elastane plated knitwear.

Terrot Open Width Frames with compact frame for optimised operating
Diameter in inch 26 – 36: frame size D5/1
Fabrics roll in mm 400: Winding width in mm 2400

According to Terrot, this latest development of the 8-lock model I3P284-1 in fine gauges E40 – E50 offers a wider range of knitted structures and rib and Interlock stitch formations can be combined to give new fabric structures. Terrot describes the machine's features as follows:
special shaped cams for various stitch guarantee an outstanding performance and wide range of application
easy adjustable mechanism for fine adjustment of needle gating for Interlock or Rib change from synchronized to delayed timing by adjustment of the corresponding cam version
Quick Change – simple change of gauges in the range of E18 – E50 offers more flexibility for a quick adaption to market and fashion trends
Terrot Control Panel permits the easy reproduction of settings
Terrot motorized take-down for absolutely constant take-down tension
dial drive and cylinder bearing (patent) supported in oil bath with maximum concentricity precision results in utmost fabric quality in spun and especially for critical synthetic yarns
Latest developments in "Elastane plating Cams" and "Double-Face" opens new application areas, e.g. superfine fabrics for exclusive underwear and outerwear for the sport end-use
Machine features (exhibition machine)
Diameter in inch - 30"
Gauge - E 40
Number of feeders - 84
Number of needle tracks - 2 cylinder + 2 dial
Knitting structure - Interlock Spacer
Yarn - Polyamide PA 6 dtex 33 f1 (den 30/1) by REUTEX, Cotton CO Nm 100/1 (Ne 60s), Polyester PES dtex 110 f36 (den 100/1)
Fabric structure: Knitting technique:
2-sided-fabric 3-Way-Technique, Spacer fabric 8-lock / rib, Elastane plating Fine rib, Tuck structure, Interlock, Fine rib, Interlock, Needle set-out, Piqué, Lay-in yarn fabric, Waffle/Thermal, Fabric,
Application
Sports & Leisure wear, Underwear, Medical textiles, automotive fabrics, Home textiles
Fabric samples of machine model I3P284-1
Author: Billy Hunter