Carlo Volpi reports from Florence
The 72nd edition of Pitti Filati took place as usual at the Fortezza da Basso in Florence last week. Foreign buyers once again led the show, with very good turnouts from Hong Kong (+75%), Turkey (+30%)United States (+33%), Spain (+22%) and Great Britain. With a total of 3,700 buyers, the International buyer turnout stayed the same as the previous winter edition last year even though the number of actual buyers was inferior (there were about 4,000 last winter).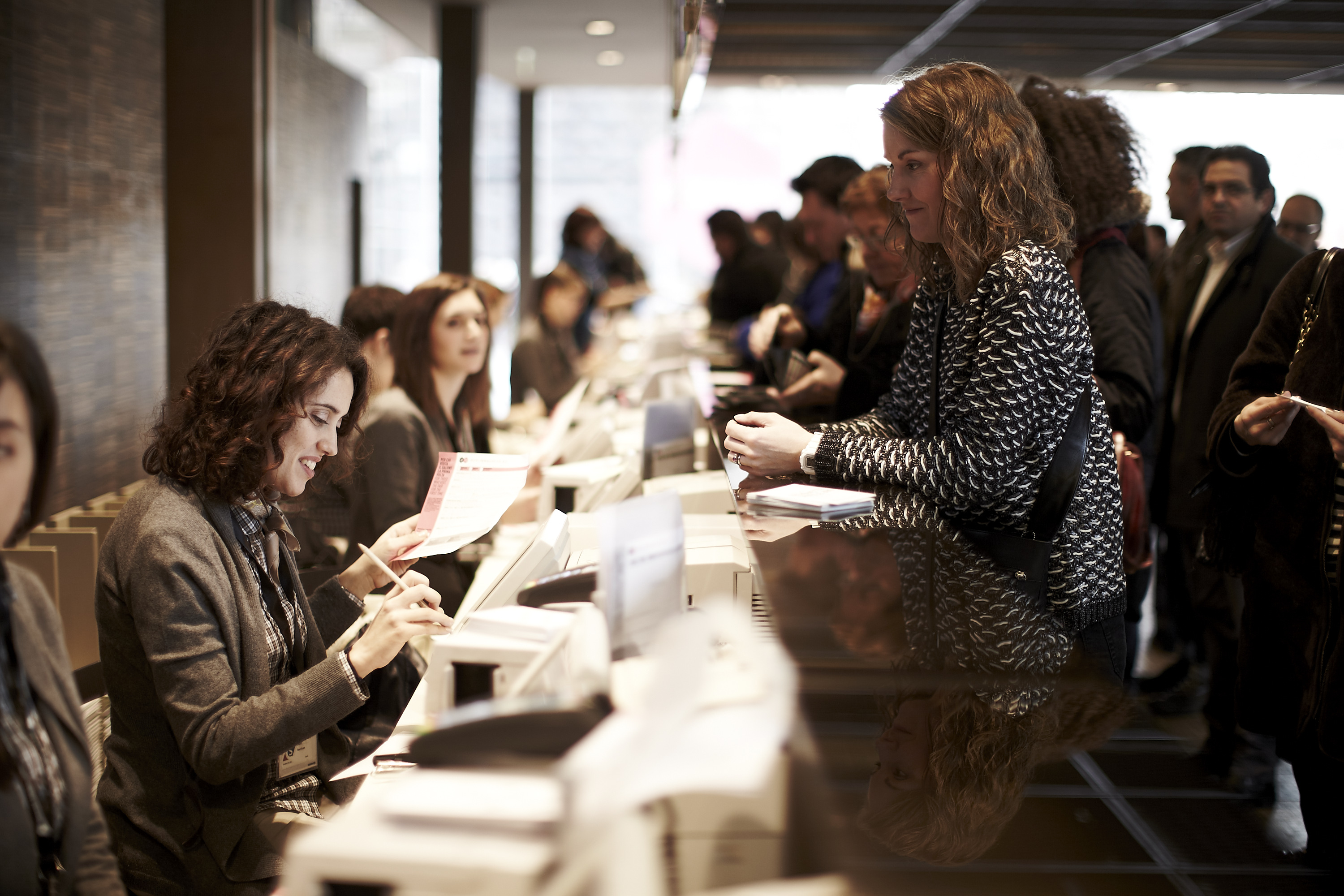 Italian buyer presence was also not as strong as the previous S/S edition in January 2012. The top ranking countries were Germany, with a total of 256 buyers, followed by Great Britain, with 238 and France (158). Other countries with a high number of buyers included the United States, Japan, Russia and Switzerland.
COLOUR TRENDS
The mood of the show this season was generally optimistic and this positivity was reflected in the colours and the themes of the collections chosen by the exhibitors. The Research Area was as usual the engine of the whole show that integrated experimentation, new technologies and trends. This season's theme of the Research Area was dedicated to festivals, to a general sense of joy, of social participation and physical and mental well being.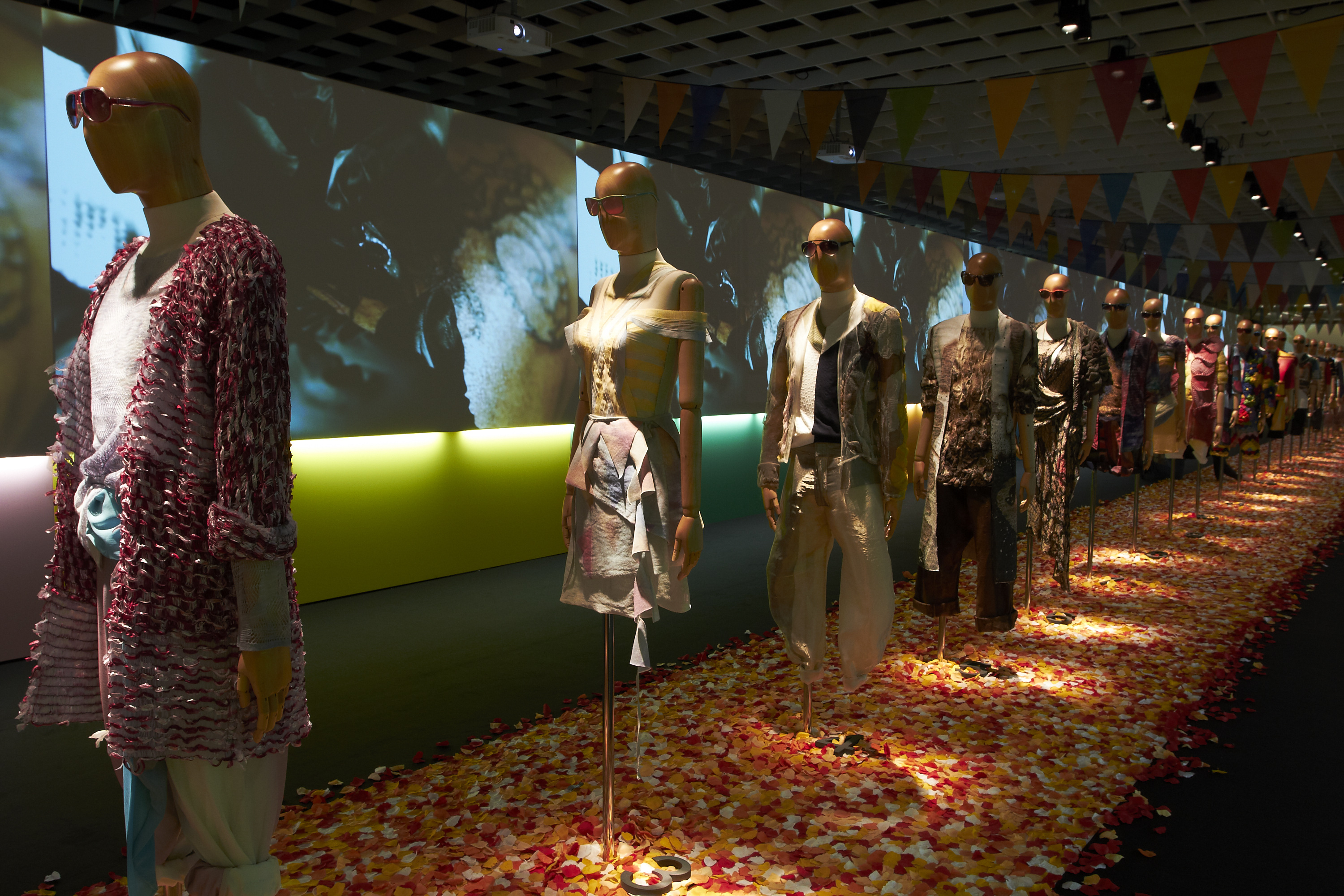 Festivals and social rituals are a time when worries are forgotten and a clean, fresh space is created to rejuvenate the mind. The colour trends proposed by the Research Areas were organised in four different palettes: natural, a collection of cottony, light and hazy pastel shades, soft, a more vibrant and feminine selection of fresh colours, washed, a darker group with earthy and elegant shades and bright, a very playful, fruity collection of tonalities.
The celebratory spirit that infused the Research Area seeped through all the stands of the exhibitors: Botto Poala showcased some dip dyed designs in warm pinks, greys and purple which recalled the "vaguely cold and enchanted brightness of the morning light", as their press release states. Zegna Baruffa, their sister company, also displayed some very colourful designs on their stands: lemon yellow and orange macramé samples knitted in cashwool featured alongside warmer shades of tie-dyed dark and lighter blues, greens and browns.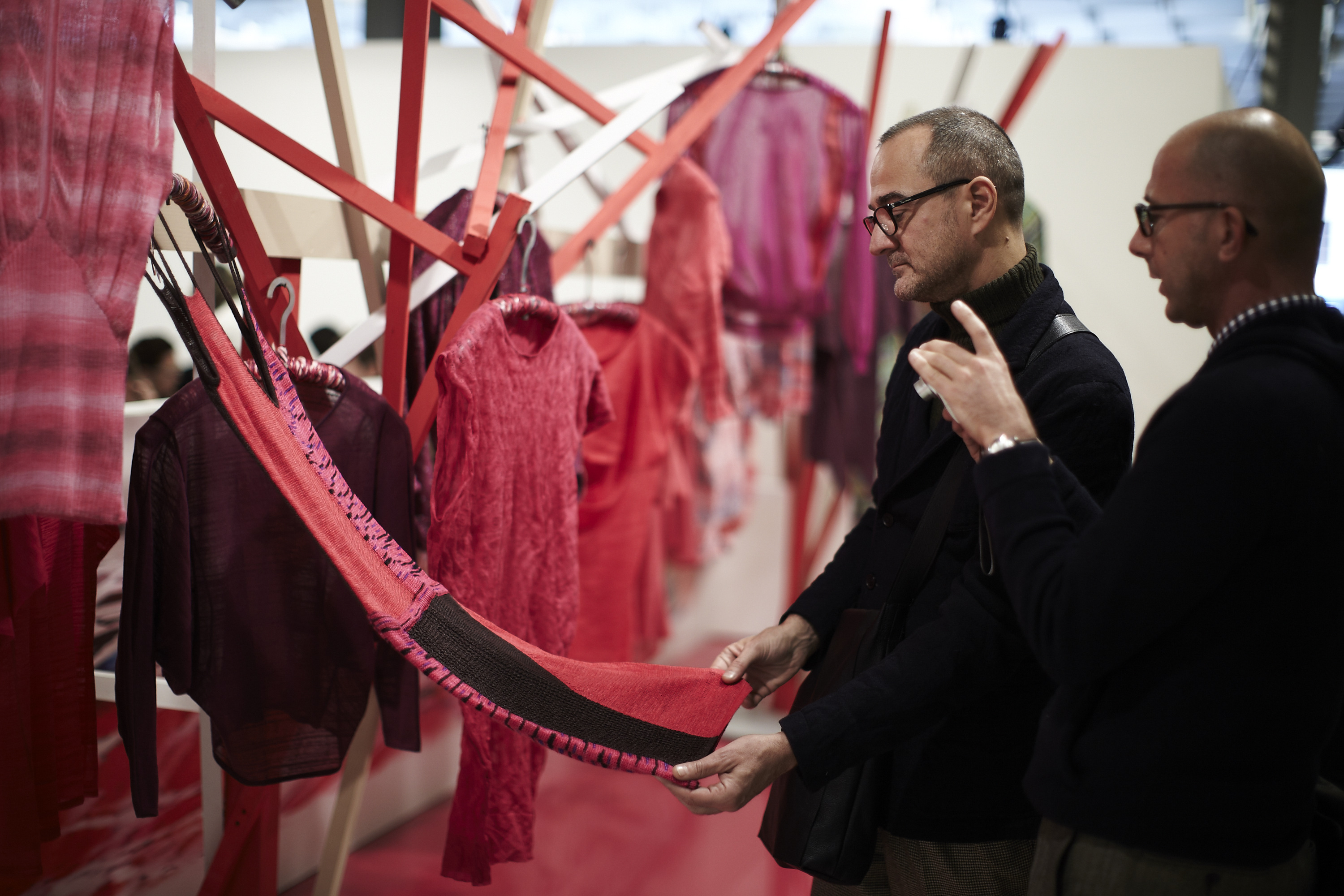 Fancy yarn specialist Ilaria presented a lighthearted, cheerful palette with baby pinks, pastel greens and lurex. Other companies introduced a more sophisticated and neutral colour palette: Be.Mi.Va's collection, called "Geometry", recalled new urban landscapes where the dominant shades are various tonalities of grey and white, Miroglio also went for a neutral palette of light purples, pastel green pinks with unexpected accents of bright yellows and orange. Lineapiu' also presented a very similar collection of colours with very light pastel yellows and orange.
FIBRES
Natural fibres such as cotton, silk and linen were the obvious protagonists of this summer edition, along with man-made fibres like nylon, polyamide and viscose. As always the spinners were able to create some interesting mixes for yarns with unique properties. Incredibly light and almost impalpable and airy yarns featured alongside contrasting heavier tape yarns in cotton and viscose.
Some of the most aesthetically innovative yarns were Kurt by Be.Mi.Va., a rubber and cotton yarn where the two materials mixed irregularly creating variegated tonalities with a painterly effect. Tecnogomma and Tecnolino, both polyurethane and linen yarn by Toscano, were also the company's latest innovations.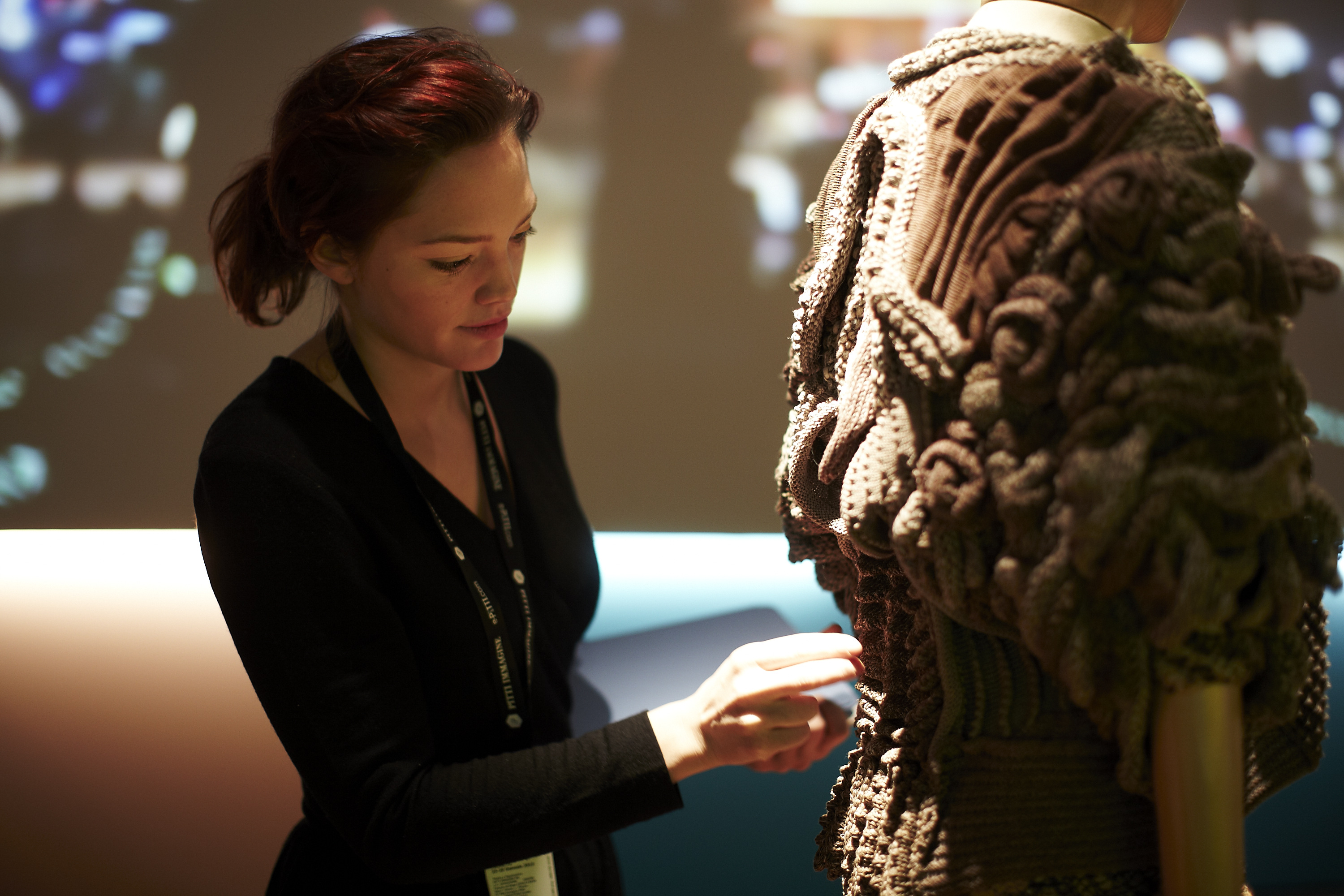 Cariaggi also unveiled a very special yarn called Sirius, the first carded silk yarn ever produced in the world.
Zegna Baruffa launched their Brand New Wool during this edition of Pitti Filati, a highly technological yarn in 120's whose unique properties of smart moisture management, pilling resistance and easy washing were boosted through an exclusive process conceived by the company. Viscose and other natural fibres like wool and cotton were used in the new yarns Maui, Bering and Acqua, along with Ribes (denim yarn in linen and wool) and Memphis (linen and cotton).
Ultralight was the new range of yarns launched by Cariaggi characterized by its very unusual and extremely high counts: Gelso, a 2/120's silk yarn, Jaipur (2/120's cashmere and silk), Soffio (2/140's cashmere) and Alzir (2/120's Tussah silk).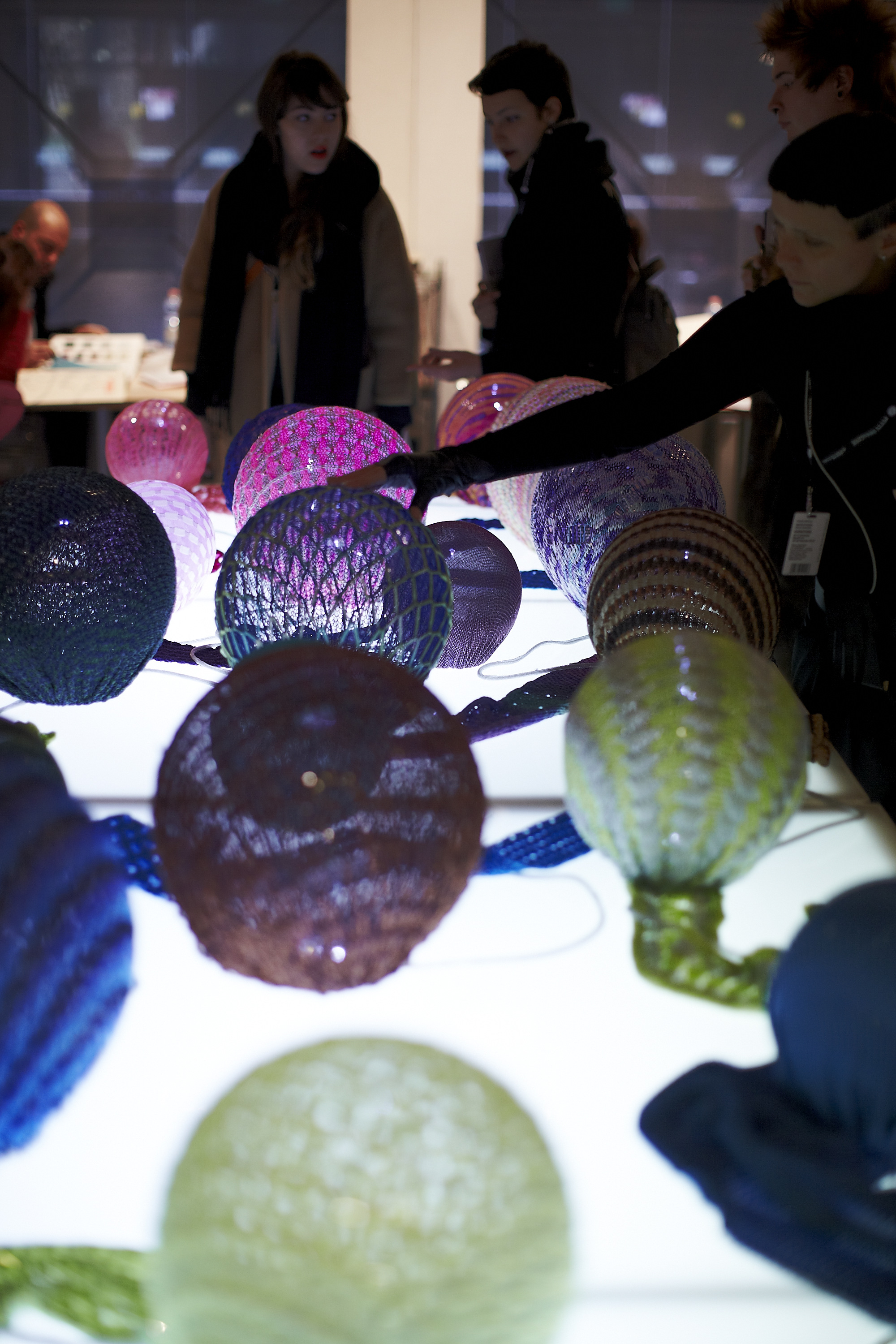 Lineapiu' introduced a very sophisticated range of viscose and viscose mixes, like Candy (superfine shiny viscose raffia), Sweet (shiny maxi stretch viscose), Angel, a very fine stretch viscose and Fieno (viscose and linen). The collection was also enriched by some intelligent and elegant mixes of fibres like Vanita' (cotton and nylon velour), Malizia (cotton and lurex) and Coco' (linen and Lurex).
Toscano also presented a very interesting collection: Tecnogomma and Tecnolino were the two main new products of this season. Other yarns included Ginsolino (denim linen), Plakkato and Plakkatino (cotton and nylon printed in silver) and Zanzariera (cotton polyester).
GENERAL TRENDS
GEOMETRIC TEXTURES
Open stitches, lace in heavier gauges or two colours tuck stitches, fine gauge monotone and rigorous textures featured strongly in most stands this season: from the cashwool macramé samples by Zegna Baruffa to the fresh and almost sporty lace garments of Di.Ve' or the harmonious structures presented by Monticolor and the colourful examples of the Research Area.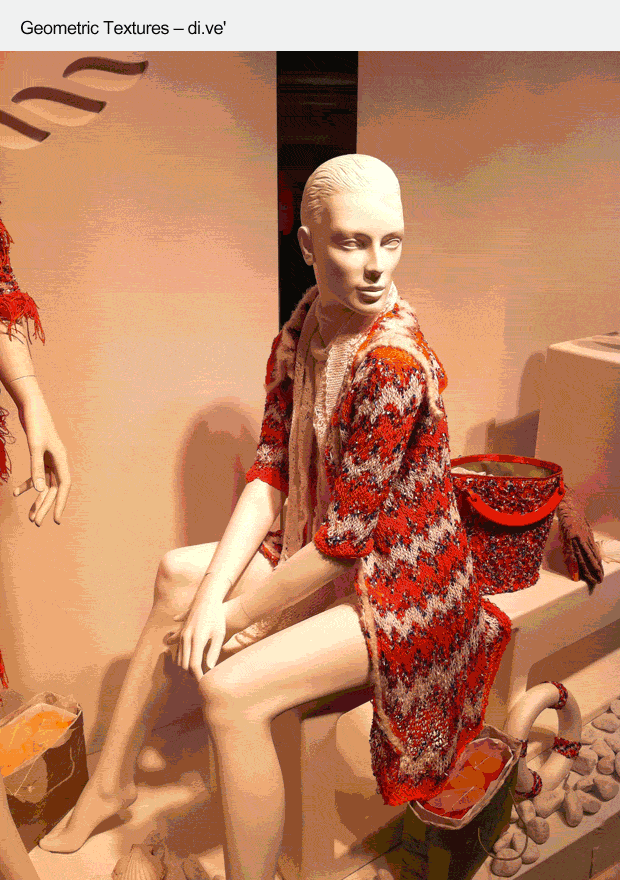 GRAPHIC JACQUARDS
Symmetric and graphic motifs, floral patterns reminiscing of antique, opulent fabrics, and 60's inspired patterns, like the Research Area's bold jacquards in vivacious colours and lurexes, Filpucci's elegant pieces with geometric tiles and stripe fragments.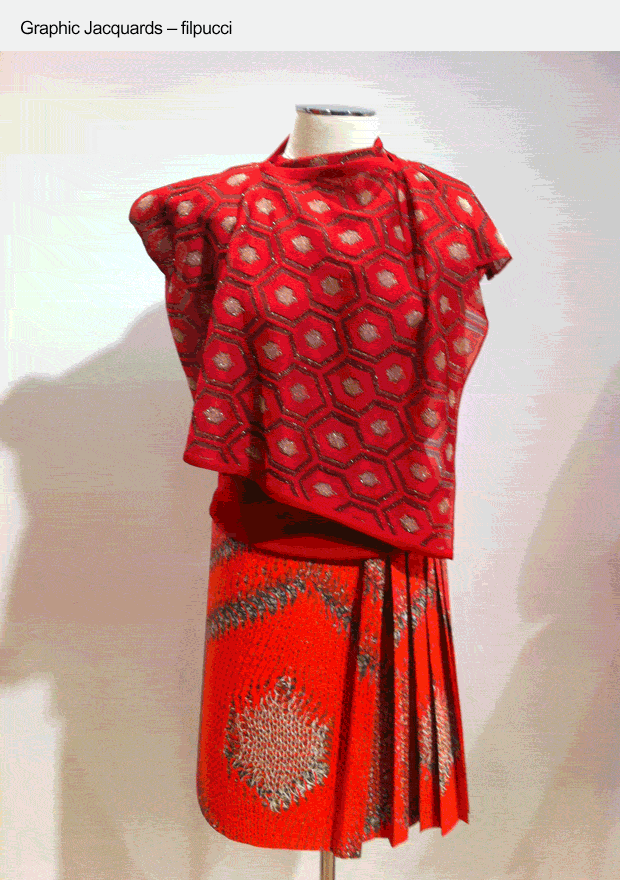 DIP DYED AND TIE DYED EFFECTS
Many stands showed designs with soft gradients and dip dyed effects: Botto Giuseppe and Ormo displayed a range of dip dyed laces in warm colours, Di.Ve' preferred some darker shades for menswear. Zegna Baruffa selected a contrast of dark and acid colours and a warmer palette for some other designs.
BOLD, GRAPHIC PRINT EFFECTS
Bold, graphic and very colourful designs that took the shape of jacquards, transfer prints, intarsias, appliqués or even projections on garments were a common denominator to many stands: the Research Area's looks inspired by Mexican festivals and the Italian "Palio" featured a great variety of prints and intarsia/jacquard effects, Millefili also showed some playful and lighthearted samples with colourful checks and block prints. Filati Biagioli Modesto used some white sweaters as a canvas on which were projected some bright, graphic images in motion.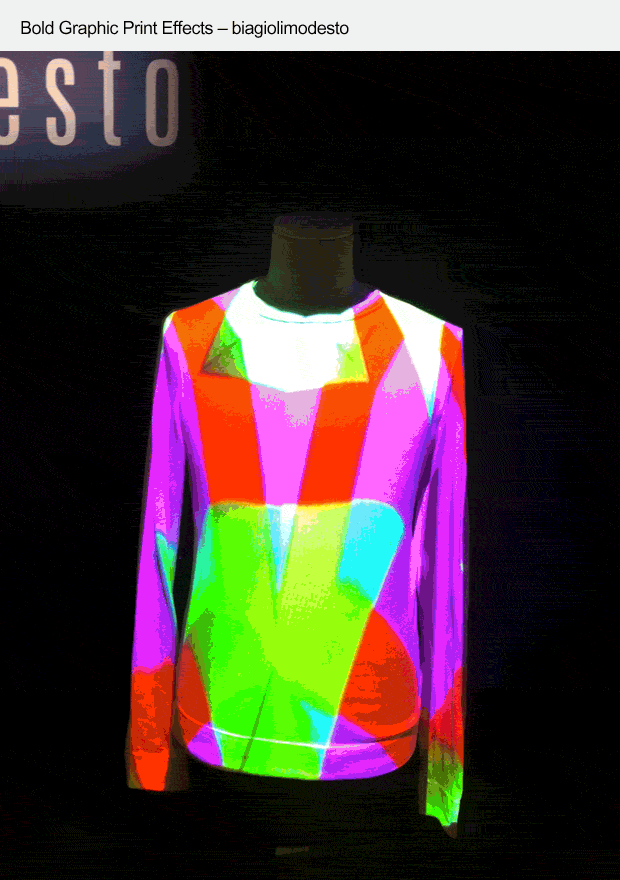 DISTRESSED FABRICS
Distressed jacquards creating very open fabrics, fine lace that seems to slowly disintegrate, opulent devores and old scraps fabrics that have been mended together to create new depths and textures also featured quite prominently through the Research Area and many exhibitors.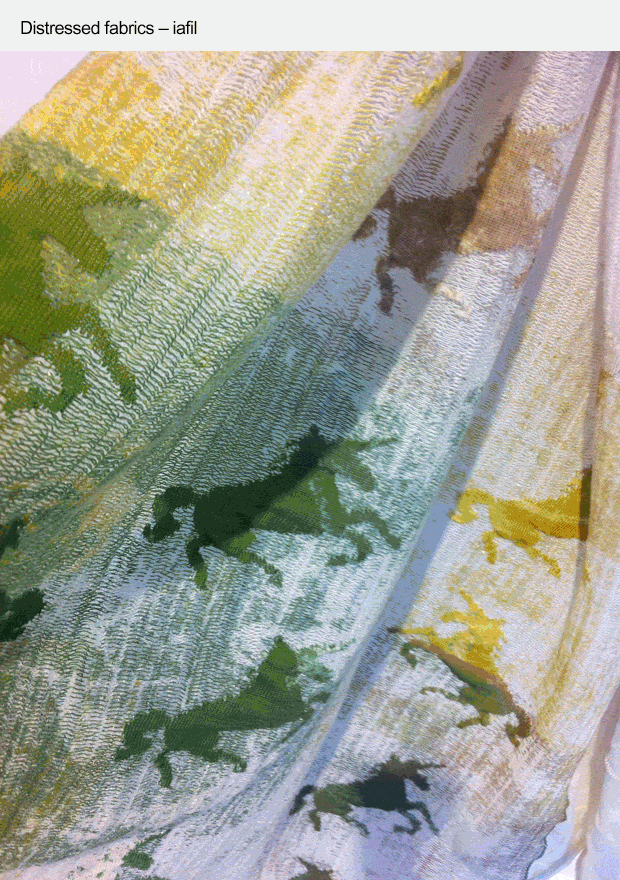 GEOMETRIC TRANSPARENCIES
Along with the irregular, distressed fabrics there were some other designs that offered some more regimented transparencies where very light, almost invisible yarns mixed with some heavier cottons in stripes, chevrons, macrames and other geometric arrangements.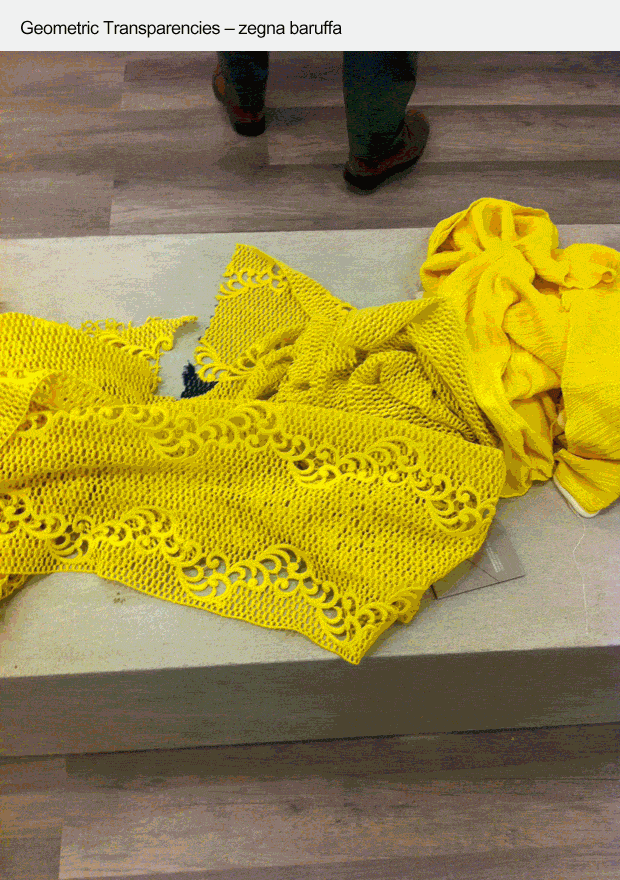 Final thoughts
Even though 2012 was not a great year for yarn manufacture in Italy, the spinners were able to bring out some dynamic and sophisticated collections that pioneered the best of innovative research and quality in the industry and that gained the admiration of many international fashion designers and creative directors.