Flexible solutions with WideGauge® and WideTandem®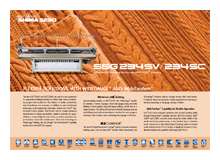 The new SSG®234SV and SSG®234SC are part of a new generation of computerized knitting machines by Shima Seiki, whose evolutionary progress has resulted in a fi ne balance of quality, productivity, user-friendliness and economy.
In addition to such benchmark technology as the Spring-Type Full Sinker System and DSCS® DigitalStitch Control System, SSG®234SV and SC feature enhanced mechatronics for higher productivity, a built-in controller for space efficiency, a lower height for ease of use, as well as improved cost performance and easier maintenance.
Such new technology as WideGauge® knitting, the R2Carriage® and WideTandem® capability further add to the SSG®234's appeal.
Click on image for further details and full technical specification
[13.4.09]
Author: Billy Hunter