13th October 2015, Albstadt
Groz-Beckert to present knitting innovations at ITMA 2015
Groz-Beckert, the leading provider of industrial machine needles, will present the company's latest innovations at the upcoming ITMA 2015 textile machinery exhibition that will take place from 12-19 November in Milan, Italy.
The company will be presenting new and enhanced products, as well as services, in all fields of technology along the textile value chain. The manufacturer will also present a new trade show booth concept, as well a new corporate design to in international audience.
Knitting system solutions
The product sector Knitting will be on show with all of three acrylic glass machines, illustrating the benefits offered by the expanded and partially renewed product portfolio.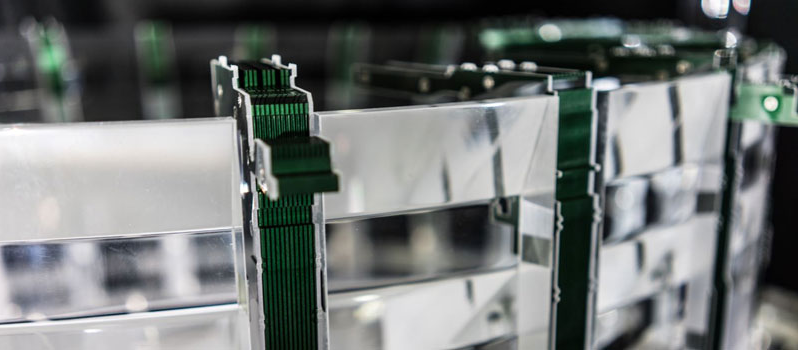 The technology will also demonstrate the perfect interaction of the individual components, leading to impressive end-products and appealingly profitable results, the company reports.
The technologies of large circular knitting and flat knitting are examined separately, with a special focus on individual components. The exhibits have also been equipped with coarse and fine knits, illustrating their application diversity – and the individual elements of the machine are removable, so that visitors to the booth can take a close and detailed look at them.
Acrylic-glass knitting machinery
Fourteen different knitting technologies, including Jacquard, bodysize, and single jersey, will be presented on the large diameter circular knitting machine made from acrylic glass. First presented at the ITMA Asia in 2014, it features gauges from E10 to E50, and is subdivided into several segments.
Celebrating its premiere at the ITMA in Milan is the acrylic-glass flat knitting machine. It will be equipped with needles from all kinds of different applications, from simple flat knitting needles to needles for technical applications that have to withstand the highest of forces.
Fabric samples representing the different knitting technologies and made of diverse materials, for example carbon fibres, will demonstrate the kinds of tasks the company's products perform.
Knitting modules
The acrylic glass knitting machine, which will also be on display for the very first time, will focus primarily on the knitting modules that are now a new feature of the Groz-Beckert knitting product range. Groz-Beckert says it now guarantees perfectly coordinated tools for flawless goods and the highest productivity in the knitting process too.
These three machines from the product sector Knitting aim to illustrate the precision of the products, and their perfect interaction in the different processes.
This article is also appears in...