4th February 2010, Obertshausen
Karl Mayer takes composites know-how to JEC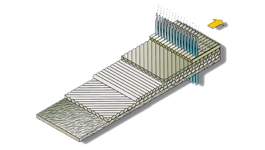 German manufacturer of multi-axial warp knitting machines Karl Mayer will taking part in this year's JEC Composite Show which is being held in Paris from 13 to 15 April. The company which will be exhibiting at the shared Saxon stand will be offering what it calls a "considerably extended performance range."
Under the motto 'Composite know-how straight from the fibre to the structural component' the company will be showcasing its expertise in the production of machines for multi-axial and multi layer fabrics as well as fibre-reinforced precision composite components.
Karl Mayer has recently launched its Malitronic Multiaxial machine which is intended for the efficient and gentle processing of glass fibres. The company says the machine combines significantly increased performance with improved operator convenience and delivers multi layer fabrics of excellent, reproducible quality. Karl Mayer says it is also setting new standards in the processing of carbon fibres where the company is increasingly involved in the development of machines as well as of technologies.
Fibre-reinforced quality composites used in its machines also guarantee high-tech standards in the respective products and the driving force in this respect is the CFRP Competence Centre that the company set up in 2008. The innovative department develops system-integrated and easily adaptable solutions made of technical fibres which it also offers to external interested parties.
The performance features of the company's developments in this area are:
Integrated functionality
Complex structures, high degree of substitution for conventional solutions profile part lengths of up to 7 metres
Well-defined thermal expansion coefficient adjustable within the negative and positive value ranges, including zero
Excellent fatigue resistance
Low density and mass
'Plug-and-play' design
During the JEC show Karl Mayer will be displaying components ready for serial production and will also be holding discussions with visitors interested in its Malitronic Multiaxial machine.
Further reading:
Malitronic Multiaxial up to 25% faster as first machine goes on trial
This article is also appears in...