Knitwear Solutions attracts global producers
11th July 2012, Paris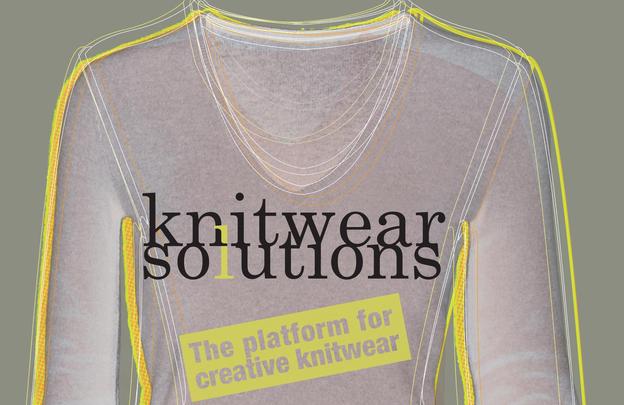 When leading European fabrics show Première Vision (PV) announced in February that it was launching Knitwear Solutions, a platform for flat bed knitted fabrics – most of us were surprised but mainly in agreement that there was the need for such a 'show within a show'.
For many years PV has been dominated by Europe's top weavers but now with knits becoming stronger in fashion, many circular and warp knitted fabric producers exhibit at the show. February's PV show was a good example, with a large area of the floor space being given over to knitted fabric producers showing intimate apparel, sportswear and outerwear fabrics. True knitwear (sweaters - generally knitted on flat-bed or flat knitting machines) however, has never been properly represented until now.
According to PV, Knitwear Solutions was born from the observation that fashion brands are developing comprehensive collections with knits playing a central role. Knitwear represents about 20% to 40% of the product offer in ready-to wear brands, PV says.
The new knitwear initiative will go live at the September PV show in Paris and organisers have been very busy recruiting leading exhibitors. The new platform will bring together international flat-bed knitters - manufacturers of knitwear (sweaters) and related products, specialised spinners and a leading flat knitting machinery manufacturer with innovative technology.
50 companies to showcase knitwear expertise
26 companies are expected to be taking part with the strongest contingent being knitters with recognised know-how and creativity in knitwear for women's wear and men's wear - companies which will be unveiling collections, but which are also capable of addressing the sophisticated needs of the luxury fashion houses attending PV.
Knitwear Solutions' manufacturers will feature a wide range of original proposals in ultra-fine gauges, complex knit stitches, hand intarsia, printed or hand-painted knits, washed-out effects, stitch for stitch linked garments and more. The companies come mainly from Italy, China and Turkey, the world's three leading knitwear producing countries.
In addition to Knitwear Solutions exhibitors, 18 knitwear design studios at the Indigo show (part of PV), recognised for their unbridled creativity, will round out the knitwear offer in Paris in September. Consequently, nearly 50 companies in all will be showcasing their expertise in knitwear to the attending community of designers and knitwear product heads.
Shima Seiki
Topping the technology bill at Knitwear Solutions is leading Japanese flat knitting machine manufacturer Shima Seiki. Drawing from years of experience and know-how as a world leader in fashion technology, Shima says it has created a design workstation that goes far beyond the simple patterning and programming available from the competition, with powerful proprietary hardware and industry-specific software developed in-house.
"No other design system even comes close to our system with even more effective virtual sampling with 3D. We can offer services in various ways," The Wakayama based company says.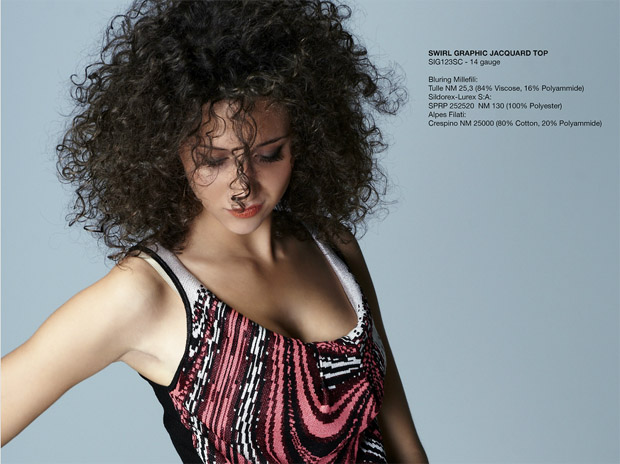 Spinners exhibiting at Knitwear solutions include E. Miroglio EAD, a leading and well known manufacturer of combed and carded wool blends for knitwear, fancy yarns mixed with fine fibres, elastic yarns of high quality with a wide stock service selection. Also exhibiting will be Raumer a well known manufacturer of classic combed knitting yarns in pure and mixed wool for knitwear with a large stock service selection.
Knitwear manufacturers
Italy's MF1 is specialized in creation of couture knitwear designs for the most famous brands in the world. The exclusive use of fabrics combined with an extensive selection of appliqués, embroidery and treatments make each product a 'little masterpiece in the art of Italian manufacturing'. The company says that each time an MF1 sweater and accessory is unveiled; it embodies all the ingenuity, talent for experimentation, creativity and uniqueness that have distinguished MF1 for years around the world.
Global Line was created in 1998 as manufacturer of woman's knitwear with the goal of offering its clients an excellent and stylish product, optimizing the relationship between quality and price. The Global Line products are entirely made in Italy and the company's objective is to achieve production of garments that meet the needs and demands of all markets whilst maintaining the highest possible level of craftsmanship and quality. Every product is made with the best yarns, such as cashmere, silk, wool and cotton. Global Line's product is young, casual, sophisticated and is 'the fruit of capacity and experience of creative people'.
Other knitwear manufacturers exhibiting at Knitwear Solutions are Maglieria Scartozzoni, Maglificio R. Scaglione, Maglificio Venezia - a top-of-the-range fully fashion knitwear manufacturer, Regina, Teodori / Maglificio degli Angeli, Texim Knits / Nova Fashion Group, Vicenza Mode and CLOUDS a high-end knitter which works with many women's luxury brands.
MME MATILDE BASILIO, Jean Ruiz SARL, Meridian Industries Limited, Sayim Tekstil San. Ve Dis Tic Ltd will also exhibit.
Knitwear Solutions has also attracted a decent number of Chinese knitwear manufacturers, including:
Nanan Hanwo Knitters Ltd, Shanghai Magicknit Fashion Co Ltd, Shanghai Mingyang Industrial Dev. Co Ltd, Shenzhen Meilian Clothing Co Ltd, Wuxi Fuji Fashion Wear Co Ltd, Wuxi Pacific Knitting Co Ltd, Zhejiang Cathaya International Co Ltd, Zhejiang Sanyuan Holding Co Ltd, Zhejiang Xinao Textiles Inc., Inner Mongolia Erdos Cashmere Group Co Ltd.
Author: Billy Hunter