2nd September 2015, Botticino Sera (Brescia)
Busi launches new machines for large sized medical hosiery
Innovative Italian socks knitting machine builder Busi Giovanni has announced the launch of two new medical hosiery knitting machines for large sized medical hosiery.
"With the aim of completing our range of models solely devoted to knitting class 1, 2 and 3 certified medical socks, we have recently launched the new MEDICAL PANTYHOSE (needle counts from 226 to 366) and MEDICAL TERRY PANTYHOSE (needle counts from 226 to 280) machines, both of which are available in a 4.5" diameter, enabling the production of large socks and pantyhose," Busi's Export & Marketing Manager Michele Castagna said.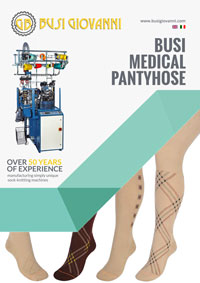 The two new models have the following technical features and full specifications are available at the links below:
5 pattern colours + ground + elastic (with 1 feed)
1 pattern colour + ground + elastic (with 2 feeds)
Possibility of knitting in true rib (typical of BUSI machines)
Possibility of knitting sandwich terry (only on TERRY version)
Possibility to combine Busi's RIMAGLIO device for automatic stitch-by-stitch toe closing
View the full technical specification for Busi Medical Pantyhose
View the full technical specification for Busi Medical Terry Pantyhose
In January this year Busi announced it would be expanding its production capacity as demand grows for its BUSI MEDICAL range of compression hosiery knitting machines and other products.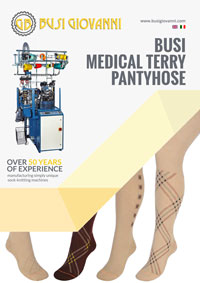 Currently Busi has the capacity to produce around 200 machines per year at its factory near Brescia but it needs to increase its manufacturing capacity in order to be able to offer suitable lead times to meet market requirements. The company plans to make over 250 machines this year.
Commenting on the company's growth strategy Managing Director Gianmario Busi said at the time: "Busi Giovanni is known as a technology leader but also for the quality of its machines. Our capacity expansion plans take this into account and we will not compromise on the quality we are known for around the world."
"We plan to outsource the manufacture of certain components in the Brescia area from companies who are known for their expertise and quality production and that can meet our exacting standards. Final machine assembly and testing will take place in our own factory here in Brescia for the additional machines we plan to make."
Since 1958 Busi Giovanni Srl has specialized in the design and construction of single-cylinder machines with rib needles in the dial for the production of high-quality stockings, socks and tights. Today, Busi is recognized worldwide as one of the most inventive producers of machines for high-performance and high-tech socks.
The company is a supplier to the most important producers of stockings, socks and tights, for the men's, women's and children's markets - classic, patterned, sports, technical-sports, as well as medical, with special solutions for graduated compression.
Busi sells in more than 50 countries around the world (90% export) through a network of partners that provide distribution and service.
Further information
View the full technical specification for Busi Medical Pantyhose
View the full technical specification for Busi Medical Terry Pantyhose
Busi Giovanni expands to meet demand for advanced compression hosiery machines
Contact
Busi Giovanni S.r.l. Via Molini, 24 25082 Botticino Sera (Bs) Italy
Tel: +39 030 2190304, Fax +39 030 2693387
E-mail: [email protected]
This article is also appears in...