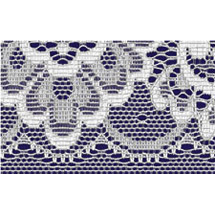 On the basis of the integrated machine file, this simulation module calculates and creates a photo-realistic image of the lace fabric. Lace designs can be displayed in photo quality on the screen, or printed as hardcopy. The simulace module closely mirrors the highly complex effects of Jacquard and Multibar threads on the Jacquard ground. Changes to the design can be made fast. The development process is in fact fully independent of yarn and production machine availability.
The design calculated by the ProCad simulace first is displayed in full screen mode. Precise simulation of yarn behaviour and machine characteristics allows fall plate patterns to be calculated, too. This calculation also takes into account the notation and the shogging motion of ground bars, as well as the "swelling effect" of the yarns that are not fixed by the ground floating yarn.
The graphical representation of the lace fabric is based on the following parameters:
Chain links
Jacquard data
Thread-in
Yarn properties
Gauge and quality of the finished fabric
All pictures can be archived as graphic file or printed out. Resolutions of up to 4000 dpi guarantee perfect picture quality.
Click on image for further details and full technical specification
[20.6.09]
This article is also appears in...