Industry Talk
Castel Goffredo: World class hosiery manufacturing centre - Part lll
In this the third article in the series, we profile more companies and look at more Castel Goffredo innovations.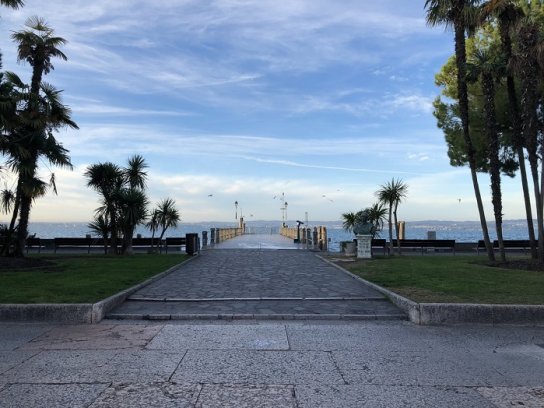 1st April 2019
Knitting Industry
| Italy
Lake Garda from Sirmione. Castel Goffredo is a 'comune' in the province of Mantua, in Lombardy, northern Italy. It lies 35 kilometres from Mantua and a few more from Brescia in a region of springs at the foot of the slopes that drain into beautiful Lake Garda. © Knitting Industry
Castel Goffredo is situated in the province of Mantua, in Lombardy, Italy. The town and surrounding district have been involved in textile production since medieval times. During the 20th Century the area became a centre of expertise in the production of woman's hosiery and is known internationally for its quality and inventiveness both in terms of product and business innovation.
Knitting Industry recently visited a number of producers in the area around Castel Goffredo to find out if the 'district' was still in fact world class and to try to gauge how it is evolving to compete in the now globalised and highly competitive hosiery industry. The first article in our series looked at two companies who have reinvented themselves, having started life as private label manufacturers for the big brands and retailers. You can read more here - Castel Goffredo: World class hosiery manufacturing centre.
Our second article in the series, looked in detail at the make-up of the Castel Goffredo hosiery producers – the products they manufacture, and where they sell their output. You can read the full story here - Castel Goffredo: World class hosiery manufacturing centre - Part II.
In this the third article in the series, we profile more companies and look at more Castel Goffredo innovations – including new technologies, product and process innovations, and innovative business models.
Making shoe uppers on socks knitting machines
Castel Goffredo's entrepreneurs are always looking for the next big thing in hosiery – the next fashion craze or the next trend. But they also think laterally, looking at what they could do with their skills, knowledge, technologies and contacts. A good example is the current trend for knitted shoe uppers, which until recently has been the domain of the flat knitting machine builders, ever since Nike launched its legendary Flyknit running shoes for the London Olympics in 2012.
I meet for lunch in a local restaurant with a man who thinks he may have the key to the next big thing. According to Elia Gorgaini of GB Macchine Atrezzature Per Calzifici, a leading supplier of machinery to the Castel Goffredo trade, shoe uppers knitted on socks knitting machines are a really good potential new market for the district's producers.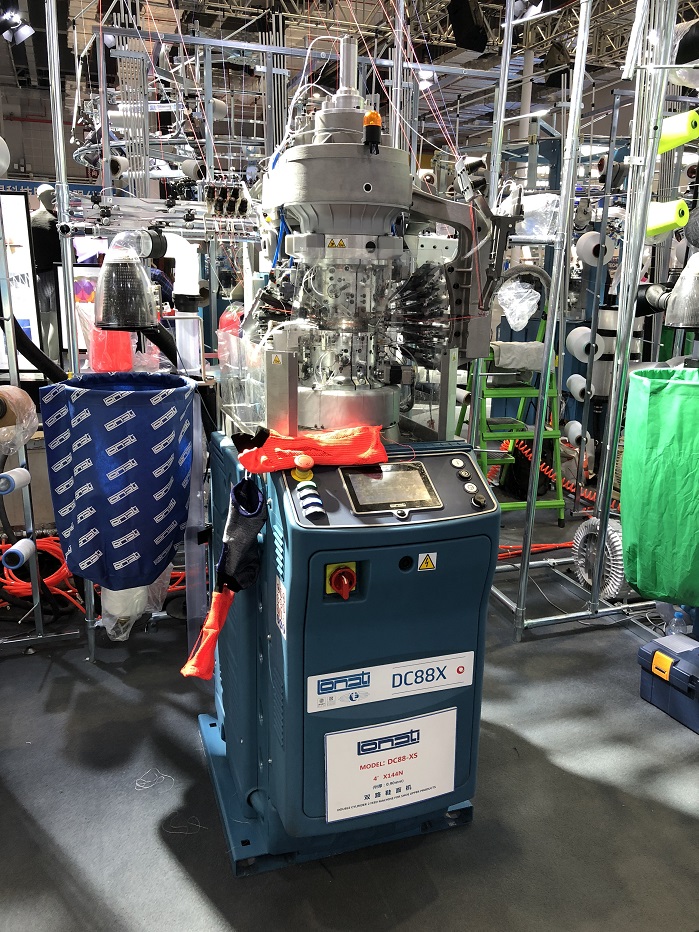 Lonati DC88-XS. © Knitting Industry
GB is an agent and distributor for the Brescia headquartered Lonati Group and its daughter group Santoni for most of Italy, selling machines and supplying spare parts for all of the group's brands. GB's three owners employ just seven people, with technical service being handled by the Lonati and Santoni companies. Elia Gorgaini heads up sales and is very well known in Italy's hosiery and socks manufacturing industries - 90% of the business he does is with Lonati, which supplies almost everything except for dyeing machinery – working as an agent with the larger companies and as a distributor with the smaller companies. The company also refurbishes and sells used machinery.
In terms of machines for shoe uppers Elia explains there are three options – the X Machine from Santoni, and the double cylinder DC88 and single cylinder 616 from Lonati." We have started sampling with customers in the Castel Goffredo area and although we are not yet in series production, we are targeting the sports shoe market companies like Nike and adidas," Elia explains.
"Flat knitting machines take around 45 minutes to knit one shoe upper, or one and a half hours per pair. A sock knitting machine takes 6 or 7 minutes per shoe upper or around 15 minutes to knit a pair," he adds.
Santoni X Machine
Elia shows us some samples from Santoni's X Machine, which can reciprocate and make the design without the need to cut the yarn. Santoni created the X Machine especially for the footwear market. The machine offers the possibility to knit a wide range of intarsia patterns for designing seamless uppers. It allows the mapping of different areas with different types and combinations of yarn. This way a finished shoe body is produced that is ready for application to the sole, the last stage in manufacturing the shoe.
With the help of X Machine, the production process becomes more efficient, reliable and costs can be minimised. Product-wise the shoe uppers can be designed with unlimited patterns and colour combinations including three-dimensional areas and eyelets for the laces.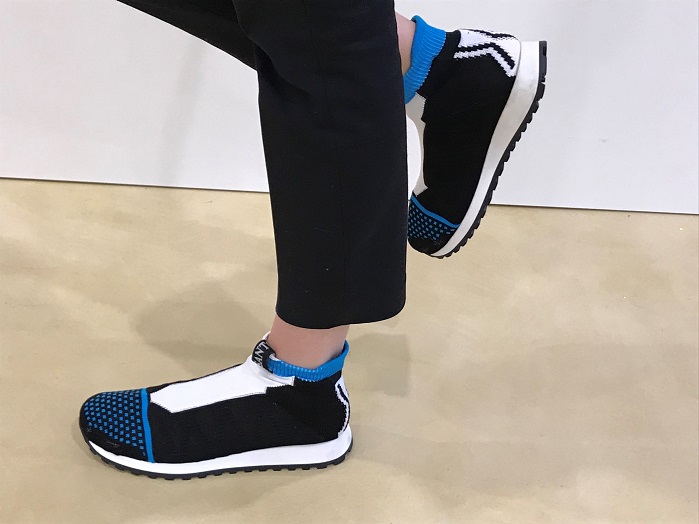 Shoe uppers produced on the Santoni X Machine. © Santoni
Lonati options
Elia explains that with the DC88, the target is to close the shoe under the foot and produce a real 3D knitted shoe upper. "With the Lonati single cylinder machine, the design is unlimited, but we have to cut the yarn," Elia adds.
"But we are now making a double layer sock using Grillon yarn, where the liner sock hides the cut yarn. The Grillon yarn fuses the liner to the outer and the knit time is 12-15 minutes per pair," he explains.
The two Lonati machines are also available with automatic toe closing. However, Elia admits that there is still work to do in the project to bring the manufacturer of injection moulding machines for soles together with the hosiery or socks manufacturers. But he emphasises that: "There is big interest in the district in manufacturing shoe uppers using hosiery knitting."
The DC88-XS is a double cylinder 2 feed machine for the production of shoe uppers in ribs, plain knit, links and links jacquard – with needle by needle single-magnet selection for different rib, links patterns and links jacquard. Shadow stripe and open-work knitting is optional. The machine has a brushless motor incorporated in the column with variable heel and toe reciprocating motion with 2 selection points instead of pickers and needle droppers.
The DC88X 1530XS machine, to give it its full name, is available in 4-inch diameter in gauges 8, 9, 10 and 11. The machine is fully electronic, including yarn finger control with easier sinkers maintenance thanks to the rotating knitting head. It has stitch cams with independent stepper motors and mechanical takedown.
Personalisation for curvy women
Another example of Castel Goffredo entrepreneurship is where hosiery manufacturers create a or help create a completely new product category within the hosiery sector. Massimo Bensi, owner of Calze BC is doing exactly that.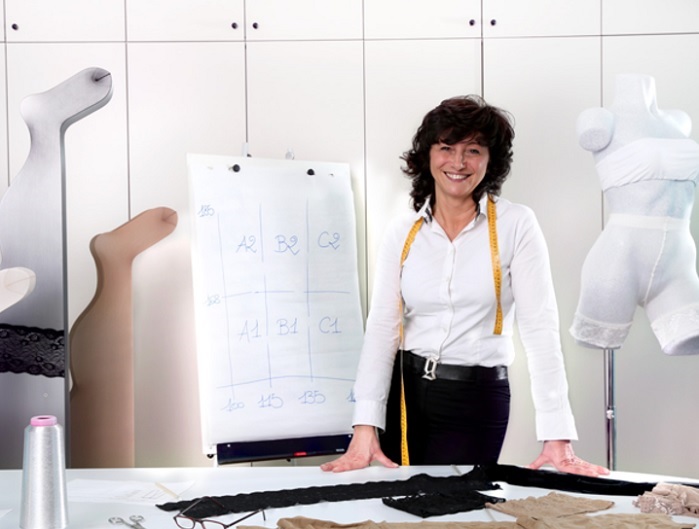 'Tights Tailored for You', Calze BC's project for curvy women. © Calze BC
Calze BC has two areas of focus. The first area is children's tights and the aim here is to automate for maximum efficiency. The second area of focus is the 'curvy women' market in larger pantyhose sizes – in the past, manufacturers simply added size XXL to their ranges to satisfy demand, but the segment has now become much more sophisticated with far greater choice for consumers.
Personal Size
Calze BC's own brands are Jolie Folie for women and Aquilone for children. The real innovation at Calze BC is the company's Personal Size project. Massimo Bensi started the project around four years ago, initially focussing on retail sales, although much of the focus now is on selling direct to consumers.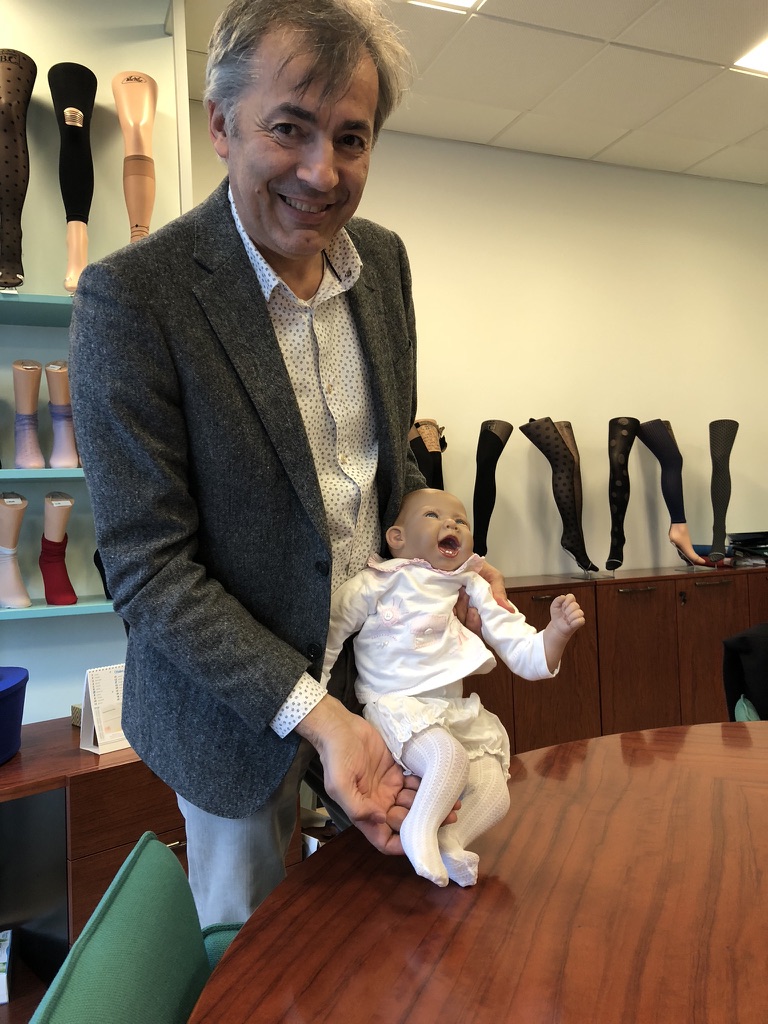 Massimo Bensi owner manager of Calze BC and president of CSC Enterprise Services Service, is automating his children's and infant's hosiery manufacturing to remain competitive but is also trialling his 'Personal Size' customised women's hosiery innovation in the Italian market and expects to roll it out to the rest of the world in the near future. © Knitting Industry
According to Massimo Bensi, for most companies in the region, around 20% of turnover from large sizes (4 and 5). He explains that the curvy market is becoming more challenging with the need for more customised products. "Comfort matters and with curvy the products need to fit really well," Massimo explains.
From a technical standpoint, the company needs to use a 430 needle 4 ¼" hosiery knitting machine to produce the larger sizes. Massimo Bensi explains that: "In order to increase the panty and leg measurements we need to use larger diameter machines. Some women have, for example, 90cm thigh measurements."
Massimo markets his Personal Size project as 'Il Collant Su Misura Per Te', which translates as – Tailored tights for you. The company sells its Personal Size products directly to consumers through a dedicated e-commerce platform called Personal Size, which is currently focussing on the Italian market but which has global potential. Calze BC also sells Personal Size products to selected retailers.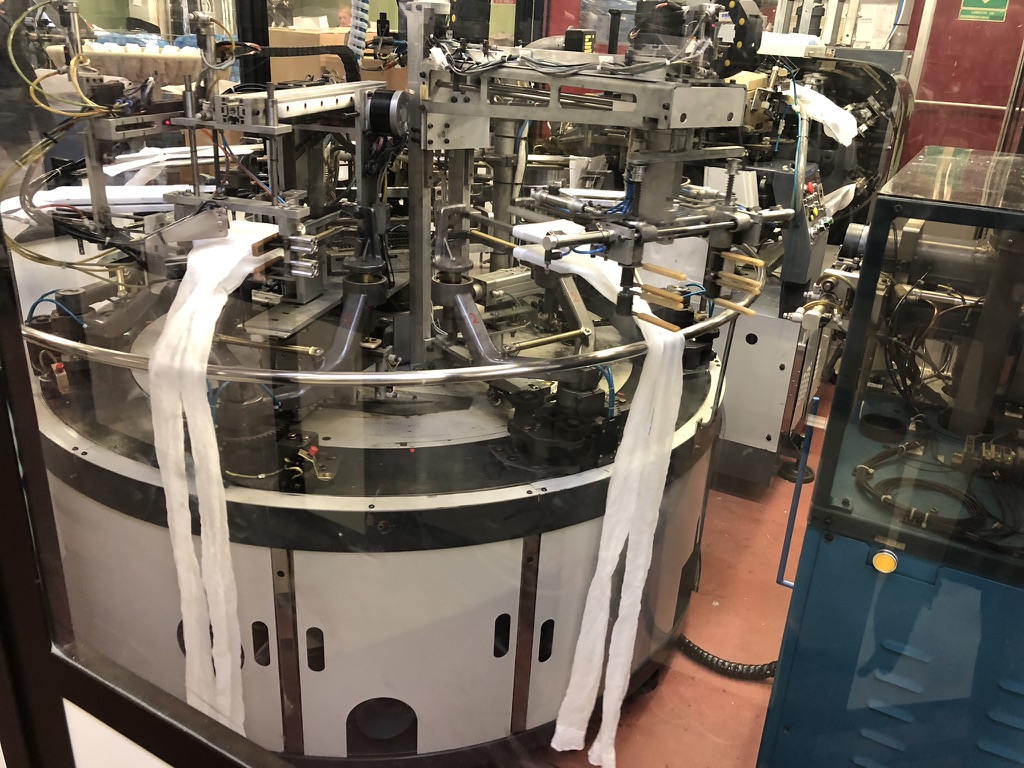 Automation plays a big part at Calze BC. © Knitting Industry.
"Our Personal Size project has turned on a light with curvy females," says Massimo Bensi.
The Personal Size product range comes in a range of deniers and panty styles and nude looks and includes tights, socks and stockings, some of which are also available in compression hosiery styles. Socks are available in both long and short styles. Three different machine diameters are used which give six different panty size options to consumers. "We also have another project called 'Special Size' which includes sizes 6/7 (XXXL) and size 8 (XXXXL)," Mr Bensi adds.
"Initially the main benefits of the Personal Size project were for the consumers, but finally Massimo says, there is now a benefit for the producer as the market matures. We do get good prices, but we need to explain that it's a product engineered to meet the needs of curvy women."
When the company first entered the curvy market, retailers told Massimo that his product was too expensive and it was then that he realised the importance of communicating the benefits of his products - like the fact that the product is engineered, in order to justify the premium price. Personal Size also extends to children's pantyhose in special sizes.
Calze BC makes 2million pairs of pantyhose per month or 24 million pairs per year. The company has a EUR10 million turnover and has 75 employees, 10 of which are family members.
Selling socks via vending machines
Ileana is a Castel Goffredo based family business, which designs and markets hosiery, socks and underwear. The company launched its 1177 (Eleven Seventy-Seven) brand of technical socks three years ago after doing its own market research. Typical 1177 socks are made from high-tech synthetic yarns to enhance both comfort and performance and have individual left and right feet. The company says it is the first to use Aquafil thermoregulation and moisture management yarns in the sock arena.
On arrival at Ileana I'm greeted in the company's reception area by a very cute life-sized robot called Pepper, whom I'm informed speaks 19 languages. Pepper is standing next to a space-age style vending machine full of multi-coloured socks and asks me a number of questions – What style of socks do I like? Which colours do I like? What is my shoe size? I'm asked to confirm my preferences by selecting answers on a tablet Pepper is holding, and within seconds my stylishly packaged socks are being despatched by the vending machine. It's a very slick presentation and I could imagine it going down well with consumers in the right setting.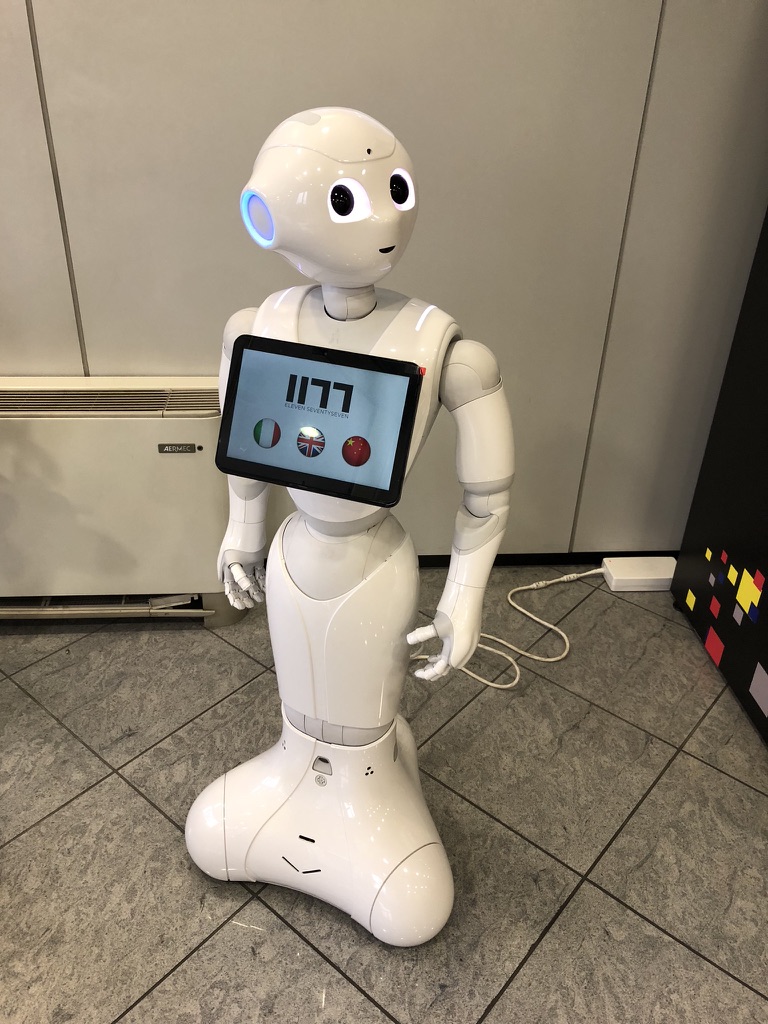 Pepper the robot that speaks 19 languages. © Knitting Industry
Just as my socks exit the machine my host and company owner manager Ms. Alda Bondioli arrives to greet me. Alda explains that Ileana currently has five such socks vending machines in the market in high footfall locations such as shopping malls and railway stations. Medium/high end socks sell for around EUR 14-16 per pair, with some selling at up to EUR 20 per pair.
Synthetic fibre focus
Ileana's socks are different to the norm. The company uses synthetic fibres in its men's socks, whereas traditional men's socks tend to be made from natural fibres like cotton or wool. The company uses Aquafil's Dryarn, which is made from micro fibre polypropylene, and has anti-bacterial properties, as well as thermoregulation and moisture management properties.
Alda Bondioli says that it was tough to introduce synthetic socks into the market but that it was now getting easier. She reminds me that 15 years ago we all wore cotton t-shorts to exercise in - or to go to the gym.
"Nobody does that today. Everyone wears synthetic clothing to exercise in today," Alda says. I think she has a very good point here. I've been testing a pair of the company's Active socks since my visit and I have to say, they are great to wear – very comfortable, and in the main, odour free. "It needs a change in mentality'" Alda says. "Men wear natural fibre socks because that is what they are used to. But performance will become more and more important in future."
Reinforcing the synthetics advantage Alda states: "In skiwear we have base layer, middle layer and outer later – they have all gone over to synthetics. Even technical lightweight synthetic down jackets are preferred to natural down. Other areas of clothing will go the same way."
Wash fastness advantage
Alda says that standard cotton socks can withstand 7-10 washes, whereas her 1177 branded socks can withstand 50 washes. She adds that the toes and heels are also reinforced which helps - and that she still has the same socks even after two years. "Colour fastness is also much better," she adds.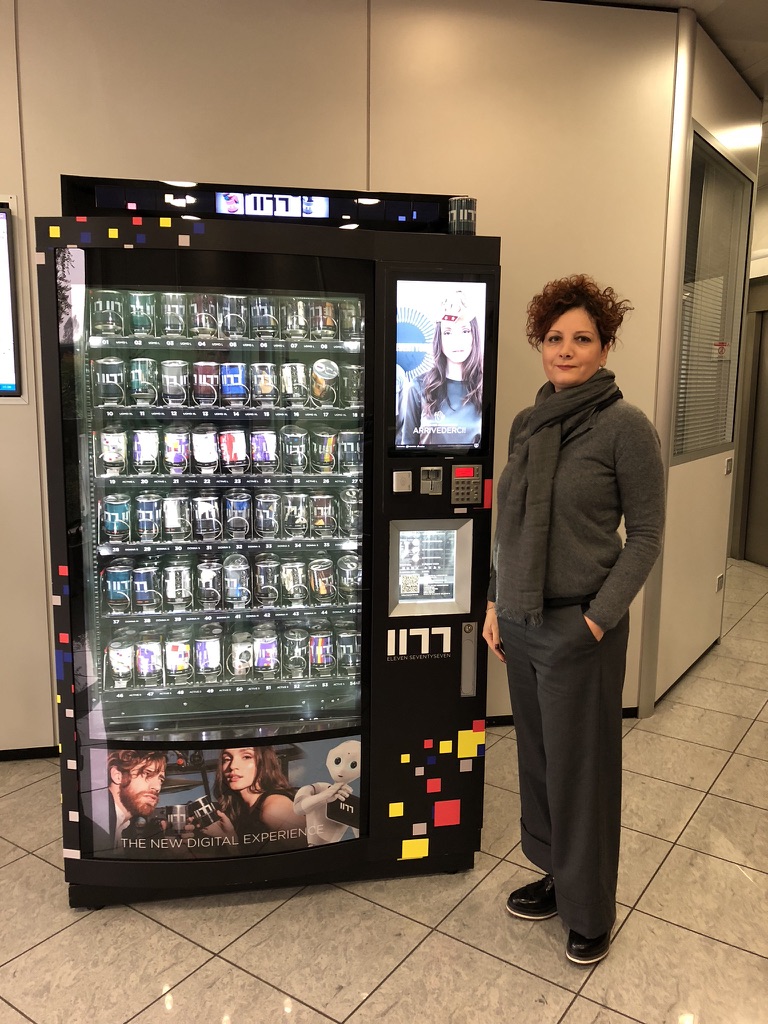 Ileana's Alda Bondioli with her socks vending machine innovation. © Knitting Industry
"The unpredictable temperature variations we are experiencing with global warming constantly raises the question for consumers – what do I wear today? Thermoregulation available with modern synthetic fabrics makes it easier to chose synthetics over cotton," Alda Bondioli explains. "Also, the amount of water used to grow, process and dye cotton makes it a bad choice for consumers. And then there is the whole land use question the planet faces – to grow food or grow cotton."
Alda adds that the local dye house she uses has solar panels to generate power and recycles its processing water. Ileana designs and develops its own styles and has them produced and finished locally.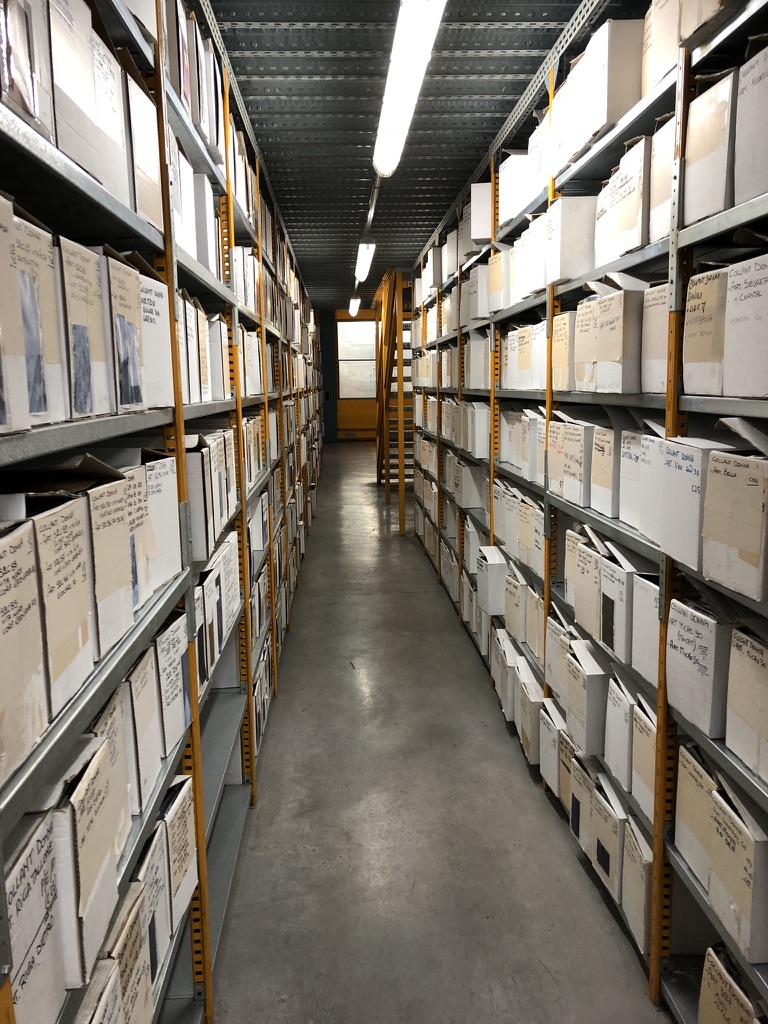 Alda Bondioli's mother started the business 35 years ago and the company has a massively impressive 68,000 style archive it can call on for inspiration and technical know-how. © Knitting Industry
The company's focus is to develop value added products and as such Alda does her own colour and trend research. The company also offers bespoke products. "There are no specialist hosiery designers, design normally comes from lingerie. So, we follow our own trends and attend the leading shows and create our own collections."
Further reading
Castel Goffredo: World class hosiery manufacturing centre
Castel Goffredo: World class hosiery manufacturing centre - Part II.
Lonati shoe upper machine debuts in China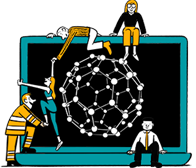 Business intelligence for the fibre, textiles and apparel industries: technologies, innovations, markets, investments, trade policy, sourcing, strategy...
Find out more