31st October 2018, Shanghai
Cixing split marked by Beworth's Shanghai debut
A new player in the global computerised flat knitting machine industry made its debut at the ITMA Asia + CITME textile machinery exhibition, which took place earlier this month in Shanghai.
Ningbo Beworth Textile Machinery Company Ltd. (Beworth), could hardly be called a 'start-up', however. Just two years after its incorporation, the Zhejiang Province, China, headquartered company, already has around 800 employees and occupies a 50,000 square metre manufacturing site in its hometown of Cixi City. It also claims to have an annual manufacturing capacity of 20,000 flat knitting machines.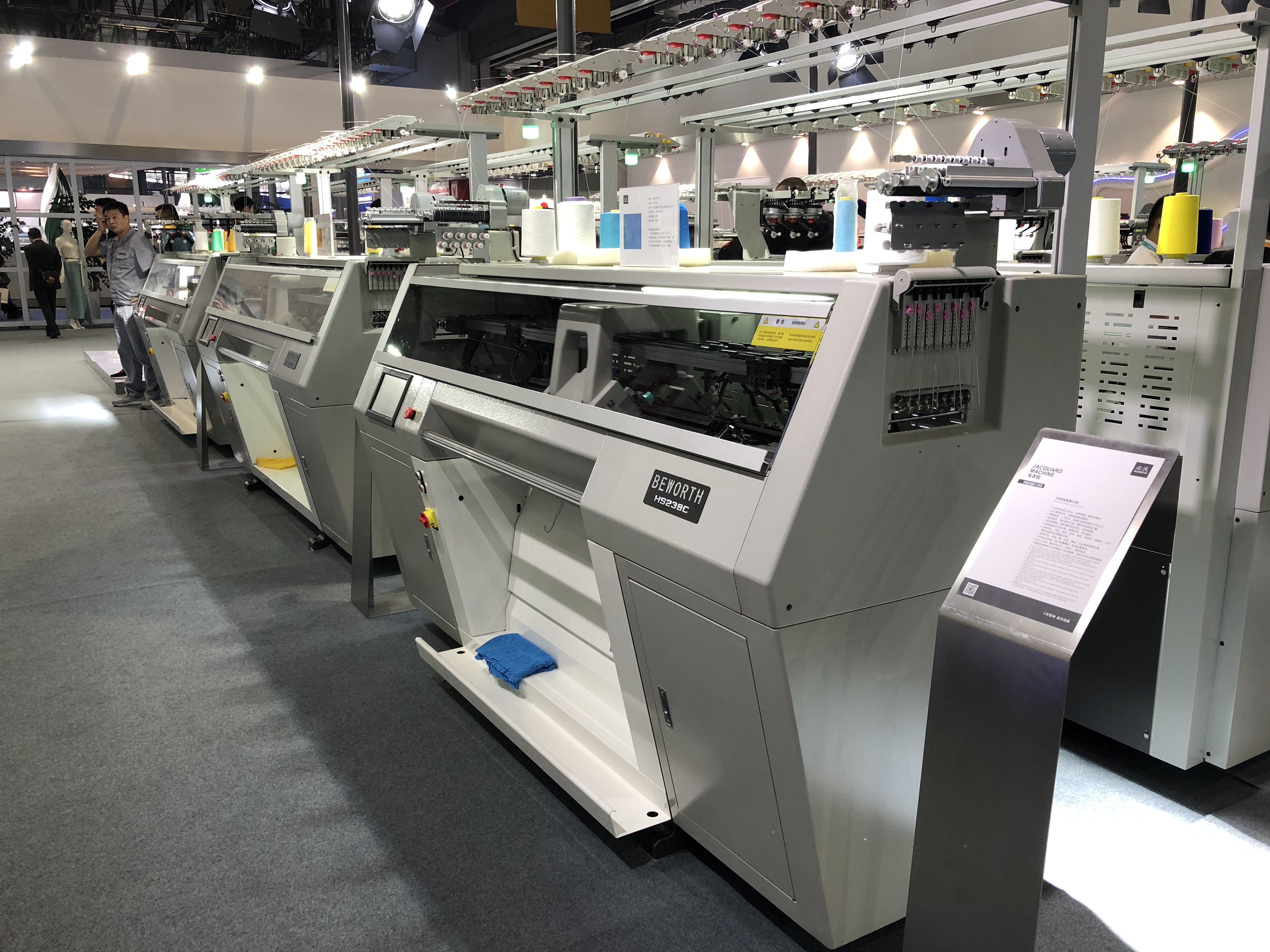 Break-away
But, how can a company just emerge and build such a capacity so quickly? The answer is that Beworth is a 'break-away' business – a break-away from the giant Chinese flat knitting machine manufacturer Ningbo Cixing Company Ltd, known in the industry as simply Cixing.
Cixing emerged when China's millions of hand flat knitting machines began to be replaced with advanced computerised flat knitting machines in the early part of this century. By 2010 it had grown to become the world's largest flat knitting machine builder, when it swallowed up renowned Swiss company Steiger, known for its innovative knitting technology.
New generation
Beworth's debut at ITMA Asia + CITME in Shanghai this month was surrounded by speculation and rumours of family break-ups at Cixing, but the company did have the largest booth in the flat knitting area, which was populated by re-labelled first-generation Cixing lookalikes and a new HS series for sweater knitting and an HF series for shoe upper knitting – China's shoe upper market is still going strong, the company says.
Industry commentators say that Beworth's 20,000 machines annual capacity claim is a little exaggerated, but the company may well be producing around 12,000 machines per year. The company is active outside China and already has an office in Bangladesh with 45 staff.
Head of International Sales, Pierre Wang was keen to highlight that fact that his company's machines were of good quality and told Knitting Industry that Beworth's needlebeds for example are made from Japanese steel and that the CNC machines it uses to manufacture its machines are also Japanese.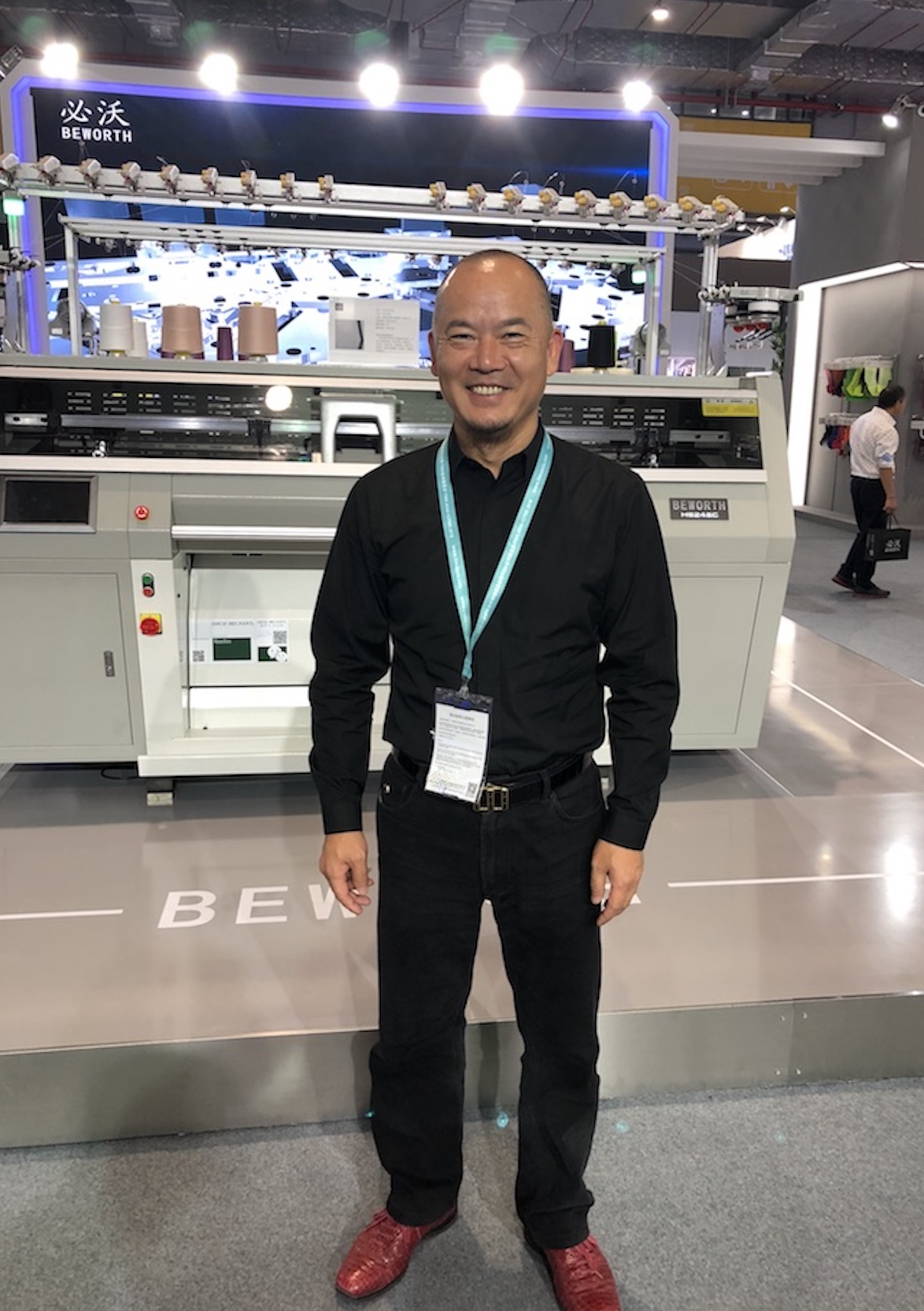 Pierre Wang introduced us to company owner Mr Zheng, who apparently left his senior R&D position at Cixing after a family problem, to set up Beworth. Mr Zheng is said to be the technical brain behind the first generation of Cixing flat knitting machines which brought the company to the world's attention.
Changes afoot?
Although Cixing is a huge player in the global market, and especially in Asia, it has lagged behind market leaders, Japan's Shima Seiki and Germany's Stoll, in terms of technology advances. Whether this changes in future, remains to be seen and it will be interesting to see how the global flat knitting business develops in the coming years. We now have four players - Shima Seiki, Stoll, Beworth and Cixing - with similar manufacturing capacities, in terms of numbers. That assumes of course, that Cixing's capacity is now reduced, due to the split and emergence of Beworth.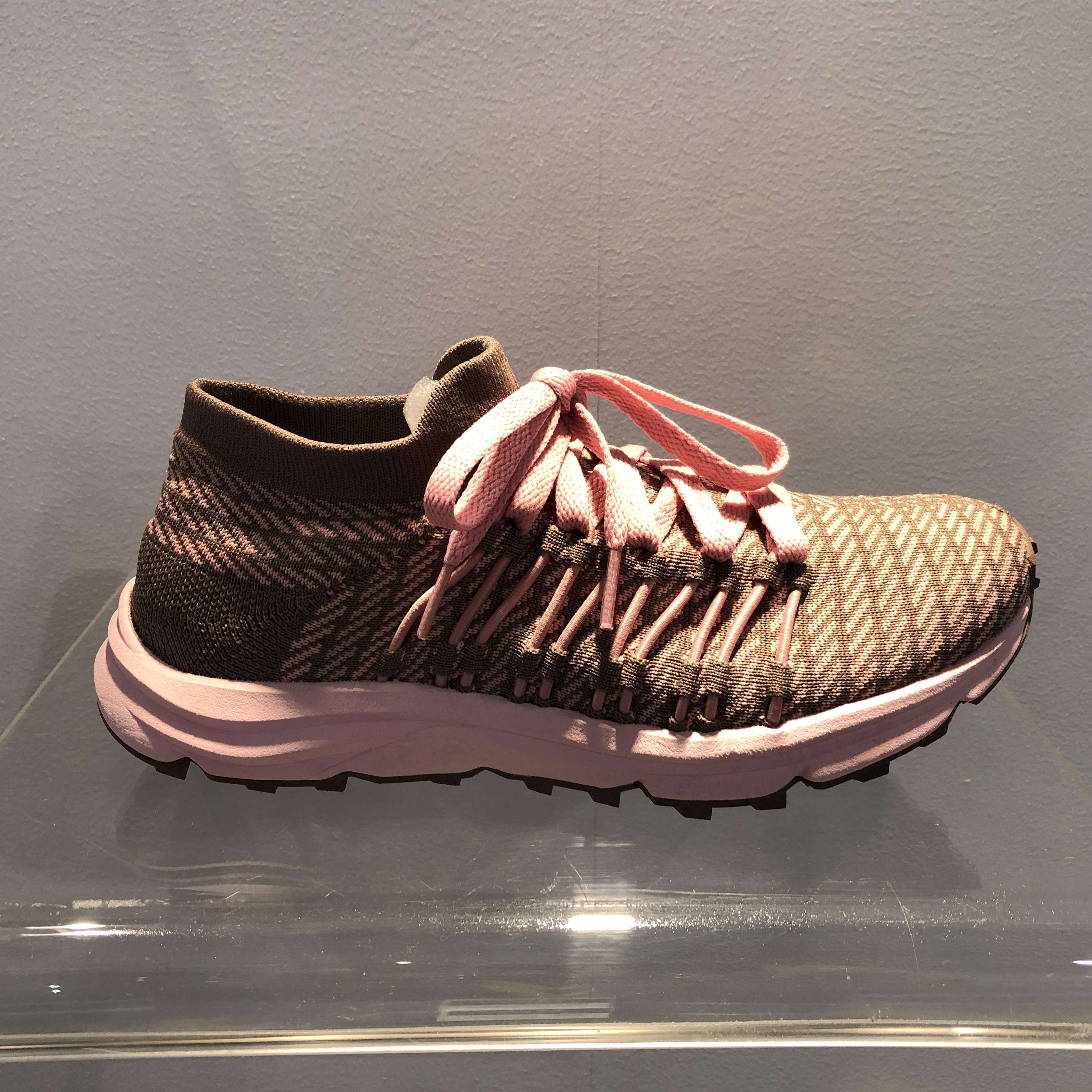 There are some questions that probably require answers from a crystal ball though. Has the Cixing split diminished its ability to compete with the market leaders and will it now fall further behind in the technology race? Or will it develop four needlebed complete garment knitting technology under its Steiger brand as claimed on the company's booth in Shanghai.
And what about Beworth? Will it just focus on making standard 'workhorse' machines for low cost knitwear for exports to western markets from countries like China, Vietnam and Bangladesh? Or will it join the technology race too?
China's knitwear manufacturing industry is now facing higher labour costs and poor labour availability. Meanwhile there is a boom in demand domestically from consumers with real spending power. In the article - Battle to automate China's domestic knitwear manufacturers we discuss the race to digitalise China's domestic knitwear manufacturing industry. What are the implications of this for the machine builders?
One industry insider speculated that the Cixing split may have been a deliberate move to create two distinct brands – one that focuses on standard machines for knitwear exports from Asia and another that focuses on high technology for China's booming domestic market. Watch this space.
This article is also appears in...