26th September 2017, Milan
Marchi & Fildi smart innovations at Filo
Marchi & Fildi, a manufacturer of natural, artificial and synthetic fibre yarns, will focus on circular economy and its Ecotec smart cotton range at this week's Filo, an international trade show of yarns and fabrics, which takes place in Milan.
Ecotec by Marchi & Fildi is made in Italy from a traceable and certified manufacturing process that turns 100% pre-dyed cotton textile clippings into colourful Ecotec yarns. Thanks to the process, the inevitable, left over inventories generated during the production of clothing are gathered and transformed into Ecotec yarns, naturally reducing waste and of course minimising the use of raw resources.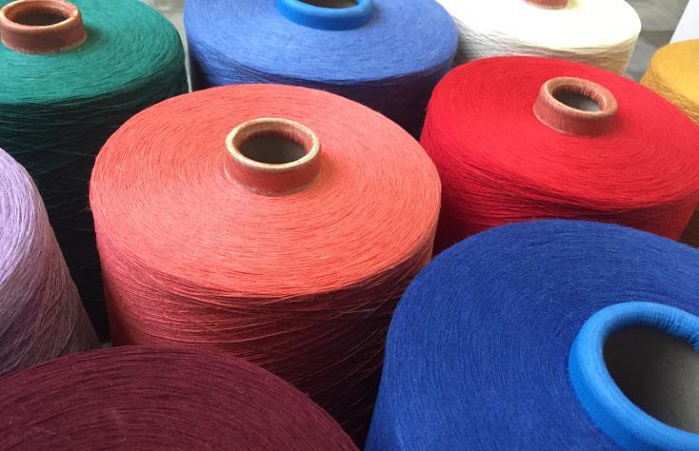 According to the manufacturer, through this process the company saves in terms of water, CO2 and energy, as attested by the LCA study conducted by ICEA. According to the results, there are improvements up to 56.3% for greenhouse gases, up to 56,6% in energy consumption and up to 77.9% in terms of water usage, when using the company's exclusive manufacturing process.
Phoenix
As a result of the union of two certified raw materials for a 100% GRS (Global Recycle Standard) yarn in line with the focus of Ecotec by Marchi & Fildi, the company exclusively presents the new Phoenix yarn (50% Ecotec, 50% recycled polyester, NM1/50 GRS-certified) available in a wide choice of colours that don't need additional dyes.
The new yarn is an addition to Ecotec's wide range, which claims the Tessile E Salute certification promoted by Italy's Ministry of Health, together with others like Oeko-Tex 100, Certified Quality System Company ISO 9001:2015 and TF (Traceability and Fashion).
"This range of versatile textile products ideal for fashion fabrics, knitwear and hosiery presents two new lines this season: a range of smart solutions set up by the Marchi & Fildi research and development centre in cooperation with a textile style office; and an exclusive range of Ecotec fabrics created by accredited Ecotec partners," the company reports.
Ecotec partners
Comatex produces key developments in Ecotec and linen for light apparel. Euromaglia Srl develops refined woven and jersey products with Ecotec. Manifattura CBM offers 100% Made in Italy products, from the design and production of samples, to the woven ranges produced on traditional and 18 new jacquard looms.
RDD, part of Valerius group, is a Portuguese circular knitter with strong focus on sustainability. The company has a totally integrated production chain, from R&D to dyeing and finishing offering premium products to top apparel brands. This season collection includes 23% of organic and recycled articles, 72% of natural articles and 5% synthetic articles. Concerning Ecotec, the company presents a stripes jersey in Pegasus and one interlock in Ginevra.
Tessuti & Tessuti srl creates particular knitting stiches and styles that include both fancy jacquards, tubular, double, raised, embossing, stretch, decorative openwork and devoré effects. Tintex Texteis, a leading Portuguese contemporary fabrics producer, is making "Naturally Advanced and dynamic products".
Smart Creation
And with the key sustainable values of Ecotec, Première Vision has selected it to be a Smart Ambassador within the project Smart Creation earlier this month. Smart Creation is a way of bringing together and communicating the initiatives and the means towards responsible creation, innovation and production.
Key developments in Ecotec have been displayed in the Smart Library, located on the Smart Square, together with a Marimekko dress, made with Ecotec fabric by Tessuti&Tessuti, selected as responsibly developed item for the Smart Wardrobe.
This article is also appears in...