10th September 2010, Paris
Ennio Capasa to preside over jury for the 2010 PV Awards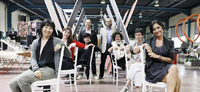 The Grand Jury Prize - for the fabric that is the most exceptional, the most symbolic of the coming fashion zeitgeist, and the most pertinent.
Handle Prize - for the fabric that allies the most astonishing tactile and behavioural qualities, the fabric that touches the senses and the emotions.
Innovation Prize - for the fabric that is the most innovative, the most intelligent, the most technological and creative.
Imagination Prize - for the most daring, the most original, the most surprising fabric in terms of material, technique, decoration or finishing.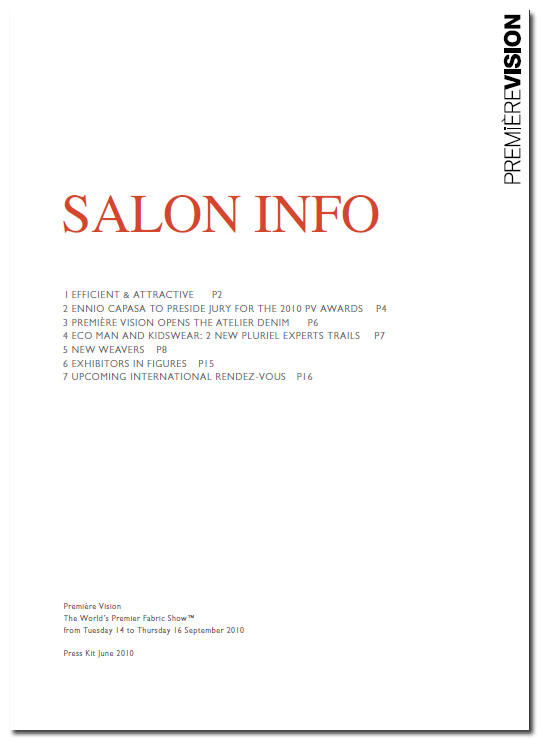 He's Italian, and designer and founder of the Costume National brand. His style, often defined as a mix of edgy-chic, makes him one of the most talented personalities working in contemporary fashion.
Ennio Capasa, who is also passionate about architecture and design, will be president of the jury for the second edition of the PV Awards.
He will head up a jury of international names from the worlds of textile and fashion, each contributing the specific viewpoint of his or her own area of activity. The jury, which is still being finalised, will include:
Jane Bong, Senior Vice pdt of corporate Material R&D of the BCBG MAXAZRIA group; Johan Buskqvist, Head of design at Adidas; Tiziana d'Acquisto, Fabric purchasing, R&D at Jil Sander Italia; Linda Loppa, dean of the Polimoda fashion school in Florence; Arianna Zuliani, Product Manager, Vivienne Westwood Ltd; and Pascaline Wilhelm, fashion director of Première Vision.
5 prizes will be awarded this year:
This year, the PV Awards will also be turning the spotlight on wool:
The 2010 Special Woolmark Prize for the fabric that best distils the splendour of wool innovation and the beauty of 100% natural fibres, with a high-majority of wool.
This prize is sponsored by AWI (Australian Wool Innovation), a body that represents some 30,000 Australian wool growers producing mainly fine Merino wool for apparel. Its vocation is to promote wool and its exceptional attributes through investments in Research and Development, Innovation and marketing. AWI owns and licenses the Woolmark brand, one of the world's most recognisable textile symbols at consumer level.
In early September the jury will make a first selection from among the fabrics submitted by the Première Vision exhibitors for the show's fashion areas. The nominated fabrics will be presented in the show's General Forum and thus showcased to all international visitors.
The jury's final deliberations will take place during Première Vision, on the last day of the show. Immediately following their decision, winners will be announced to the public and the trophies, designed by artist Miguel Chevalier, a pioneer in the field of digital and virtual art, will be awarded:
Thursday 16 September, at noon, in the General Forum. Be sure to note the date now so as not to miss one of the show's highlights!
Nominees List
A-Girl's Co Ltd / Tessitura di Albizzate - Groupe TBM / Asahi Kasei Fibers Cupro / Aspesi Federico / Lanificio Fratelli Bacci S.p.A. / Alberto Bardazzi SpA / Lanificio Becagli srl / Bie Barzaghi Gruppo Barzaghi / Bischoff Textil AG / Luigi Boggio Casero / Bossa Shirting Mills / Botto Giuseppe & Figli SpA / Brugnoli Giovanni SpA / Canclini Tessile SpA / Canepa SpA / Cappio Tessuti srl / Chigasaki Woollen Spinning & Weaving Co Ltd / COBO - Chugai Kunishima Corp. / Lanificio Luigi Colombo spa / Delago / Dormeuil / Duksung Co., Ltd / Dynamo Denim Kumascilik Ltd / Europ-Marchini / F.A.N.S. Textile Factory SpA / Lanificio FAISA s.r.l. / Tessile Fiorentina Company srl / Frangi SpA / Gentili Srl / Halley Stevensons (D&F) Ltd / Hasegawa Corporation / Hausammann + Moos AG / Hield Brothers / Hyosung Co. / Infinity Srl / Inseta srl / Jackytex - Tessuti a Maglia SpA / K.Line Co. Ltd. / Kanda Keori Co. Ltd. / Kisen Logistics, Ltd. / Nippon High Pile Division / Komatsu Seiren Co Ltd / Kuroki / Lamintess Srl / Laurent Garigue Partnership / Leggiuno SpA / Broderies Lévêque et Fils / Linea Tessile Italiana SpA / Marioboselli yarns & Jersey SpA / Mariocucchetti Tessuti / Marzotto Div. NTB / Michèle Lemaire pour Tissus / Maglificio Mida Srl / MIT Manifattura Idea Tessuti SpA / Lanificio Nannucci & C. / Nikke - The Japan Wool Textile Co., Ltd / Novalan / Nuovatess srl - Linea Maga Jersey / O'Jersey srl / Olmetex SpA / Olimpias SpA Div. Tessuti Pordenone / Lanificio Rafanelli SpA / Ratti Donna / Lanificio Luigi Ricceri srl / Jakob Schlaepfer / Schoeller Textil AG / Sfate & Combier / Sgat Gruppo Barzaghi / Showa Co., Ltd. / SMI Tessuti SpA / SNT Co. Ltd. / Soktas AS / Sophie Hallette / Lanificio di Sordevolo / Sotoh / Steiff - Schulte / Stib 19 SpA / Studio Elle / Lanificio Subalpino srl / TESJ / Tessilbiella Srl / Tessilidea SpA / Texapel SpA / Toki Sen-i / Lanerie Piero Tonella srl / Toray Japan ( Toray Industries, Inc. ) / Jules Tournier et Fils / Tsuboyoshi Orimono / Carlo Uboldi srl / Vanners / Ricamificio Vittorio Vanoni srl
Nominated fabrics, identified by special labels, will be displayed in the General Forum as of the first day of the show.
Click on images for Salon Info and Fashion Info
This article is also appears in...