19th November 2019, Cologne
Ford explores future of automotive interior fabrics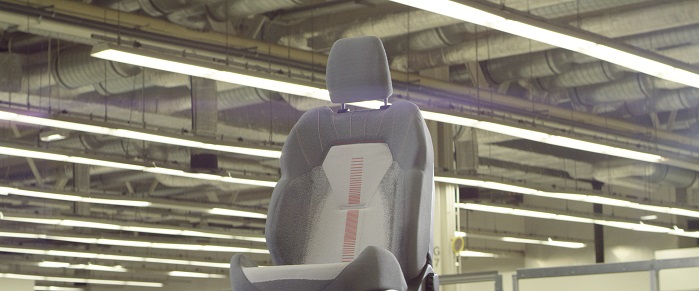 Ford is utilising the 3D knitting technology to produce seamless seat covers. © Ford Motor Company
Ford Motor Company, a global company based in Dearborn, MI, which designs, manufactures, markets and services a full line of Ford cars, trucks, SUVs, electrified vehicles and more, is exploring the opportunity for customers to design their own seat covers, add bespoke touches such as pockets and padding, and use more breathable materials for summer – with 3D knitting technology.
The group's European subsidiary Ford of Europe is utilising the technology to produce seamless seat covers, whilst reducing waste, improving production time, offering more design possibilities and enabling the use of textiles with potential for built-in connectivity – able to integrate heating; controls for the doors and windows; wireless smartphone charging; and sensors to monitor the driver's health.
Ford has released a new video. © Ford Motor Company
The company has released a new video demonstrating the possibilities offered by flat knitting. "This is the future of textile technology. Design and materials are seamlessly integrated together," says Diana Kovacheva, Ford Colour & Material Designer. "At Ford, we aim to bring this technology to the way we create shapes and materials for interior of our vehicles."
"The essence of creating a seat cover hasn't actually changed much since the beginnings of the automotive industry. In some seats we have up to 40 individual parts that all need to be perfectly matched as sewn together to wrap around the shape," she continued. With 3D knitting, the company can create a full seat cover as one entire piece using a single knitting process. The 3D materials can be created digitally in just an hour.
"We can design with a human centric approach. Which means that in the future, we can customise and personalise our seats for the individual needs and aspirations of our customers. So the future of 3D knitting for Ford is full of possibilities," concluded Ms Kovacheva.
Further reading
Ford's 3d-knitted car seat covers target infinite personalisation
This article is also appears in...