12th August 2010, Tarzana, CA
Fabriclink Launches Sweater Knit & Yarn Resource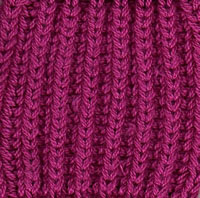 The FabricLink Network, a US based web resource for educational information on fibres and fabrics has introduced a new sweater knit and yarn resource to its updated website.
Sweater Knit & Yarn Resource contains in-depth information and images on a wide variety of products and processes and the resource is located in the Fabric University area of FabricLink.com and can be viewed here. The resource features a variety of educational information about fabric history, yarn facts and fibre production, as well as the quick and informative fabric seminar.
"We are very excited about our new 'Sweater Knit and Yarn Resource,'" says Kathy Swantko, president of the FabricLink Network. "It's a great way to learn about yarn and knit constructions. The close-up photograph of each sweater knit and yarn sample, along with the complete description, explains the production and usage of various fabric and yarn types."
The new information guide covers a range of knit constructions from a basic jersey and rib knit to more specialized constructions like a jacquard knit or a plaited knit. The resource also includes various sweater knit trim and finishing techniques, including the crocheted edge, curl-edge trim, border trim, and linking. There are also views of 15 different specialty yarns, along with descriptions, ranging from the basic filament and spun yarns, to the more unique marled yarn and space dyed yarn, to the distinctive chenille and bouclé yarns.
According to Swantko, the Sweater Knit and Yarn Resource will be continuously expanded to eventually include a full range of knit, woven and non-woven constructions. The company plans to create a complete guide for all types of fabrics and yarns, with visual examples and descriptions of how they're made, along with the qualities for every sample. The goal is to create an invaluable resource for fashion and apparel designers, as well as for textile and fashion design students.
The FabricLink Network, consists of www.fabriclink.com (trade-to-consumer) and www.thetechnicalcenter.com (trade-to-trade). Both websites contain a vast array of textile educational and product knowledge information focused to serve the needs of their respective visitors.
The FabricLink Network began in 1995 with FabricLink.com, and has been adding information and features ever since, including Fabric University, an online fabric seminar, and a 'Career Path' feature to learn about careers in the textile industry. TheTechnicalCenter.com was launched in 2003 as a B2B site for the specialty textile industry. Both sites include seven Searchable Indexes that can be used to network and learn about companies, trademarks, fibres, fabrics, finishes, end uses and new product development.
This article is also appears in...