Billy Hunter reports from Italy
2015 is the 20th anniversary of the birth of WHOLEGARMENT knitting, a revolutionary technology from Shima Seiki of Japan, which allows the production of seam-free knitwear. This is the first in a series of articles that sets out to investigate the impact of the technology on the knitwear industry.
Last week I had the good fortune to visit the province of Ancona in Italy's sunny Marche region to meet some of the country's leading knitwear producers who are using Shima Seiki WHOLEGARMENT knitting technology to produce top quality versions of what Shima Seiki calls 'seam-free' sweaters (to distinguish them from the "seamless" offerings from circular knitters).
Marche is one of the 20 regions of Italy and is located in the Central area of the country, bordered by Emilia-Romagna and the republic of San Marino to the north and the Adriatic Sea to the east. Except for river valleys and the narrow coastal strip, the land is hilly and it is in the somewhat unlikely setting of these beautiful hills that some of the country's finest knitwear producers can be found.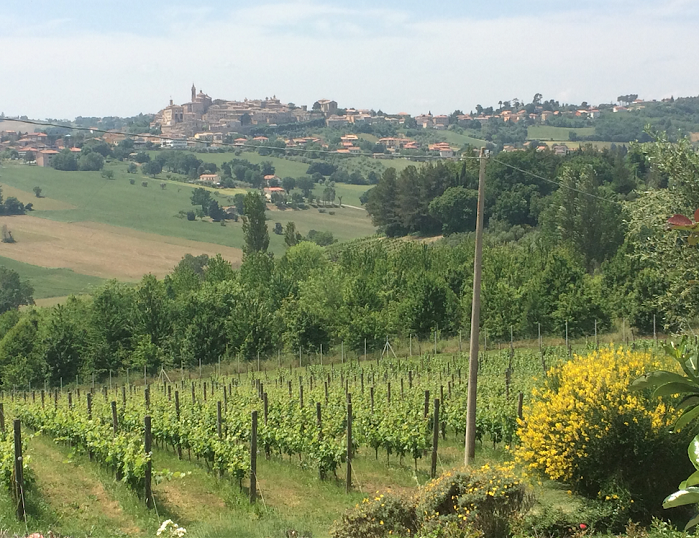 A good example is La Trama s.r.l., a family owned knitwear-manufacturing business located in the village of Ostra Vetere near the ancient walled town of Corinaldo. The company's purpose built, elegant but discrete factory building is in a very pretty setting with great views – but it actually conceals a state-of-the-art high technology knitwear development and manufacturing powerhouse.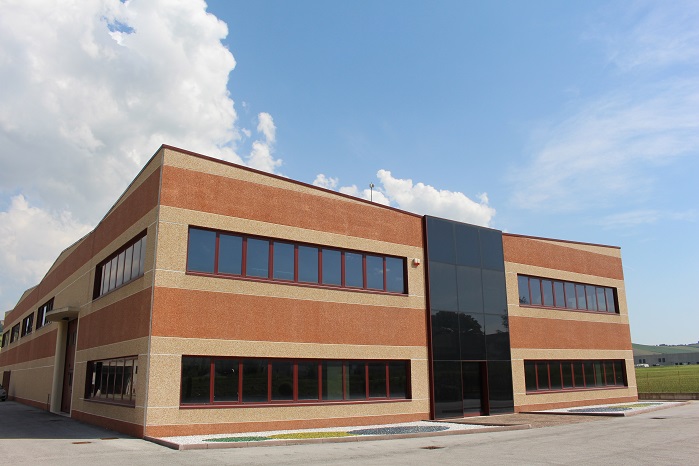 La Trama is owned and managed by man and wife team Andrea and Francesca Pasquini and Andrea's brother Luca Pasquini. The company was founded in the 1990s just after Shima Seiki introduced WHOLEGARMENT knitting and it has followed the WHOLEGARMENT pathway ever since.
La Trama has a total of 28 computerised Shima Seiki flat knitting machines ranging from 5 gauge to 21 gauge, all of which are WHOLEGARMENT machines including the ground breaking Shima Seiki SWG-FIRST 21 gauge for knitting high-end fully-fashioned and WHOLEGARMENT knitting, SWG-X and the high speed MACH2X and MACH2SIR.
La Trama produces seam-free knitwear for the top Italian and European brands and fashion houses and lists the likes of Celine, Giorgio Armani, Hermes, Fabiana Filippi, Chanel, Max Mara, Louis Vuitton and Balenciaga amongst its customers.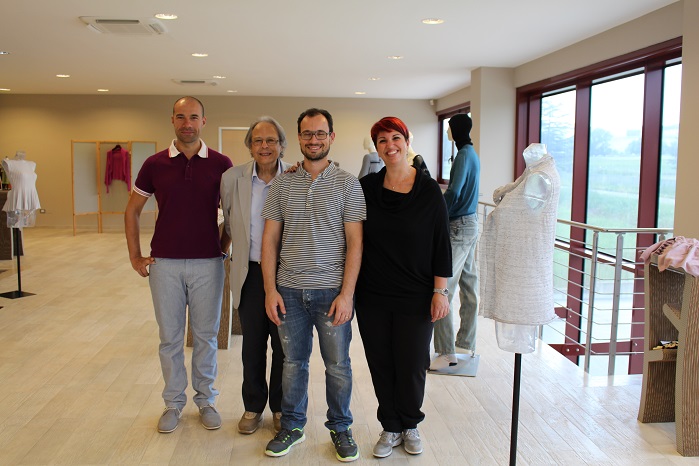 Very latest WHOLEGARMENT technology: MACH2XS
This company has all of the very latest Shima Seiki technology and is attending Shima Seiki Italia's Open House show in Milan this week specifically to look at the latest Shima WHOLEGARMENT machine – the MACH2XS.
Shima Seiki's exclusive WHOLEGARMENT knitting technology has evolved even further with the new MACH2XS machine, which features four needle beds and Shima's SlideNeedle, the combination of which is considered ideal for producing WHOLEGARMENT knitwear in all needles knitting.
Additionally though, MACH2XS features special spring-type sinkers in addition to its fixed sinkers, permitting high quality knitting of complex fabrics. Flechage is said to be easier to knit, allowing more control over neck drop depth.
Air Splicer for WHOLEGARMENT applications
La Trama is a company that just has to have the very latest technology and that applies to its technological accessories and tools as well as its machines. Take for example Shima's Air Splicer technology, which La Trama was using, on a bank of 12 gauge SWG-X machines to produce 6 colour WHOLEGARMENT knitwear.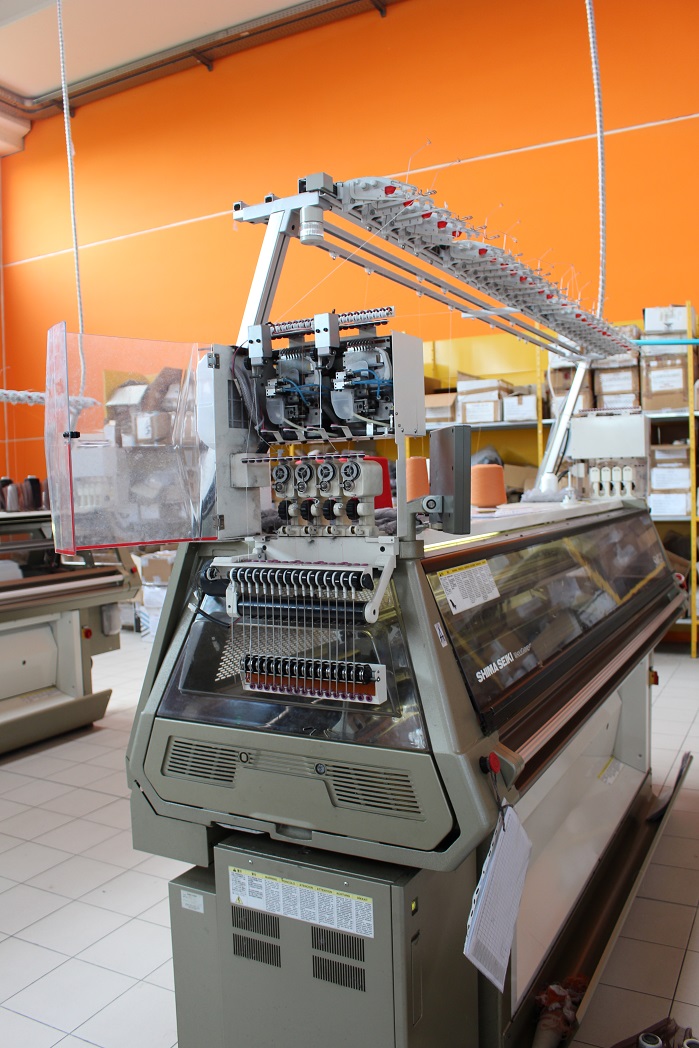 Shima's Air Splicer is a device, which cuts then twists together yarns with a burst of pressurized air with split-second accuracy, unlike conventional knotting systems, which mechanically tie together yarn ends.
Working in precise coordination with i-DSCS+DTC, the Air Splicer is able to time each splice so that perfect colour changes can occur exactly as programmed. With the Air Splicer, high-quality multi-colour WHOLEGARMENT knitwear can be produced with beautiful results.
The turquoise and green striped 'cellophane' jacket (sleeve detail) below was made using the Air Splicer on an SWG-X 12 gauge machine. "It would not be possible to make this garment without the Air Splicer on SWG-X. So, again we are able to offer something unique," says Francesca Pasquini.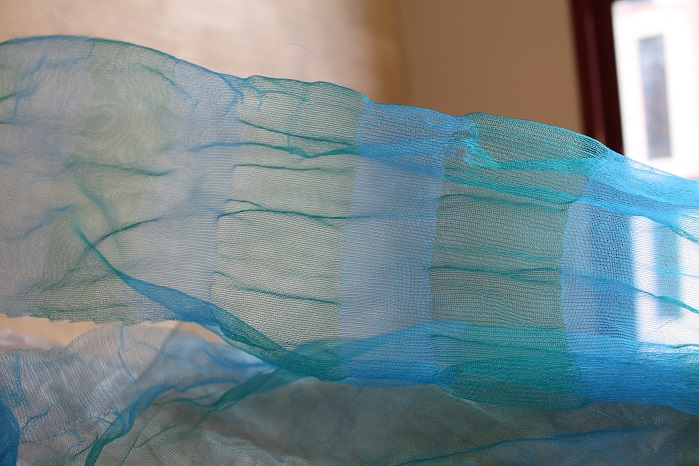 Sampling, sampling, sampling
This is a company, which prolifically makes five new prototypes every day and it is company owner Andrea who leads the development work. La Trama also has three other programmers who carry out pre-production and production work. Typically in a 12-month period the company makes 250-300 samples, 70% of which are accepted by customers and put into production.
When I visited the company it was in full production, making about 1500 pieces of top quality knitwear per week.
Amazingly La Trama has a library of around 30,000 knitting programmes, which it has built up over 20 years and which it makes available to customers as an inspiration resource.
Early adopter
In 1999 the company was an early adopter of WHOLEGARMENT technology when it bought its first twin needle SWG-V 7 gauge machines, which it later sold replacing them with 5 gauge machines.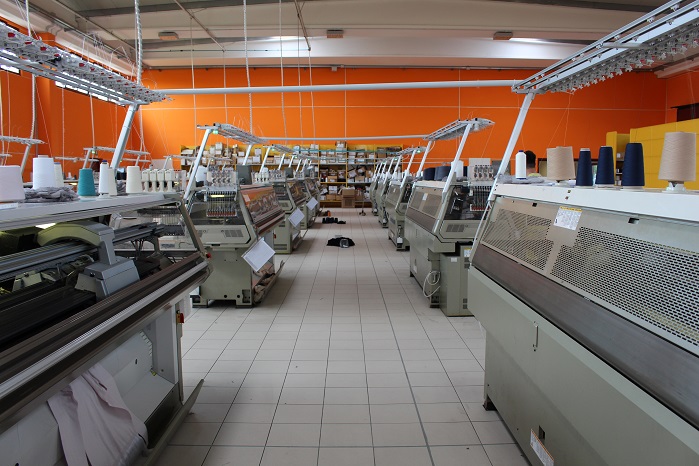 According to Andrea Pasquini, as an early adopter La Trama then collaborated with Shima Seiki in developing the next generation of WHOLEGARMENT machines. Indeed, Dr Masahiro Shima himself has visited the factory and Andrea and his colleagues have been guests at Shima Seiki in Japan a number of times.
SWG-FIRST 124S21
La Trama is normally one of the first users to buy into the latest Shima Seiki technology and this year it is the SWG-FIRST 124S21, the world's finest 21 gauge flat knitting machine that caught the company's imagination.
La Trama took delivery of its SWG-FIRST 124S21 machine just four months ago and is now awaiting orders from its customers following intensive sampling. During my visit I was shown a number of interesting samples including a garment knitted in an uncovered elastane yarn for an ultra-fine stretch effect which was executed using Shima's iDSCS+DTC digital knitting system.
Another interesting sample shown was an extremely fine pictorial pixel-by-pixel jacquard depicting a Hollywood movie icon for a leading French design house. The double jacquard fabric with wool on the fabric face and silk on the back was largely transparent, an effect, which Andrea Pasquini says, does not really work in other gauges.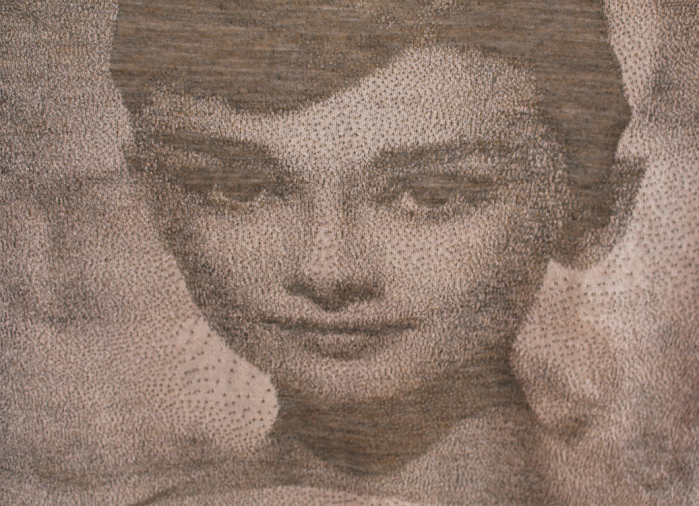 A number of other ultra fine samples were shown from various machines including the MACH2X 18 gauge machine. The super lightweight sweater below, which weighs around 40 grams is knitted using every needle in the 173cm needle bed in a stretch yarn. It takes two hours to knit but is absolutely exquisite.
Reaping the benefits of WHOLEGARMENT knitting
According to Francesca Pasquini, who heads up administration at La Trama, one of the main benefits of investing in WHOLEGARMENT technology from a manufacturer's point of view, has been that the company has had to employ far fewer people than it would have done if it had manufactured conventional knitwear, where significantly more labour is required.
La Trama employs just 15 people in total which does not sound like a lot of people by knitwear standards but as Francesca Pasquini points out: "This is already enough as the cost of employing people today in Italy is so high."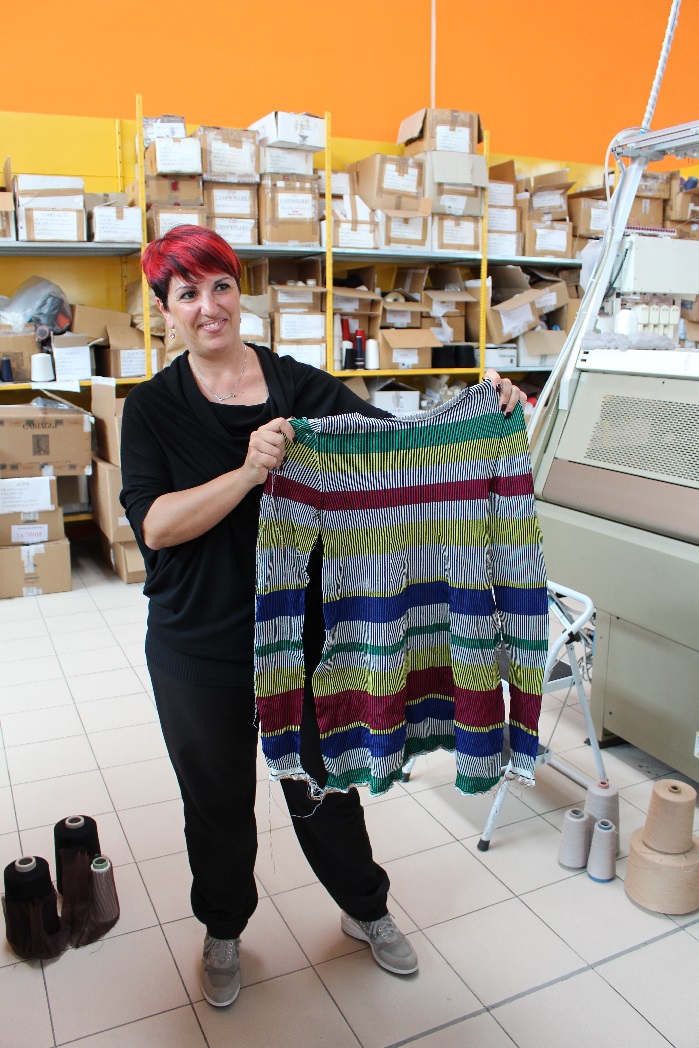 I suggested that the number of sweaters which can be manufactured on a particular number of machines is restricted in the case of WHOLEGARMENT production but this, La Trama says, is not so important.
I asked Andrea Pasquini if the company could charge more for WHOLEGARMENT knitwear than it could for traditional knitwear. He didn't answer directly but what he did say was: "We make garments that others cannot make by using our know-how and WHOLEGARMENT technology. It's not just about quantity. We invest in research and development even more than in production and we make a premium product."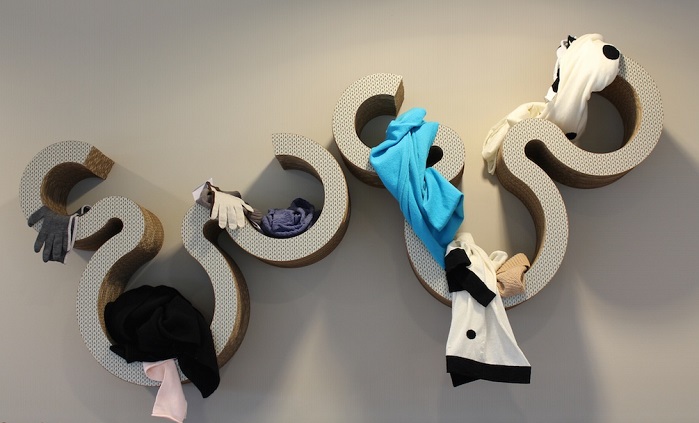 He goes on to talk about the importance of development capacity. "For example if Armani comes to us for three samples in the fall season, we start to make the samples and then Armani has more ideas and we make more and more samples. Development capacity is very important and we are rich in know-how," he continued. "Our customers come to our showroom for ideas."
La Trama sometimes works directly with the major brands and fashion houses. In other cases it manufactures on a sub-contract basis for other manufacturers.
I asked Francesca and Andrea Pasquini if they thought that the end users of WHOLEGARMENT actually understood the benefits of WHOLEGARMENT knitwear and whether it was difficult to communicate the benefits. The answer was that they did not. "We are producing for the brands and so it is difficult for us to convey the benefits except through the design and beauty of our products. In many cases the brands and their retail outlets do not explain or communicate the benefits to consumers," Francesca said.
"Customers who buy reversible or double face garments instantly understand the benefits. Customers buy into a brand but they also like to buy una bella maglia," she added.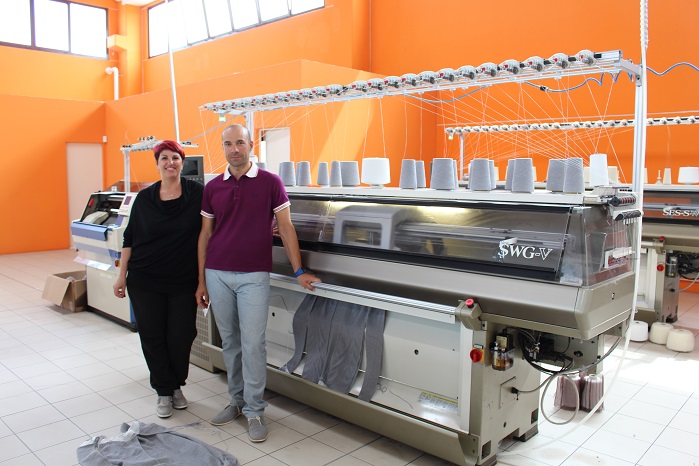 I asked Andrea and Luca Pasquini, the company's two main product developers, if they had needed much in the way of technical support from Shima Seiki Italia and its agents. The answer was a resounding no as they say they have such a high technical level in-house. They know support is there if they need it, they say.
How do you see the future of your company in terms of WHOLEGARMENT manufacturing, I asked? "Expansion is in plans," Andrea says. "And we always want new technology. We are also happy with the return we get on our investment."
Customers usually want to see La Trama's factory even if they are dealing with them indirectly. The major fashion houses such as Chanel and Hermes for example wanted to have a look at the factory.
Personally I can't imagine anyone being disappointed with La Trama's factory or products. It really is a powerhouse in WHOLEGARMENT Knitting.
Further reading
New Twins set to become leading player in theatre of WHOLEGARMENT knitwear
MIND Srl – A WHOLEGARMENT Success Story from Italy's Veneto Region
WHOLEGARMENT knitting technology helps set New Esse Maglieria apart from its competitors
WHOLEGARMENT investment cuts labour costs and creates new opportunities for Sabry Maglieria