18th March 2013, Caronno Pertusella
High opacity polyester fabrics for sportswear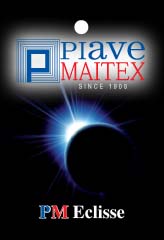 Italian knitter Piave Maitex' research into technical fabrics has found new expression with the creation of its new PM Eclisse range of high opacity polyester fabrics for sports and active wear.
According to Piave Maitex, which was founded in 1908, ever since their introduction into the world of sports, technical polyester fabrics have shown poor opacity in the colour white, particularly, and in light colours in general, with dark colours clearly prevailing in this domain.
The Varese based company says its response to the need for opacity is a remarkable step forward in terms of superior overall performance achieved by a coherent combination of new technologies and specifically:
Innovative yarns with special cross section and polymer based coatings
Fine gauge knitting machines resulting in more compact, smooth and stronger fabrics
Elastic modules designed for better body comfort, increased muscle compression, competition performance, without allowing transparency once the garment is worn
Reduced thickness, ideal for enhanced fabric breathability and moisture transport
Resistance to pilling and abrasion typical of sports performance
Optimal yield and definition of transfer prints, smooth and compact surface, enhances bright colours and more accurate designs
UV protection
Quick dry
Resistance to the action of chemicals improved by using Xtra Life Lycra
"Shortly said, PM Eclisse represents today a forefront fabric for sports and activewear," Piave Maitex sums up.
Piave Maitex has two production plants in Feltre and Monastier with of over 20,000 square metres of production space being occupied by over 100 raschel, tricot and circular knitting machines which are equipped with the most modern and sophisticated production and control systems.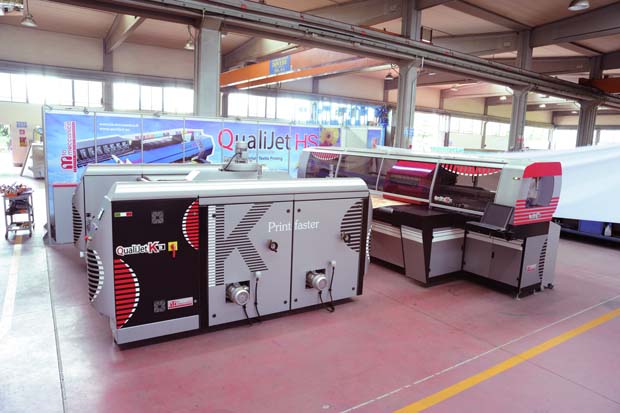 The plant also houses scouring machines with the latest available technology which takes into account ecological requirements, computerised dye mixing machines, dyeing and finishing machines suited to the specific demands of the industry and stenters equipped with the most sophisticated control systems to produce a constant quality to the highest standards.
Two up-to-date laboratories assure accurate control of the company's production quality and guarantee a production capacity of more than 8 million metres of high quality stretch fabrics per year, together with the versatility to interpret and bring to reality all of its customers' requests.
In 2011, the vertical Italian warp and weft knitter invested in state of the art high speed digital printing technology for stretch fabrics from La Meccanica di Urgnano. The new generation machinery was installed at the company's Caronno Pertusella site, near Varese in North East Italy. The new investment aimed to compliment Piave Maitex's existing ink-jet printing machines already in operation, bringing the company's digital printing capacity to well over one million meters per annum.
La Meccanica di Urgnano specializes in machines for the processing of stretch fabrics. Piave Maitex says the new QualiJet K16 machines from the Bergamo based company allow it to respond quickly, effectively and with great flexibility to the ever growing customer's demands in terms of style effects, resolution, number and intensity of colours.
This article is also appears in...