2nd March 2015, Flero, Brescia
Prima-Tech introduces innovative FUTURA 38 socks boarding machine
Innovative young Italian textile machinery builder Prima-Tech has introduced Futura 38, a brand new boarding machine which is said to offer a number of winning features to manufacturers of socks.
Prima-Tech's FUTURA 38 is a steam-boarding machine with automatic sock unloading and pairing with 38 formers. The machine has been designed to press socks and prepare them for packaging.
The company first introduced FUTURA 38 at the FIMAST exhibition in Brescia in September last year where it was very well received as a new concept in sock boarding.
Prima-Tech reports that the machine is already selling well and that it is already producing for customers after the first prototypes ran successfully with customers in the Brescia area.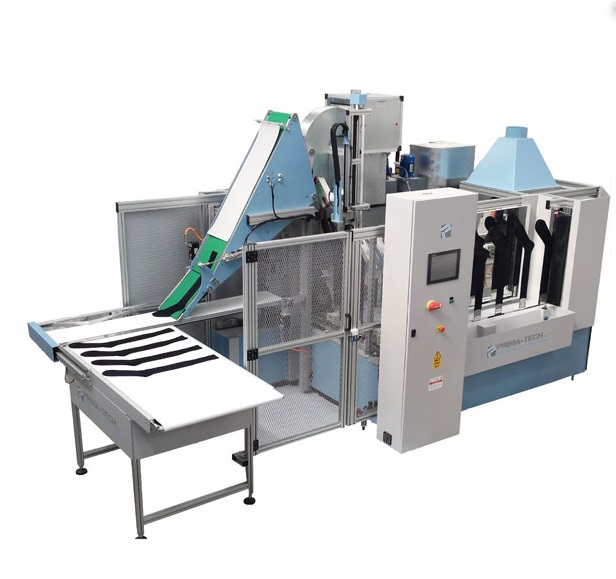 According to the company, the innovative feature of this machine is the pairing system, which makes it possible to reduce the machine's overall dimensions with consequent energy saving, to hold the socks longer in the steam chamber for improved performance, and to automatically unload the pair of socks ready for packaging.
Additional features include:
38 aluminium moulds (possibility of using 2 different sizes simultaneously)
Infrared mould pre-heating device
Energy saving and reduced dimensions
12+2 moulds being dried
Unloading by pair
Socks can be stacked on a right or left side-track
Ironing recipe setting panel
Stations for:
Mould preheating
Loading (4 moulds)
Levelling
Steam chamber or dry ironing with presses
Drying tunnel (electric or steam) with adjustable ventilation and temperature
Cold air stabilising station
Hot press (optional)
Automatic pair unloading
Stacker (optional)
Folding of pairs on the delivery conveyor (optional)
Connection to packaging machines (optional)
The technical know-how behind Prima-Tech comes from fifteen years of conceiving, designing and building packaging machines for textiles industry.
According to Marketing & Export Manager Michele Castagna, Prima-Tech, which is still a relatively unknown company, has developed a highly innovative range of machines. Castagna's role will be to bring this to the attention of the market over the next few years.
Watch the FUTURA 38 movie…
Castagna enthuses about Prima-Tech's offer: "Without boring you with a long list of technical and practical advantages that such machines boast with respect to their competition, I may simply say there are so many features and details, in each one of these machines, that make up a difference and an additional advantage, in comparison with the others currently available in the market."
Out of such machines at least one deserves a special rate of attention, the so-called FUTURA 38, a steam-boarding machine with the following winning features:
Automatic pairing of the 38 infrared pre-heated, foot-shaped aluminium forms, with the possibility of simultaneously using 2 different sizes.
Remarkably reduced encumbrance, with respect to the large number of forms.
Inside the steam-heated tunnel 2 side-by-side forms are shaped at the same time, thus reducing energy consumption and work time.
Inside the drying tunnel 10 to 12 forms are handled at the same time, thus reducing energy consumption and work time, guaranteeing a total and complete dryness of the handled socks.
Possibility of discharging the handled socks in various pairs and stacking them on a conveyor (turned left or right).
No more need to have one physical operator (thanks to a patent pending relating to this specific process) folding the pairs at the end of the above mentioned processes: this way the folded pairs can be headed straight to the final packaging units.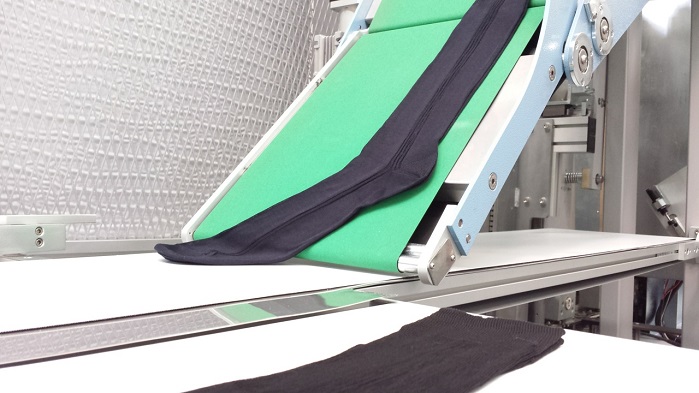 Castagna continues: "Another critical aspect of this range is the extreme modularity of all the units, which means that a company developing itself over the years can start by only having a few small modules which can later on be connected with each other and therefore optimized to obtain a fully automated and even sophisticated workstation."
About Prima-Tech
Prima-Tech was founded in 2009. It is a young and dynamic company specialized in the development of flexible and innovative automations for the packaging of men's and children's socks.
The experience of the company team starts already in the 90s and consolidates until today, providing not only automation but also high level consulting in the organization of production and materials to ensure tangible and continuously improving results for its customers. The company is based in Flero near Brescia, the homeland of machine building for the socks and hosiery industry.
Download the FUTURA 38 catalogue with technical specification
Contact
Michele Castagna, Marketing & Export Manager
This article is also appears in...