26th July 2016, Castel Goffredo
Fulgar presents its new website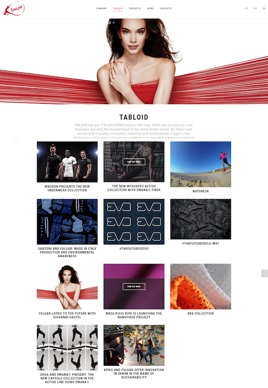 Fulgar, a leading Italian company in the manufacturing of nylon and coated yarns, has revamped its site, introducing a new digital communications model, featuring new-look graphics, a new method of use, enhanced navigability and special sections with original content.
According to the company, this renewal aims to confirm the brand's positive attitude to innovation and its commitment to constant research. The initiative aims to help the company look into the future, paying attention to the modern means of communication and clear, immediate and contemporary communication language.
The corporate image, shot for Fulgar by the famous photographer Giovanni Gastel, is the new site's theme. Intuitive, dynamic and user-friendly navigation aims to provide users with easy access to all information on Fulgar's innovative products and solutions. There is also a dedicated section focusing on some prestigious collaborations between Fulgar and textile-fashion brands.
Exciting experience
"We designed the new site with the intention of offering an exciting experience that would help not only our direct clients but also finished brands and final retailers to identify the most suitable textile innovations and present our ingredients. An authentic online library of Fulgar yarns has been created," explained Alan Garosi, Marketing Manager Fulgar.
"There are two new developments we're particularly proud of in the context of rationalising content. On the one hand there's the presentation of our products categorised on the basis of application and purpose, on the other a tabloid section that presents projects carried out with our partners. These embody the company's approach to creating a system involving all the operators in our supply chain."
Specialist in synthetic fibre
Fulgar is the international leader in the synthetic fibre market with the production and distribution of polyamide 6.6 and covered elastomers in the textile and technical sector.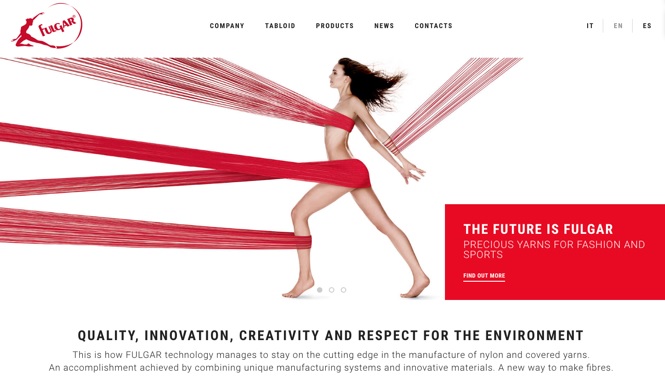 Fulgar is present in all textile sectors, from hosiery to circular knits, corsetry, swimming and sport, with high-quality products Made in Italy. The versatility of the products is the result of Fulgar's design, development and manufacturing structure.
In 2009 Fulgar became an official partner of Invista, owner of the Lycra brand, for the exclusive distribution in Europe and Turkey of the Lycra Fibre, Lycra T400 and Elaspan Fibre brands. In 2012 Fulgar also became exclusive distributor and producer of Emana fibre, owned by the Rhodia-Solvay group, for Europe, North Africa and the Middle East.
Further reading
Giovanni Gastel develops campaign image for Fulgar
This article is also appears in...