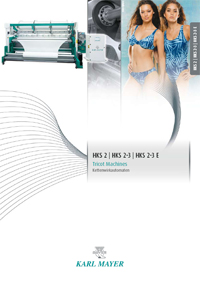 The highly-productive type for elastic and rigid fabrics
With the development of the HKS 2-3, KARL MAYER set new standards by combining high production speed and outstanding flexibility:
Based on the very precise tuning of knitting motion and knitting elements, this 2-bar high-performance tricot machine offers a very wide range of textiles along with high profitability.
The machine can quickly and easily be retrofitted for elastane processing: The elastane device and the elastic batcher, together with the relevant knitting elements, make the HKS 2-3 a highly efficient all-rounder. Besides, the machine offers the possibility of a favourably-priced production of elastic and inelastic (rigid) articles.
Applications: from fine tulle via bi-elastic plain fabrics up to light velours.
The HKS 2-3 gives just the right response to our customers' demands for cost-recovering manufacture and highest flexibility of products. Below please find some examples out of the wide-ranging applications of the HKS 2-3:
Tulles, mosquito nets, lingerie, swimwear, sportswear, outerwear, automotive textiles and bunting
Click on image for further details and full technical specification
[6.4.2010]