Merino wool is being used more and more in functional garments from sportswear to protective clothing. The natural fibre which accounts for around 2% of world fibre consumption is being used not only for comfort in demanding conditions but also for its inherent protective properties.
And merino was in the news again on Friday when UK based Armadillo Merino was presented with the NatWest 'Product Business of the Year 2012' in London. The Derbyshire based 'new start' company's circular knitted tops and leggings in single jersey and rib structures, made from super-fine merino wool, are said to be the ultimate in comfort, with qualities that are ideally suited to those professionals exposed to endurance, extreme weather or potential risk of fire or burns.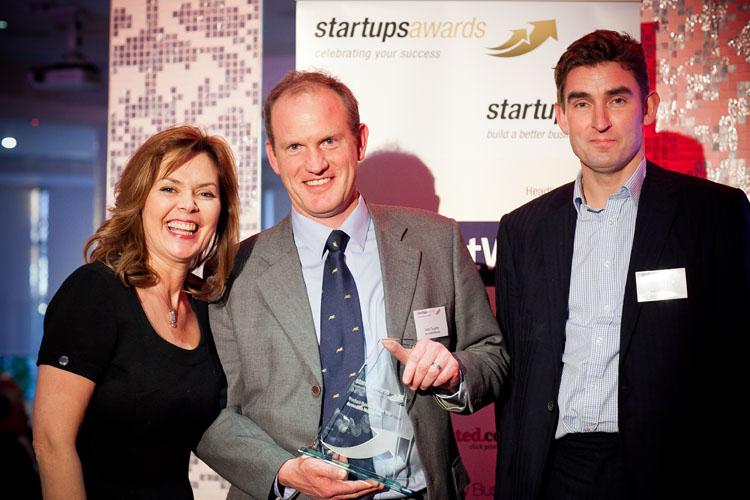 Andy Caughey receives the NatWest 'Product Business of the Year 2012 Award' in London
Presenting the Award to Armadillo's Andy Caughey, judges said:
"Another impressive example of British design and innovation leading the world, Armadillo Merino is the only range of all natural body armour using merino wool for fire fighters, police and military personnel, and will help towards saving lives. The judges were impressed by the competitive prices Armadillo Merino is able to offer for their high quality crafted product, and by the range of contracts already won and pending. This product has the potential to become just the sort of quality, specialist, world-leading medium sized business the UK needs."
Just last week Armadillo reported that the Italian navy is set to order thousands of its British developed hi-tech garments, which give unprecedented next-to-skin protection and performance in action.
Andy Caughey said that 'risk takers' in other services could soon follow and he expects that 20,000 policemen from another Euro country could soon be issued with the garments, which also drastically reduce the perspiration rate, reducing the amount of water required and resulting in increased levels of endurance. Read more
Merino in sportswear
Meanwhile, leading seamless circular knitting machine builder Santoni has reported strong sales of its machines into the sportswear sector especially for the production of merino wool based seamless garments.
Sportswear manufacturers are mainly interested in the Italian company's SM8 TR1 machine for single jersey garments with mesh effects – particularly in 24 gauge for zonal knitting or body mapping in natural fibres such as merino wool.
Speaking at this autumn's Santoni Open House exhibition at the company's Brescia headquarters, product manager Patrick Silva said:
"These new merino type seamless garments have a very different handle and are highly sought after by sportswear brands. They mainly have lower elastane content and are therefore less intimate and are a new product category. Most manufacturers and manufacturing brands are using polypropylene inside for moisture management and wool on the outside." Read more
Performance apparel reports
Those of you interested in performance apparel may wish to take a look at two recent reports which are available for purchase on this website.
'Performance Apparel Markets: Product developments and innovations (Q3, 2012)' provides new information on the latest developments in: environmentally friendly apparel; environmentally friendly fabrics for apparel and protective clothing; fabrics for sports apparel; fabric treatments; fibres for performance apparel; moisture management fibres; sports apparel; and temperature regulating apparel.
The report also includes news from the following innovative companies and organisations:
Adidas, Alexium International, Cifra, DyeCoo Textile Systems, Invista, Ministry of Supply, Norrøna, Polartec, Rhodia, Timberland, Trevira, Unifi, Victor Group, X-Bionic and Yeh Group. Read more
Meanwhile, 'Performance Apparel Markets: Business update (Q3, 2012)' provides information, analysis and valuable insight on developments relating to the performance apparel industry in the following categories: acquisitions, divestments and mergers; company strategies; corporate social responsibility (CSR); financial results; joint ventures, cooperation, licensing and distribution; legal issues; manufacturing facilities; new stores; online retailing; recycling; research and development (R&D); and research facilities.
Companies, organisations, brands and events examined in this report include:
Adidas Group, Beyond Surface Technologies, China Chemical Fibers Association (CCFA), Columbia Sportswear, Cornell University, Defense Advanced Research Projects Agency (DARPA), Dick's Sporting Goods, G-III Apparel Group, Invista, Jack Wolfskin, Jinggong Holding Group, JJB Sports, Nike, Perry Ellis International, PT Kizone, Puma, Quiksilver, Sports Direct, Swire Resources, Teijin, The Sustainable Apparel Coalition, The University of Manchester, The Wyss Institute, Under Armour, Unifi, VF Corporation, Vilebrequin and Zheijiang Jiaren New Materials Co. Read more