Leading Italian knitting and hosiery machine builder Santoni launched a number of new machines aimed at the Chinese market at last month's ITMA ASIA + CITME in Shanghai. Amongst the new exhibits from the Brescia, Northern Italy, headquartered company best known for its circular seamless knitting machines, were two new underwear and outerwear models which it is building at its own factory in China in order to meet the demand and price request of the market.
Two new versions of Santoni's established CHN body width continuous fabric electronic single jersey machine were introduced. The CHN-MF12J is a 12 feed single jersey electronic circular knitting machine with individual needle selection at each feed with three way technique (configuration with 16 selectors).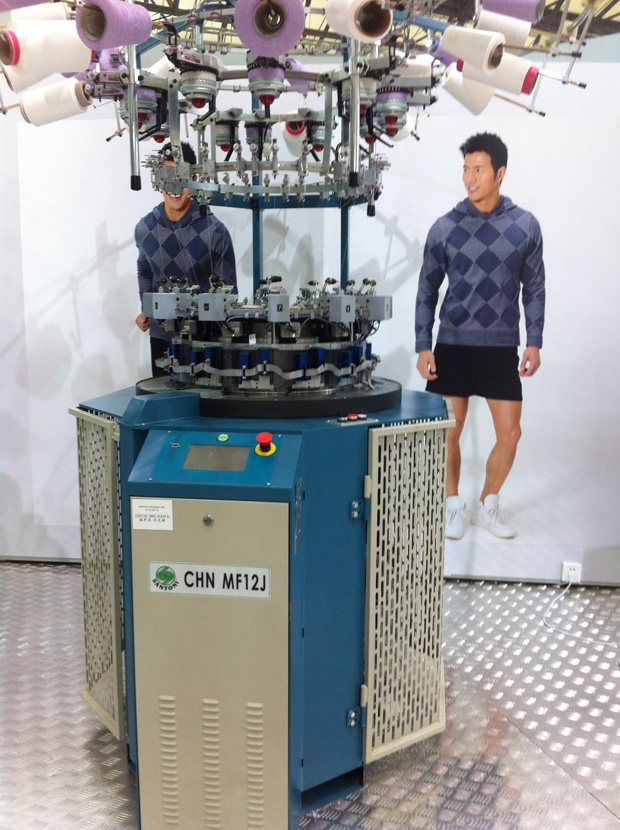 The CHN-MF12J, which is available in 18, 20 and 22 inch diameters and gauges 12, 14 and 16, is aimed at the underwear and outerwear markets. According to Santoni's Tiziano Sandonini there is a huge market in China for heavy weight 'long john' type pyjamas and the 14 gauge CHN-MF12J in particular is ideal for producing them.
The newly introduced CHN-MF88 is said to be also aimed at the underwear market and is said to be especially of interest in 28 gauge. The CHN-MF88 is an 8 feed single jersey circular knitting machine with up to two needle by needle selections on each feed for the production of body-size seamless underwear, outerwear, swimwear and sportswear.
The machine is available in 11, 12, 13, 14, 15 and 16 inch diameters in gauges 24, 26 and 28. The CHN-MF88 is designed to produce products which sell very cheaply in the market and is built and priced accordingly. The machine has new reliable electronics where the number of boards and cables have been drastically reduced giving it a much cleaner simpler look with fewer visible cables. A new 7 inch colour touch screen has also been added.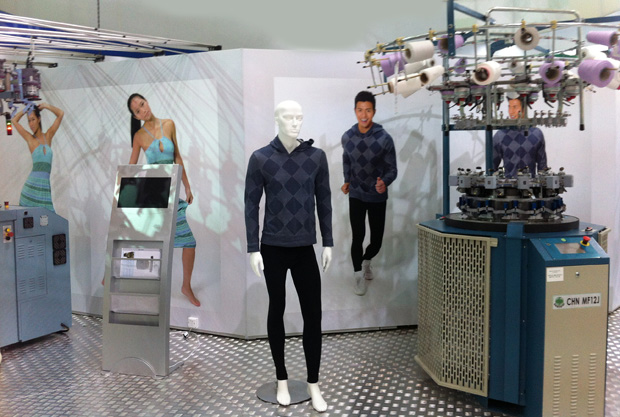 The CHN-MF88 has 8 needle by needle 16 level selectors and is built in such a way that 8 additional needle by needle selectors can be fitted to give three way technique on each feed. Santoni describes the machines as being very compact, pointing out that much less space is required and that the machine has easy access for both maintenance and operation.
The CHN-MF88 is fitted with Chinese equipment such as positive feed units and is said to have knitting possibilities similar to Santoni's legendary TOP2. The machine has been shown at private shows around China this year and according to Tiziano Sandonini it has been very well received.
This article is also appears in...

Santoni offers a very wide range of machines for the production of everything from socks to both warp and weft knitted underwear and outerwear. It was no surprise therefore to see that the company had grouped its machines by knitted product so that customers could quickly find what they were interested in.