28th February 2014, Istanbul
New Texworld Istanbul show from Messe Frankfurt
Messe Frankfurt is adding another member to its Texworld brand family with the launch of Texworld Istanbul, therefore enlarging the company's portfolio of fairs in Turkey. The show will take place from 4-6 November for the first time at the Lütfi Kırdar International Convention & Exhibition Center in central Istanbul.
The move comes after its competitor Première Vision signed a partnership agreement with CNR Holding, a leading organiser of trade shows in Turkey, to create Première Vision Istanbul – a new biannual event in the Première Vision network, aimed at fashion professionals from the Eastern Europe and Middle East region.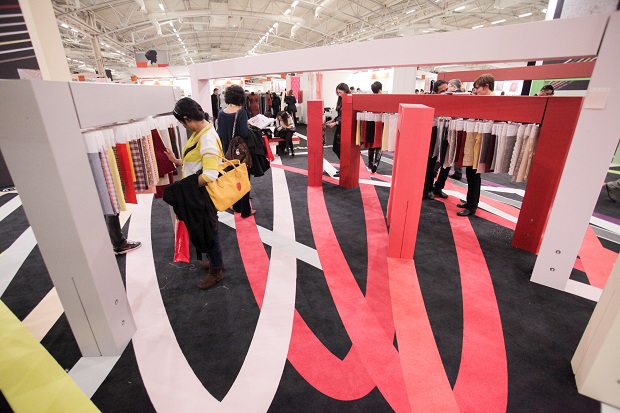 "The launch of Texworld Istanbul marks a very exciting point in the development of Messe Frankfurt in Turkey", explained Detlef Braun, Member of the Board of Management of Messe Frankfurt Exhibition. "In the last ten years, our company has led the path for many Turkish textile professionals to a variety of international markets by offering high-quality fairs all across the globe. Now we are bringing the international fashion fabrics manufacturing base to Turkey."
Asian fabrics manufacturers
Texworld Istanbul will reflect all product groups that are part of all other apparel fabric brand events around the world: cotton and blends, denim, shirting, linen and hemp, wool and wool aspects, embroidery and lace, silk and silky aspects, prints, functional fabrics, knitted fabrics, trims and accessories.
A special feature of the fair will be the focus on Asian fabrics manufacturers. Next to them, there will be manufacturers from traditional and new markets from all over the world. Aleksandar Medjedovic, Managing Director of Messe Frankfurt Istanbul, the company's Turkish Business Unit, said: "This mix of international exhibitors is the unique concept of Texworld fairs."
Middle East region
Like its opponent Première Vision Istanbul, the Texworld show will target buyers and professional visitors from Turkey and from the surrounding region. This includes the Middle East and the Gulf States, Central Asia, Russia, Southeastern Europe and North Africa.
"Istanbul is a very convenient location to reach for all these countries, with several daily flight connections to all major business centres in those regions. This will add to the dynamic trade environment of Texworld Istanbul, which will be a new meeting point for Asian and global fashion fabrics manufacturers and their buyers from those fast-moving regions," commented Medjedovic.
Strategic decisions
Turkey currently ranks as the 16th largest economy in the world and has experienced impressive growth rates in the past few years. In 2012, the textile industry accounted for 10.3 % of the total export volume from Turkey and in 2013, the total textile materials imports into Turkey mounted to some 12 billion US $.
"Indeed, with its overall economy projected to grow by 4% by 2016, Turkey is today one of the most dynamic emerging countries, ideally situated at the crossroads of Europe and Asia," Premiere Vision said in its statement earlier this year.
Read the story about Première Vision Istanbul on Knitting Industry website
This article is also appears in...