Circular Knitting
Santoni knits your goals through innovation
Santoni Spa will showcase a whole host of new technological and digital developments at ITMA 2023 in Milan.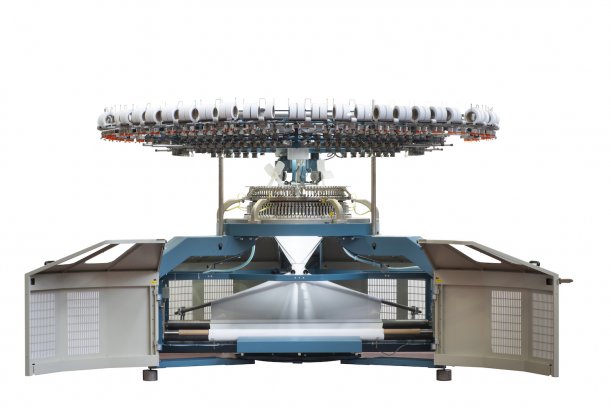 11th May 2023
Knitting Industry
| Brescia, Italy
Since 1919 Santoni Spa, the first Italian producer of circular knitting machines for men's and women's hosiery and the pioneer in seamless technology, has maintained its presence on the worldwide textiles market thanks to continual technological research.
At ITMA 2023 Santoni will showcase its latest technological and digital developments.
On its 1200 sqm booth - in Hall 04 – C201, the company will welcome manufacturers from the most diverse textile sectors such as underwear, sportswear, beachwear, external, medical wear, denimwear, smart-textiles, socks and footwear, to explain all of its inventive and newly patented machines, innovative production processes and a dedicated product Trend Area.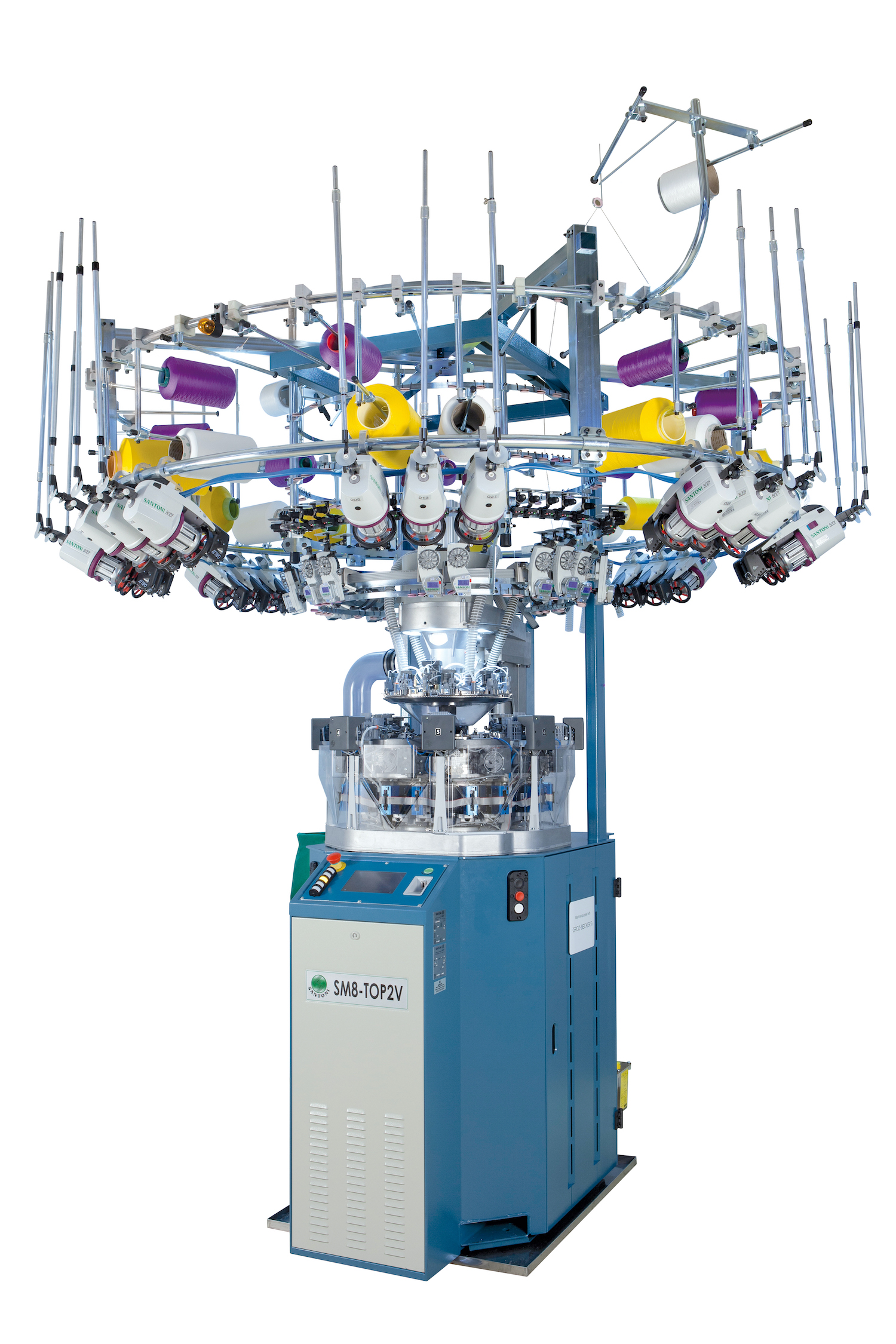 New SM8-TOP2V
Besides its wide range of well-known seamless machines, such as SM8-TR1S and SM8-TOP4J, which have been completely up-dated and equipped with new structural elements and electronics, Santoni will launch a new model of the renowned SM8-TOP2V. In a special corner of the booth an SM8-TOP2V seamless machine will be used to show customers from around the world the new digital developments that the company is working on.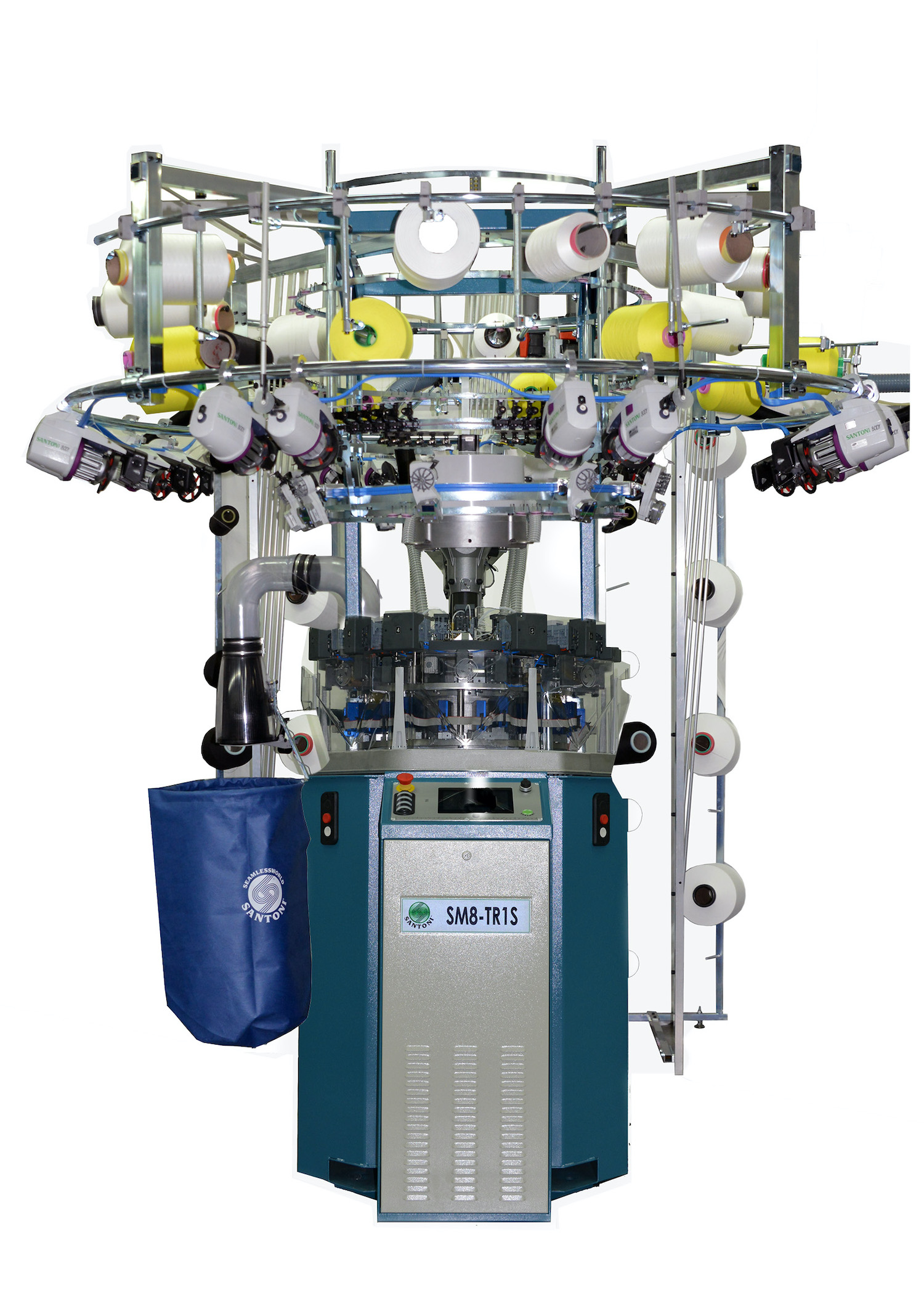 New Mec-Mor CMP
On the subject of the company's Mec-Mor technology, Santoni will present a new version of the Mec-Mor CMP. "It's too early now to disclose all the technical details, but we have been working hard to bring great innovations in ITMA 2023 and we will be glad to explain to anyone interested every single characteristic," says Patrick Silva, Marketing Manager at Santoni.
New large diameter circular knitting machines
In the area of large diameter circular knitting machines, it's worth mentioning the brand new INNOTAS, a single jersey machine with 3 feeders per inch, capable of knitting up to 4 track structures, which has been designed to manage the lint. Thanks to a patented self-cleaning system, in the complete absence of external devices, the
machine eliminates from the knitting head the accumulation of fibres, fluff and lint, typical of knitting productions. The machine doesn't require scheduled maintenance, thus saving time and avoiding the complications that arise from such operations.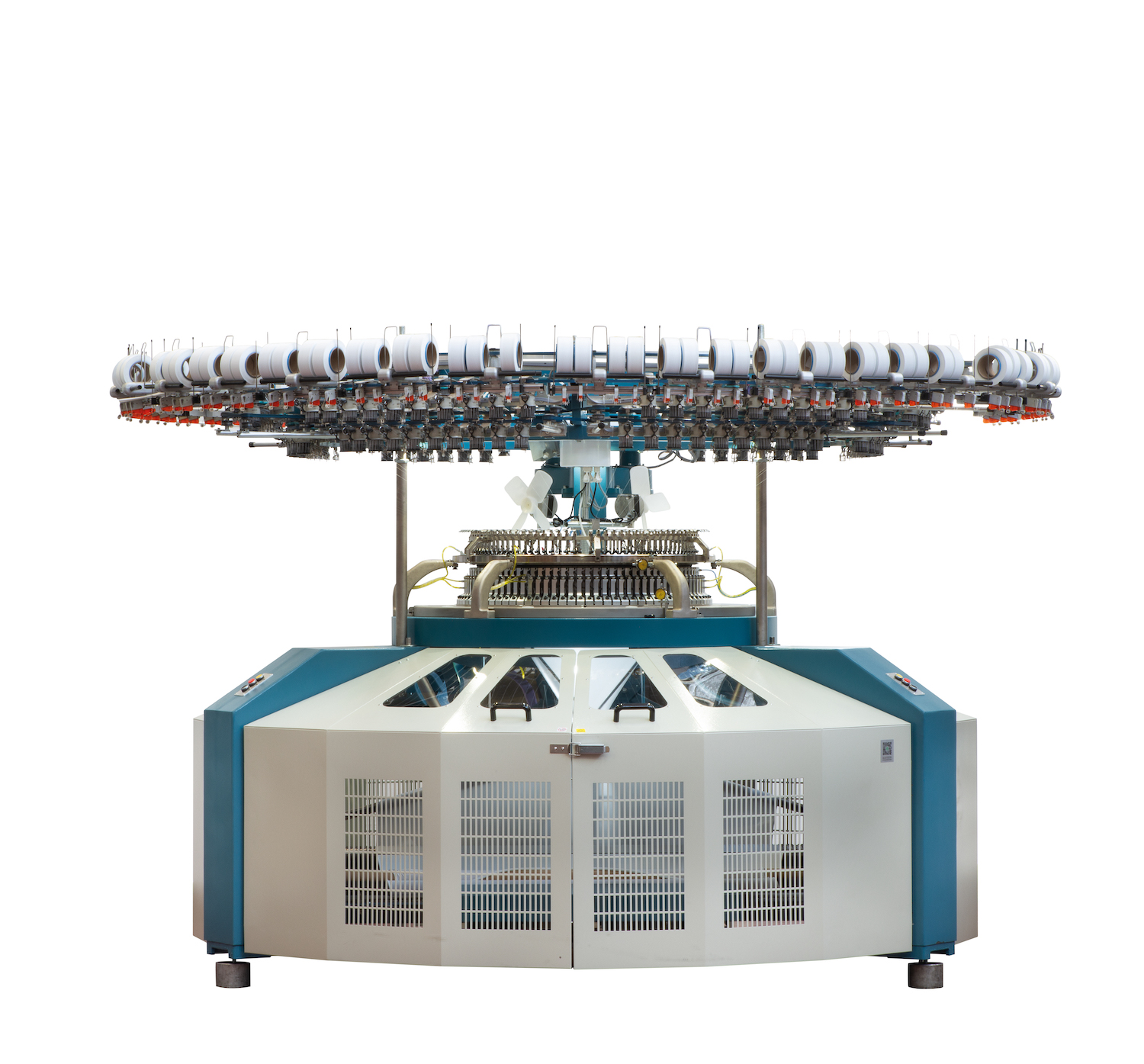 Reducing machines downtime means being more productive whilst preserving sinker and needle life, because the absence of fluff/lint leads to an increase in performance and reduced wear rate.
Additionally, thanks to low shank needles, oil consumption is reduced by 50%. This also means eliminating oil lines on fabrics, resulting in high quality. INNOTAS achieves energy savings of 15% compared to a standard machine where the increase of power consumption is directly related to the quantity of fluff/lint accumulated.
Santoni will also launch two other brand-new large diameter machines – the SMDJ-TE and a new version of the PULSAR 2.4.
XT-MACHINE
In shoe uppers, Santoni is promoting its innovative single-cylinder XT-MACHINE, which uses revolutionary 3D intarsia technology that maps the foot for perfect fit and form, offering unlimited patterns and colour combinations as well. This machine can produce, in record time, lightweight uppers with breathable mesh areas and eyelets, that are ready for the application of the sole, the company adds. The XT-MACHINE can knit in sculptured terry cushioning and transfer-stitch points on the same course, becoming the first machine in the world able to do that.
New socks knitting machines
When it comes to sock knitting machines, it's worth mentioning Santoni's HT-50 and STAR-S models. The HT-50 is a single cylinder machine with single feed to produce heavy socks in terry, with four colours plus ground on the same course. There is also the possibility of knitted or laid-in elastic for a single or double welt or again a four-color pattern double welt with tuck stitch. Thanks to its high technological content, the HT-50 combines productivity and quality with extreme ease of use. On request is the automatic toe-closing SbyS device, which uses 'true linking' technology, resulting in a higher quality sock in terms of finishing, comfort and durability, compared to those produced with traditional methods.
The new STAR-S model is a single cylinder machine with single feed and needles in the dial, which produces high-quality socks in true rib, with five-colour patterns and knitted or laid-in elastic and sculptured terry. Heel and toe production uses a reciprocating movement, creating three-dimensional effects without the aid of pickers and positioning the heel anywhere on the sock. The knitting head of the machine is also equipped with cams and a Santoni patented special chain system which allows preselected needles to be driven to the exact working stitch cams.
ITMA 2023
Visit Santoni at ITMA 2023 in Hall 04, Booth C201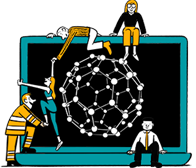 Business intelligence for the fibre, textiles and apparel industries: technologies, innovations, markets, investments, trade policy, sourcing, strategy...
Find out more